Mahler - Adagietto from Symphony No.5 sheet music
Thank you for trying the 8notes.com Audio & Transposition features
You have reached your limit for today.
Please subscribe for unlimited playback & transpositions
Individual Subscriptions:

Click here for more info on subscriptions

Mahler - Adagietto from Symphony No.5 sheet music for Bassoon
TEMPO: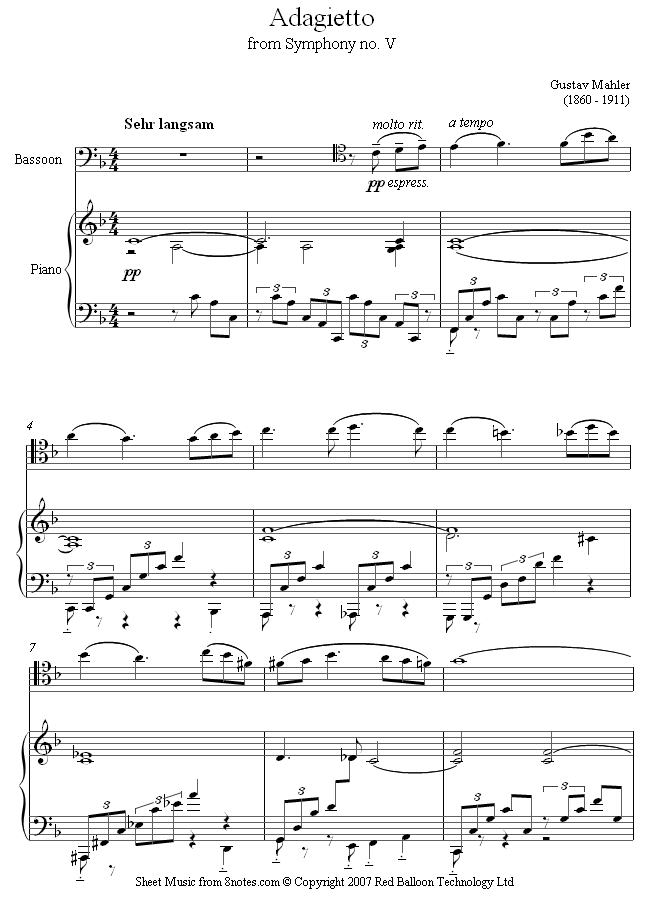 Keyboard Shortcuts:

←

Previous page

→

Next page

space

Play & Pause
About 'Adagietto from Symphony No.5'

Artist:
Mahler, Gustav (biography) (sheet music)
Born:
1860
Died:
1911
The Artist:
Austrian Romantic composer of huge symphonies, as well as songs and song-cycles. Mahler wrote music of great intensity and orchestral transparency and in his day was a conductor of international stature.

| | |
| --- | --- |
| Composition Date: | 1902 |
| Composition Info: | The Adagietto1 from Gustav Mahler's Symphony No 5it is the fourth movement of one of the great symphonies of the late Romantic period, composed in 1902 and given its first performance in Cologne in October 1904. |
| Number of Pages | 4 |
| Difficulty Level | Advanced Level: Recommended for Advanced Players |
Instrument:
Bassoon (View more Advanced Bassoon Music)
Style:
Classical (View more Classical Bassoon Music)

Tags





Copyright:
© Copyright 2000-2016 Red Balloon Technology Ltd (8notes.com)
This file may be printed and performed freely, but should not be digitally copied, shared or reproduced without permission.
Items to buy by Mahler
| | |
| --- | --- |
| | Adagietto from Symphony No.5 By Gustav Mahler (1860-1911). Arranged by Ian Flint. For solo piano. Classical Period. SMP Level 8 (Early Advanced). Single piece. Standard notation and performance notes (does not include words to the songs). 7 pages. Published by Edition Peters |
| | |
| --- | --- |
| | "Debussy, Mahler and More - Volume II (Flute)" (Complete Flute and Piccolo Parts to 61 Orchestral Masterworks on CD-ROM). By Claude Debussy (1862-1918) and Gustav Mahler (1860-1911). For flute and piccolo (Flute). The Orchestra Musician's CD-ROM Library. Classical. Difficulty: medium-difficult. CD-ROM |
| | |
| --- | --- |
| | Piano Quartet "(1st Movement). By Gustav Mahler (1860-1911). Edited by Manfred Wagner-Artzt. For Violin, Viola, Cello, Piano. Standard notation. Duration 10 minutes. Published by Universal Edition" |
| | |
| --- | --- |
| | "Debussy, Mahler and More - Volume II (Violin)" (Complete Violin I and II Parts to 61 Orchestral Masterworks on CD-ROM). By Claude Debussy (1862-1918) and Gustav Mahler (1860-1911). For violin I and violin II (Violin). The Orchestra Musician's CD-ROM Library. Classical. Difficulty: medium-difficult. CD |
| | |
| --- | --- |
| | 24 Songs in Four Volumes (Low) By Gustav Mahler (1860-1911). For low voice and piano (low voice). Classical Period and 20th Century. Collection. Language: German and English. Published by International Music Company |
| | |
| --- | --- |
| | Symphonies Nos. 1 and 2 By Gustav Mahler (1860-1911). For orchestra. Full Orchestra (Full Score). Dover Edition. Classical Period. Full score. Full score notation. 384 pages. Published by Dover Publications |
| | |
| --- | --- |
| | "Debussy, Mahler and More - Volume II (Horn)" (Complete Horn Parts to 61 Orchestral Masterworks on CD-ROM). By Claude Debussy (1862-1918) and Gustav Mahler (1860-1911). For horn (Horn). The Orchestra Musician's CD-ROM Library. Classical. Difficulty: medium-difficult. CD-ROM (Windows and Mac). Standar |
| | |
| --- | --- |
| | Symphony No. 8 By Gustav Mahler (1860-1911). For Full Orchestra. Full Orchestra (Full Score). Dover Edition. Masterwork. Full Score. Published by Dover Publications |
| | |
| --- | --- |
| | "Debussy, Mahler and More - Volume II (Trumpet)" (Complete Trumpet Parts to 61 Orchestral Masterworks on CD-ROM). By Claude Debussy (1862-1918) and Gustav Mahler (1860-1911). For trumpet. The Orchestra Musician's CD-ROM Library. Classical. Difficulty: medium-difficult. CD-ROM (Windows and Mac). Standard |
| | |
| --- | --- |
| | Symphony No. 9 By Gustav Mahler (1860-1911). For Full Orchestra. Full Orchestra (Full Score). Dover Edition. Masterwork. Full Score. Published by Dover Publications |
| | |
| --- | --- |
| | "Debussy, Mahler and More - Volume II (Clarinet)" (Complete Clarinet Parts to 61 Orchestral Masterworks on CD-ROM). By Claude Debussy (1862-1918) and Gustav Mahler (1860-1911). For clarinet (Clarinet). The Orchestra Musician's CD-ROM Library. Classical. Difficulty: medium-difficult. CD-ROM (Windows and M |
| | |
| --- | --- |
| | "Debussy, Mahler and More - Volume II (Viola)" (Complete Viola Parts to 61 Orchestral Masterworks on CD-ROM). By Claude Debussy (1862-1918) and Gustav Mahler (1860-1911). For viola (Viola). The Orchestra Musician's CD-ROM Library. Classical. Difficulty: medium-difficult. CD-ROM (Windows and Mac). Stan |
| | |
| --- | --- |
| | "Debussy, Mahler and More - Volume II (Cello)" (Complete Cello Parts to 61 Orchestral Masterworks on CD-ROM). By Claude Debussy (1862-1918) and Gustav Mahler (1860-1911). For cello (Cello). The Orchestra Musician's CD-ROM Library. Classical. Difficulty: medium-difficult. CD-ROM (Windows and Mac). Stan |
| | |
| --- | --- |
| | "Debussy, Mahler and More - Volume II (Oboe)" (Complete Oboe Parts to 61 Orchestral Masterworks on CD-ROM). By Claude Debussy (1862-1918) and Gustav Mahler (1860-1911). For oboe (Oboe). The Orchestra Musician's CD-ROM Library. Classical. Difficulty: medium-difficult. CD-ROM (Windows and Mac). Standar |
| | |
| --- | --- |
| | Ruckertlieder "By Gustav Mahler (1860-1911). For Voice, Piano. This edition: Urtext. Mahler Gesamtausgabe (Text Language: German). Choral. Sheet Music. Text Language: German. Published by C. F. Kahnt" |
| | |
| --- | --- |
| | Symphonies Nos. 5 and 6 By Gustav Mahler (1860-1911). For Full Orchestra. Full Orchestra (Full Score). Dover Edition. Masterwork. Full Score. Published by Dover Publications |
| | |
| --- | --- |
| | Symphonien (Ausgewahlte Satze). By Gustav Mahler (1860-1911). Arranged by Ernst Rudolph. For Piano. 58 pages. Published by Universal Edition |
Search for other pieces by Gustav Mahler by entering text in the box below:


8notes in other languages: