Handel - Sonata V 4th mvt Allegro sheet music
Thank you for trying the 8notes.com Audio Playback
You have reached your limit of audio playback for today.
Please subscribe for unlimited playback
Individual Subscriptions:

Click here for more info on subscriptions

Handel - Sonata V 4th mvt Allegro sheet music for Violin
TEMPO: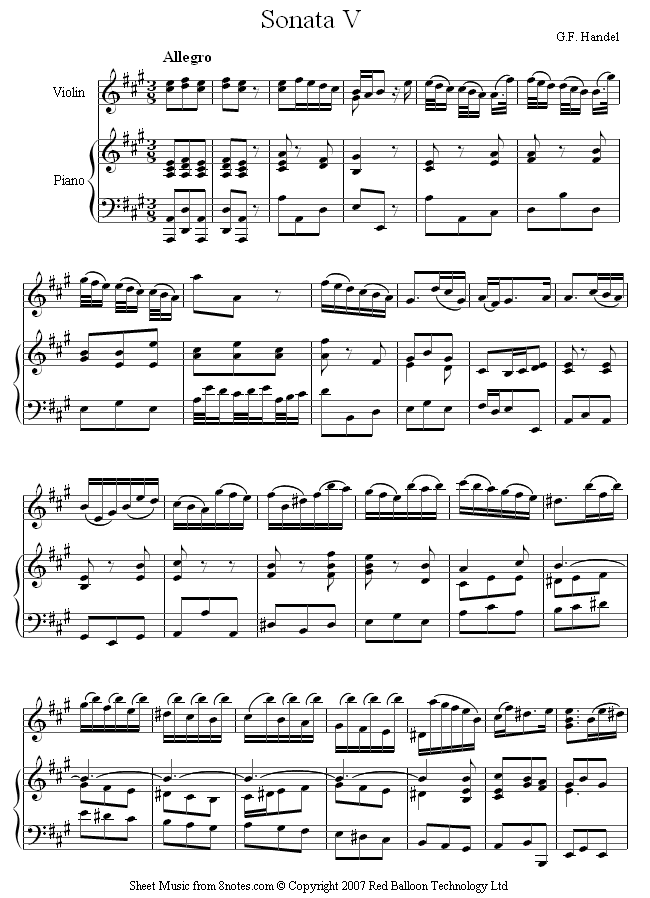 Keyboard Shortcuts:

←

Previous page

→

Next page

space

Play & Pause
About 'Sonata V 4th mvt Allegro'

Artist:
Handel, George Frideric (biography) (sheet music)
Born:
1685 , Halle
Died:
1759 , London
The Artist:
Important composer from the Baroque period who became a British citizen in 1726. He wrote many operas and oratorios, including the popular Messiah.

Instrument:
Violin (View more Intermediate Violin Music)
Style:
Classical (View more Classical Violin Music)

Tags





Copyright:
© Copyright 2000-2016 Red Balloon Technology Ltd (8notes.com)
This file may be printed and performed freely, but should not be digitally copied, shared or reproduced without permission.
Items to buy by Handel
| | |
| --- | --- |
| | Messiah "(An Oratorio). By George Frideric Handel (1685-1759). Edited by T. Tertius Noble. For SATB choir (with solos) and piano accompaniment (SATB). Choral. Baroque. Difficulty: medium to medium-difficult. Vocal score. Choral notation, piano reduction, introduc |
| | |
| --- | --- |
| | Messiah "(A sacred oratorio). By George Frideric Handel (1685-1759). Edited by Watkins Shaw. For soprano solo voice, alto solo voice, tenor solo voice, bass solo voice, SATB choir and piano accompaniment (Vocal Score). Music Sales America. Baroque, Choral, Christ |
| | |
| --- | --- |
| | Aria Con Variazioni - Trumpet/Piano "(From 5th Harpsichord Suite). By George Frideric Handel (1685-1759). Edited by trans. Bernard Fitzgerald. Arranged by R. Bernard Fitzgerald. For Bb trumpet (cornet) and piano. Brass - B-Flat Cornet (Trumpet) Solo; Masterworks; Solo. Baroque. Difficulty: |
| | |
| --- | --- |
| | Water Music "By George Frideric Handel (1685-1759). Arranged by Arthur Campbell. For solo piano. Baroque. SMP Level 6 (Late Intermediate). Collection. Standard notation, fingerings and introductory text (does not include words to the songs). 14 pages. Published by Ed |
| | |
| --- | --- |
| | 45 Arias from Operas and Oratorios "(Volume III - High Voice). By George Frideric Handel (1685-1759). For high voice solo and piano accompaniment (high voice). Baroque. Difficulty: difficult. Songbook. Vocal melody, lyrics and piano accompaniment. Published by International Music Company" |
| | |
| --- | --- |
| | Passacaglia - Duo for Violin and Cello (score & parts) By George Frideric Handel (1685-1759). Edited by Frieda R. Davis and Nathan Stutch. For violin and cello. Baroque. Difficulty: difficult. Set of performance parts and score. Bowings and fingerings. 10 pages. Published by International Music Company |
| | |
| --- | --- |
| | Sonata No. 3 (Alto Sax and Piano). By George Frideric Handel (1685-1759). Arranged by Sigurd Rascher. For alto saxophone and piano accompaniment (Alto Sax). Woodwind Solo. Baroque. Difficulty: medium. Set of performance parts (includes separate pull-out saxophone part |
| | |
| --- | --- |
| | 45 Arias from Operas and Oratorios - for Voice and Piano (Low) "(Volume I). By George Frideric Handel (1685-1759). Edited by Sergius Kagen. For low voice and piano accompaniment (low voice). Baroque. Difficulty: difficult. Collection. Vocal melody, lyrics, piano accompaniment, translations and introductory text. 63 p |
| | |
| --- | --- |
| | Seven (7) Sonatas and Famous Largo By George Frideric Handel (1685-1759). For flute and piano. Woodwind Solos & Ensembles - Flute Collection. Baroque. Set of performance parts. 100 pages. Published by Southern Music Company |
| | |
| --- | --- |
| | Seven Sonatas for Flute and Piano (for Flute & Piano). By George Frideric Handel (1685-1759). Arranged by Louis Moyse. For flute and piano (Flute). Woodwind Solo. Baroque. Set of performance parts. 66 pages. G. Schirmer #ED3164. Published by G. Schirmer |
| | |
| --- | --- |
| | 45 Arias from Operas and Oratorios "(Low Voice - Volume II). By George Frideric Handel (1685-1759). For voice and piano (low voice). Baroque. Difficulty: difficult. Songbook. Vocal melody, lyrics and piano accompaniment. Published by International Music Company" |
| | |
| --- | --- |
| | Hallelujah Chorus From The Messiah "((from Messiah)). By George Frideric Handel (1685-1759). For SATB choir and piano accompaniment (SATB). Choral. Baroque, Choral and Sacred. Octavo. 12 pages. G. Schirmer #OC2020. Published by G. Schirmer" |
| | |
| --- | --- |
| | Eleven Sonatas For Flute And Basso Continuo "By George Frideric Handel (1685-1759). Edited by Hans-Peter Schmitz and Terence Best. For flute (alto recorder) and basso continuo. This edition: Urtext edition. Baroque. Difficulty: medium. 2 volume set. Basso continuo, keyboard realization and introduc |
| | |
| --- | --- |
| | Passacaglia - Duo for Violin and Viola (Score & Parts). By George Frideric Handel (1685-1759) and Johann Halvorsen (1864-1935). Edited by Frieda R. Davis and Leonard Davis. For violin and viola. Baroque. Difficulty: difficult. Set of performance parts and score. Bowings and fingerings. 12 page |
| | |
| --- | --- |
| | Six Sonatas - Piano / Violin (Violin and Piano). By George Frideric Handel (1685-1759). Edited by A Betti. Arranged by Adolfo Betti. For violin and piano (Violin). String Solo. Baroque. Difficulty: medium. Set of performance parts. Solo part and piano accompaniment. 51 pages. G. Schi |
| | |
| --- | --- |
| | Water Music Suites for String Quartet "By George Frideric Handel (1685-1759). For string quartet (violin 1, violin 2, viola, cello). Instrumental Ensemble - Strings. A very playable arrangement of the complete suites. Includes 3rd violin part. Baroque. Grade 3. Set of performance parts. Publi |
| | |
| --- | --- |
| | Ombra mai fu (Voice and Piano). By George Frideric Handel (1685-1759). Vocal Solo. 4 pages. Ricordi #R127487. Published by Ricordi |
Search for other pieces by George Frideric Handel by entering text in the box below:


8notes in other languages: