Strauss - Radetsky March sheet music
Thank you for trying the 8notes.com Audio Playback
You have reached your limit of audio playback for today.
Please subscribe for unlimited playback
Individual Subscriptions:

Click here for more info on subscriptions

Strauss - Radetsky March sheet music for Piano
TEMPO: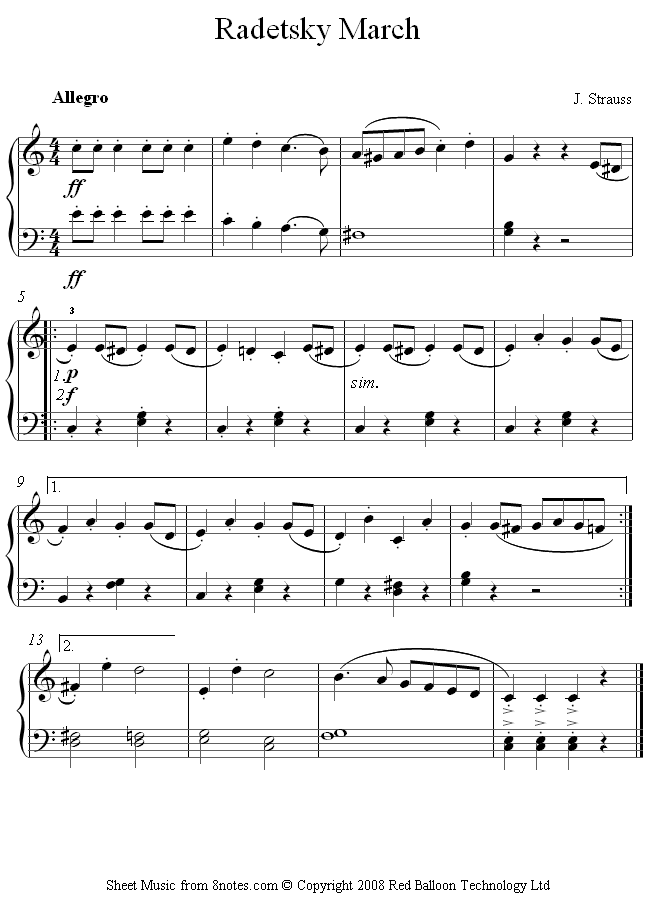 Keyboard Shortcuts:

space

Play & Pause
About 'Radetsky March'

Artist:
Strauss, Johann (biography) (sheet music)
Born:
October 25, 1825 , Vienna
Died:
June 3, 1899 , Vienna
The Artist:
Johann Strauss II (or Johann Strauss the Younger, or Johann Strauss Jr.) (October 25, 1825 - June 3, 1899) was an Austrian and German composer known especially for his waltzes, such as The Blue Danube.

| | |
| --- | --- |
| Composition Date: | 1848 |
| Composition Info: | Radetzky March, Op. 228, is a march composed by Johann Strauss Sr. in 1848. It was dedicated to the Field Marshal Joseph Radetzky von Radetz, and became quite a popular march among soldiers. It has been remarked that its tone is more celebratory than martial- Strauss was commissioned to write the piece for a celebration of Radetsky's victory at the Battle of Custoza. |
| Number of Pages | 1 |
| Difficulty Level | Easy Level: Recommended for Beginners with some playing experience |
Instrument:
Piano (View more Easy Piano Music)
Style:
Classical (View more Classical Piano Music)

Tags





Copyright:
© Copyright 2000-2015 Red Balloon Technology Ltd (8notes.com)
This file may be printed and performed freely, but should not be digitally copied, shared or reproduced without permission.
Items to buy by Strauss
| | |
| --- | --- |
| | Die Fledermaus "(Vocal Score). By Johann Strauss, Jr. (1825-1899). Arranged by Ruth & Thomas Martin. For 2 soprano voice solos, 2 mezzo soprano voice solos, 3 tenor voice solos, 2 baritone voice solos, SATB chorus and piano accompaniment (Vocal Score). G. Schirmer Opera |
| | |
| --- | --- |
| | Adele's Laughing Song "(Mein Herr Marquis). By Johann Strauss, Jr. (1825-1899). For soprano voice and piano. Vocal Solo. Classical Period. Difficulty: medium. Single piece. Vocal melody, piano accompaniment and lyrics (English, German). 7 pages. G. Schirmer #ST38033. Published |
| | |
| --- | --- |
| | "Fruhlingsstimmen Waltz, Op. 410" "(Voices of Spring). By Johann Strauss, Jr. (1825-1899). High Voice. Einzelausgaben (Single Sheets). 16 pages. Schott Music #ED07079. Published by Schott Music" |
| | |
| --- | --- |
| | Die Fledermaus (Libretto). By Johann Strauss. Libretto. Opera. Softcover. 48 pages. G. Schirmer #ED2558. Published by G. Schirmer |
| | |
| --- | --- |
| | Concert Arabesques "(Piano Solo). By Johann Strauss, Sr. (1804-1849). Arranged by Andrei Schulz-Evler. For solo piano. Piano Solo. Classical Period. Difficulty: medium-difficult to difficult. Collection. Standard notation and fingerings (does not include words to the songs) |
| | |
| --- | --- |
| | Blue Danube Waltz "(Intermediate Piano Solo). By Johann Strauss, Sr. (1804-1849). Edited by Louis Streabbog-deis. For solo piano. Piano Solo. Classical Period. SMP Level 3 (Early Intermediate). Single piece. Standard notation and fingerings (does not include words to the s |
| | |
| --- | --- |
| | Johann Strauss "(28 Waltzes, Polkas and Quadrilles). By Johann Strauss, Jr. (1825-1899). Piano. World's Greatest Classical Music. Book only. 304 pages. Published by Hal Leonard" |
| | |
| --- | --- |
| | Above The First Position "(A Comprehensive and Melodic Approach to the Third, Second, Fourth, and Fifth Positions for the Violin). By Russell Webber Johann Strauss. Edited by Russell Webber, Markwood Holmes. Arranged by Russell Webber. For Violin, Violin, Violin, Violin, Violin. |
| | |
| --- | --- |
| | Tik-Tak op. 365 "(Polka schnell nach ""Die Fledermaus"" (eingerichtet fur Streichtrio)). By Johann Strauss, Jr. (1825-1899). For Violin, Viola, Cello. String trio by Birtel Vol. 18. Classical. Score and Parts. Published by Verlag Dohr" |
| | |
| --- | --- |
| | Die Fledermaus (A Version in English). By Johann Strauss. Libretto. BH Stage Works. 64 pages. Boosey & Hawkes #M051150144. Published by Boosey & Hawkes |
| | |
| --- | --- |
| | Die Fledermaus (Metropolitan Opera Version). By Johann Strauss. Vocal Score. BH Stage Works. 196 pages. Boosey & Hawkes #M060025273. Published by Boosey & Hawkes |
| | |
| --- | --- |
| | Radetzky March "(Full Score and Parts). By Johann Strauss, Jr. (1825-1899). Arranged by Andrew Balent. Concert Band. For Flute, Oboe, Flute II, Clarinet I, Clarinet II, Bass Clarinet, Bassoon, Alto Saxophone, Tenor Saxophone, Baritone Saxophone, Trumpet I, Trumpet II, H |
| | |
| --- | --- |
| | The Melodies (For Piano(Themes and Melodies from Famous Compositions)). By P.I. Tschaikowsky Johann Strauss. Arranged by Maxwell Eckstein. For Piano Solo. Classical. Solo part. Standard notation. 48 pages. Published by Carl Fischer |
| | |
| --- | --- |
| | "Soirí©e de Vienne, Op. 56" (A Concert Paraphrase of Johann Strauss's Waltz Motives from Fledermaus). By Alfred Grunfeld (1852-1924). Edited by F. H. Schneider. BH Piano. Softcover. 14 pages. Bote & Bock #M202500316. Published by Bote & Bock |
| | |
| --- | --- |
| | Die Fledermaus By Johann Strauss. Arranged by Hans Swarowsky. Study Score. Eulenburg Taschenpartituren (Pocket Scores). Study Score. 746 pages. Hal Leonard #ETP922. Published by Hal Leonard |
Search for other pieces by Johann Strauss by entering text in the box below:


8notes in other languages: