Tárrega - Preludi- Series 1 no.s 1-7 sheet music
Thank you for trying the 8notes.com Audio & Transposition features
You have reached your limit for today.
Please subscribe for unlimited playback & transpositions
Individual Subscriptions:

Click here for more info on subscriptions

Tárrega - Preludi- Series 1 no.s 1-7 sheet music for Guitar
TEMPO: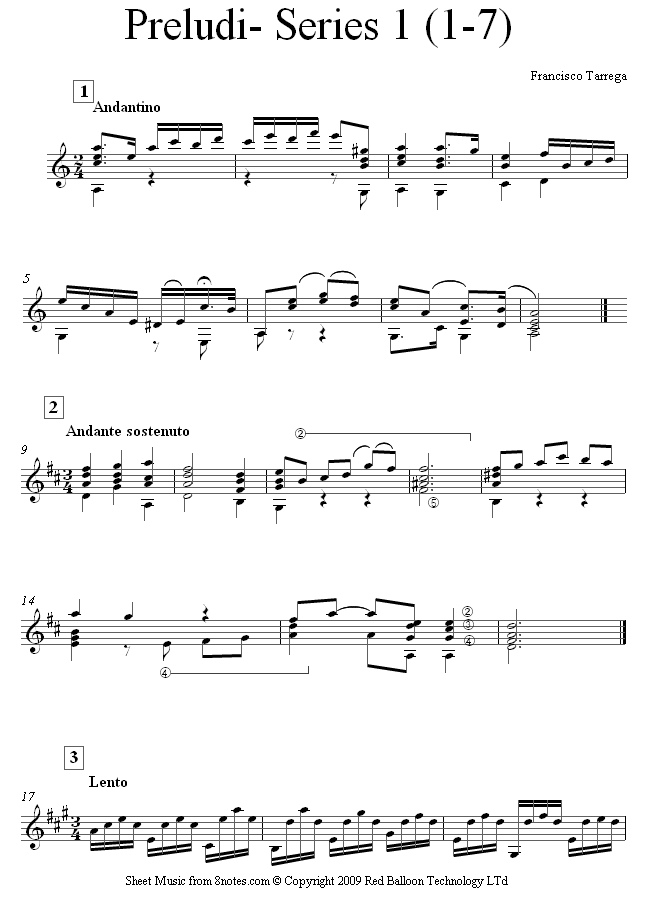 Keyboard Shortcuts:

←

Previous page

→

Next page

space

Play & Pause
About 'Preludi- Series 1 no.s 1-7'

Artist:
Tárrega, Francisco (biography) (sheet music)
Born:
21 November 1852 , Vila-real
Died:
15th December 1909 , Valencia
The Artist:
Francisco Tárrega was born in Villa-real, Spain on November 21, 1852. He was one of the most influential guitarists the world has ever known. He is considered by many to be the father of the modern classical guitar

Instrument:
Guitar (View more Intermediate Guitar Music)
Style:
Classical (View more Classical Guitar Music)

Tags





Copyright:
© Copyright 2000-2016 Red Balloon Technology Ltd (8notes.com)
This file may be printed and performed freely, but should not be digitally copied, shared or reproduced without permission.
Items to buy by Tárrega
| | |
| --- | --- |
| | Recuerdos de la Alhambra (Guitar). By Francisco Tarrega (1852-1909). For Guitar. Music Sales America. Classical. 4 pages. Union Musical Ediciones #UMG18347. Published by Union Musical Ediciones |
| | |
| --- | --- |
| | The Francisco Tarrega Collection - Book/CD "(Book/CD Pack). By Francisco Tarrega and Paul Henry. For guitar. Guitar Collection. Classical Period. Difficulty: medium. Guitar tablature songbook and examples CD. Guitar tablature, standard notation and introductory text. 64 pages. Published by Hal Leo |
| | |
| --- | --- |
| | Guitar School - Book 1 "(A Theoretical-Practical Method for the Guitar, Based on the Principles of Francisco Tarrega). By Emilio Pujol Vilarrubi (1886-1980). Edited by Matanya Ophee. For Guitar. Instructional method. Standard notation. 71 pages. Published by Editions Orphee" |
| | |
| --- | --- |
| | "Technical Etudes, Complete, Gu" By Francisco Tarrega (1852-1909). Edited by Karl Scheit. For Guitar. Musik fur Gitarre (Scheit). Full score (study). Standard notation. Published by Universal Edition |
| | |
| --- | --- |
| | Tarrega In Tablature "By Francisco Tarrega (1852-1909). Edited by Ben Bolt. For guitar. Solos. Acoustic Guitar Series. Classical Period. Difficulty: medium. Guitar solo book (includes tablature). Guitar tablature, standard notation and introductory text. 125 pages. Published |
| | |
| --- | --- |
| | Capricho Arabe (for Guitar). By Francisco Tarrega (1852-1909). For Guitar. Music Sales America. Classical. 4 pages. Union Musical Ediciones #UMG18146. Published by Union Musical Ediciones |
| | |
| --- | --- |
| | Twenty Studies For Guitar (For Guitar). By Francisco Tarrega (1852-1909). For Guitar. Classical Guitar Folio; Masterworks. Kalmus Edition. Masterwork; Romantic. Book. 16 pages. Published by Alfred Music Publishing |
| | |
| --- | --- |
| | Album of Selected Works By Francisco Tarrega (1852-1909). For solo guitar. Classical Guitar Folio; Masterworks. Kalmus Edition. Classical Period. Difficulty: medium to medium-difficult. Guitar solo songbook. Standard notation. 13 pages. Published by Alfred Music Publishing |
| | |
| --- | --- |
| | Complete Preludes By Francisco Tarrega (1852-1909). For Guitar. Musik fur Gitarre (Scheit). Full score (study). Standard notation. Published by Universal Edition |
| | |
| --- | --- |
| | Adelita Lagrima By Francisco Tarrega (1852-1909). Arranged by Miguel Abloniz. For guitar. Standard notation. Published by Berben |
| | |
| --- | --- |
| | Recuerdos De La Alhambra By Francisco Tarrega (1852-1909). For piano. Arrangements faciles H.G. Heumann. Classical. Grade 3. Score. 4 pages. Published by Editions Henry Lemoine |
| | |
| --- | --- |
| | Gran Jota Aragonesa By Francisco Tarrega (1852-1909). For Guitar. Classical Guitar Solo; Masterworks; Solo. Kalmus Edition. Masterwork; Romantic. Book. 12 pages. Published by Alfred Music Publishing |
| | |
| --- | --- |
| | Fantasia on Themes from La Traviata (Guitar Solo). By Francisco Tarrega (1852-1909). Arranged by Carlos Bonell. Schott. 8 pages. Schott Music #ED11844. Published by Schott Music |
| | |
| --- | --- |
| | Granada Serenata By Isaac Albeniz (1860-1909). Edited by Francisco Tarrega. Music Sales America. Classical. 8 pages. Union Musical Ediciones #UMG21657. Published by Union Musical Ediciones |
| | |
| --- | --- |
| | Lagrima and Adelita By Francisco Tarrega (1852-1909). Arranged by Sophocles Papas. For Guitar. Standard notation. Published by Columbia Music Company |
| | |
| --- | --- |
| | Recuerdos De La Alhambra (Tremolo-Etude). By Francisco Tarrega (1852-1909). Edited by Karl Scheit. For guitar. Musik fur Gitarre (Scheit). Full score (study). Standard notation. Published by Universal Edition |
| | |
| --- | --- |
| | Favorite Guitar Pieces By Francisco Tarrega (1852-1909). For Guitar. Sheet Music. Published by Heinrichshofen Verlag |
Search for other pieces by Francisco Tarrega by entering text in the box below:


8notes in other languages: