Mozart - Vorrei Dir from Cosi fan tutti sheet music
Close X
Thank you for trying the 8notes.com Audio & Transposition features
You have reached your limit for today.
Please subscribe for unlimited playback & transpositions
Individual Subscriptions:

Click here for more info on subscriptions

Mozart - Vorrei Dir from Cosi fan tutti sheet music for Violin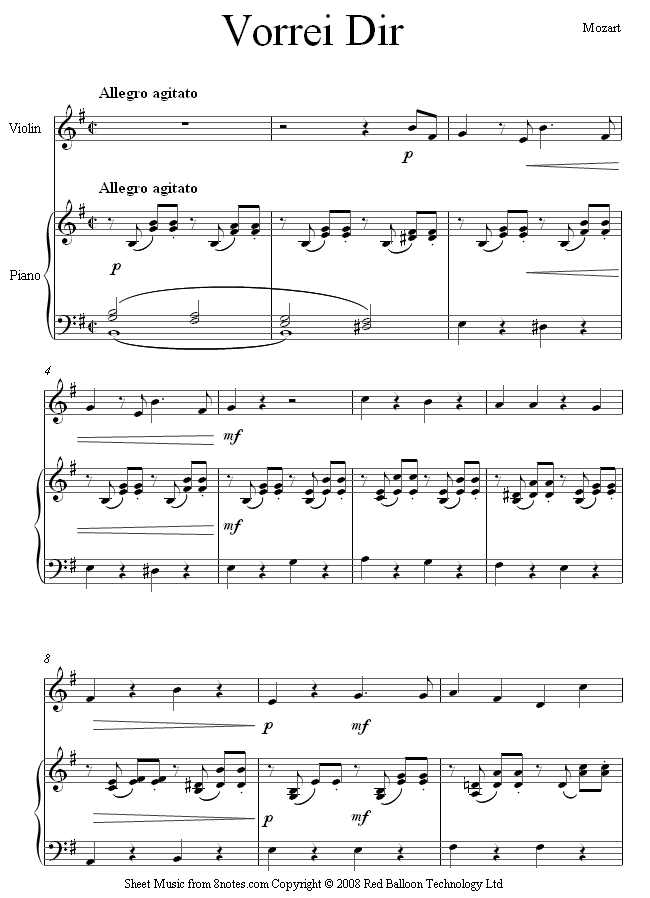 About 'Vorrei Dir from Cosi fan tutti'

Artist:
Mozart, Wolfgang Amadeus (biography) (sheet music)
Born:
January 27, 1756 , December 5, 1791
Died:
Salzburg , Vienna
The Artist:
A child prodigy, Mozart wrote his first symphony when he was eight years old and his first opera at 12. He went on to write some of the most important masterpieces of the Classical era, including symphonies, operas, string quartets and piano music.

Instrument:
Violin (View more Easy Violin Music)
Style:
Classical (View more Classical Violin Music)

Tags





Copyright:
© Copyright 2000-2016 Red Balloon Technology Ltd (8notes.com)
This file may be printed and performed freely, but should not be digitally copied, shared or reproduced without permission.
Parts, Versions, Transpositions

Alternative Keys

This piece is also available in the following transpositions:


D major

Eb major

E major

F major

F# major

G major

Ab major

A major

Bb major

B major

C major

C# major



Request New Transposition



Parts

The following parts are available:


Request Additional Parts

Request Large Note Part

Request Part with Chords



Alternative Versions

Arrangements of this piece also available for:
Items to buy by Mozart
| | |
| --- | --- |
| | "Concerto For Clarinet, K. 622" "By Wolfgang Amadeus Mozart (1756-1791). Edited by Eric Simon. For Bb clarinet and piano accompaniment (Clarinet). Woodwind Solo. Classical Period. Difficulty: medium. Set of performance parts (includes separate pull-out clarinet part). Solo part, piano r |
| | |
| --- | --- |
| | Four Horn Concertos And Concert Rondo (Horn and Piano). By Wolfgang Amadeus Mozart (1756-1791). For horn and piano accompaniment. Brass Solo. Classical Period. Difficulty: medium. Set of performance parts (includes separate pull-out horn part). Solo part and piano reduction. 127 pages. G. Sch |
| | |
| --- | --- |
| | "Requiem, K. 626" "(Mozarts Fragment mit den Erganzungen von Joseph Eybler und Franz Xaver Sussmayr). By Wolfgang Amadeus Mozart (1756-1791). Edited by Leopold Nowak and Heinz Moehn. For soprano solo voice, alto solo voice, tenor solo voice, bass solo voice, SATB choir and |
| | |
| --- | --- |
| | The Magic Flute (Die Zauberflote) (Vocal Score). By Wolfgang Amadeus Mozart (1756-1791). Arranged by Ruth & Thomas Martin. For voices (solo and ensemble) and piano accompaniment (Score). Classical Period. Difficulty: medium-difficult. Vocal score. Choral notation and piano reduction. 167 |
| | |
| --- | --- |
| | "Concerto No. 3 In G, K. 216" (Score and Parts). By Wolfgang Amadeus Mozart (1756-1791). Edited by Sam Franko and S Franko. For violin and piano (Violin). String Solo. Classical Period. Difficulty: medium. Set of performance parts (includes separate pull-out violin part). Solo part an |
| | |
| --- | --- |
| | Piano Sonatas - Volume 1 "(Complete Edition in 2 volumes). By Wolfgang Amadeus Mozart (1756-1791). Edited by Carl Adolf Martienssen and Wilhelm Weismann. For solo piano. This edition: Urtext. Classical Period. SMP Level 10 (Advanced). Collection (This Edition: Volume 1). Thematic |
| | |
| --- | --- |
| | Requiem "By Wolfgang Amadeus Mozart (1756-1791). Edited by F. Brissler. For soprano solo voice, alto solo voice, tenor solo voice, bass solo voice, SATB choir and piano accompaniment. Classical Period. Difficulty: medium to medium-difficult. Vocal score. Choral n |
| | |
| --- | --- |
| | Piano Sonatas - Volume 2 "(Complete Edition in 2 volumes). By Wolfgang Amadeus Mozart (1756-1791). Edited by Carl Adolf Martienssen and Wilhelm Weismann. For solo piano. This edition: Urtext. Classical Period. SMP Level 10 (Advanced). Collection (This Edition: Volume 2). Thematic |
| | |
| --- | --- |
| | Klaviersonaten - Band II "(K. 330 (300h) - K. 576). By Wolfgang Amadeus Mozart (1756-1791). Edited by Ernst Herttrich. For solo piano. Piano (Harpsichord), 2-hands. Henle Music Folios. Pages: 157. Classical Period. SMP Level 10 (Advanced). Collection (paper bound). Standard notat |
| | |
| --- | --- |
| | "Requiem, K. 626" "(SATB). By Wolfgang Amadeus Mozart (1756-1791). For soprano solo voice, alto solo voice, tenor solo voice, bass solo voice, SATB choir and piano accompaniment (SATB). Choral Large Works. Classical Period. Difficulty: medium to medium-difficult. Vocal sco |
| | |
| --- | --- |
| | "The Magic Flute, K. 620" "(Eine deutsche Oper in zwei Aufzugen). By Wolfgang Amadeus Mozart (1756-1791). Edited by Heinz Moehn. For voices (solo and ensemble) and piano accompaniment. This edition: Urtext edition. Komplette Neuausgabe seit 05/2007. Classical Period. Difficulty: d |
| | |
| --- | --- |
| | 12 Easy Duets By Wolfgang Amadeus Mozart (1756-1791). Edited by Irmgard Engels. For 2 violins. Classical Period. Difficulty: easy to easy-medium. Easy violin duet book (2 copies necessary for performance). Duet notation. K 487. 12 pages. Published by Edition Peters |
| | |
| --- | --- |
| | Flute Concertos (for Flute & Piano Reduction). By Wolfgang Amadeus Mozart (1756-1791). For flute solo and piano accompaniment (Flute). Woodwind Solo. Classical Period. Difficulty: medium. Set of performance parts (includes separate pull-out flute part). Solo part and pia |
| | |
| --- | --- |
| | Lieder "(Songs). By Wolfgang Amadeus Mozart (1756-1791). Edited by Max Friedlaender. For high voice solo and piano accompaniment. 29 Songs: Das Veilchen, Abendempfindung, An Chloe, Warnung, Zufriedenheit, etc; includes 2 Fr-Ger, 2 It-Ger, 1 with Mandolin, 2 Terz |
| | |
| --- | --- |
| | "12 Variations on 'Ah, vous dirai-je, Maman' - KV 265 (300r)" "By Wolfgang Amadeus Mozart (1756-1791). Edited by Ewald Zimmermann. For solo piano. Piano (Harpsichord), 2-hands. Henle Music Folios. Urtext edition-paper bound. Classical Period. SMP Level 8 (Early Advanced). Single piece. K.265(300e). 10 pages. G. Henl |
| | |
| --- | --- |
| | Sonatas and Fantasies (for the Piano). By Wolfgang Amadeus Mozart (1756-1791). Edited by Nathan Broder. Piano. For solo piano. This edition: Revised Edition. Classical Period. SMP Level 10 (Advanced). Collection. Standard notation (does not include words to the songs). 332 pag |
| | |
| --- | --- |
| | Klaviersonaten - Band I "(K. 279 (189d) - K. 311 (284c)). By Wolfgang Amadeus Mozart (1756-1791). Edited by Ernst Herttrich. For solo piano. Piano (Harpsichord), 2-hands. Henle Music Folios. Pages: IX and 145. Classical Period. SMP Level 10 (Advanced). Collection (paper bound). |
| | |
| --- | --- |
| | Easy Violin Duets - 1st position By Wolfgang Amadeus Mozart (1756-1791). Edited by Waldemar Twarz. Violin Duets. For violin duet. Classical Period. Difficulty: easy to easy-medium. Easy violin duet book. Duet notation and introductory text. 12 pages. Published by Heinrichshofen Verlag |
| | |
| --- | --- |
| | Le nozze di Figaro - Die Hochzeit des Figaro (Opera buffa in 4 Akten. Klavierauszug (italienisch/deutsch)). By Wolfgang Amadeus Mozart (1756-1791). Edited by Ludwig Finscher. Arranged by Eugen Epplee. For 5 soprano voice solos/2 tenor voice solos/4 bass voice solos/mixed choir/2 flutes/2 oboes/2 cla |
| | |
| --- | --- |
| | Exultate Jubilate "By Wolfgang Amadeus Mozart (1756-1791). Edited by Martin Focke. For soprano voice, piano and orchestra. Classical Period. Difficulty: difficult. Vocal score. Introductory text and translations. Composed 1773. K.165. 20 pages. Published by Edition Peters" |