Elgar - Land of Hope and Glory sheet music
Thank you for trying the 8notes.com Audio & Transposition features
You have reached your limit for today.
Please subscribe for unlimited playback & transpositions
Individual Subscriptions:

Click here for more info on subscriptions

Elgar - Land of Hope and Glory sheet music for Flute
TEMPO: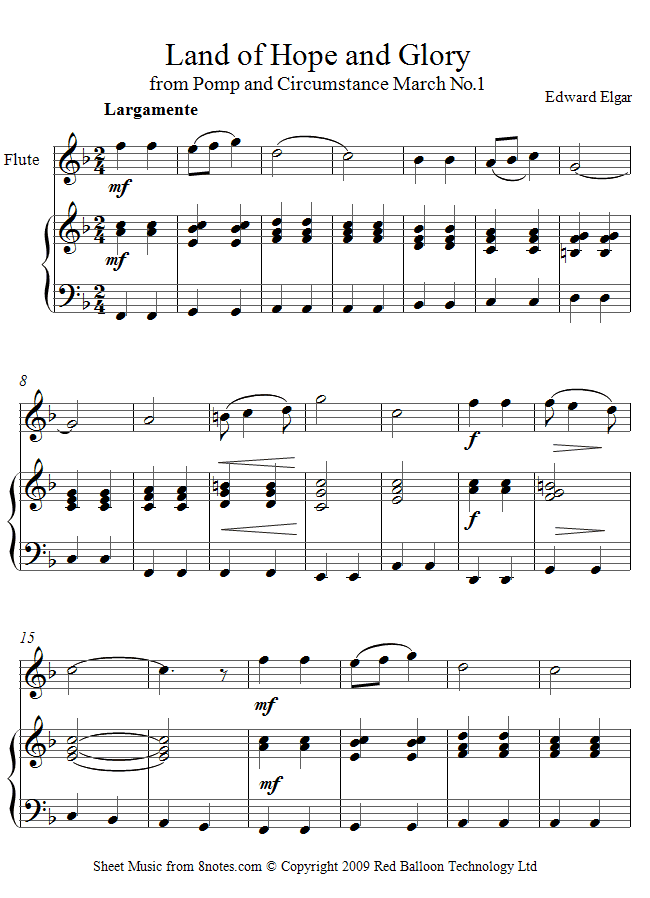 Keyboard Shortcuts:

←

Previous page

→

Next page

space

Play & Pause
About 'Land of Hope and Glory'

Artist:
Elgar, Edward (biography) (sheet music)
Born:
June 2, 1857 , Broadheath, Worcestershire
Died:
February 23, 1934
The Artist:
English composer from the turn of the 19th and 20th centuries who wrote some of the most popular works in the English repertoire.

| | |
| --- | --- |
| Composition Date: | 1901 |
| Composition Info: | This famous tune (some call it Britain's second national anthem) started life as part of the Pomp and Circumstance March no.1, which famously received a double encore at its London premiere at the Henry Wood Promenade concerts. |
| Score Key | F major (Sounding Pitch) |
| Number of Pages | 2 |
| Difficulty Level | Easy Level: Recommended for Beginners with some playing experience |
Instrument:
Flute (View more Easy Flute Music)
Style:
Classical (View more Classical Flute Music)

Tags





Copyright:
© Copyright 2000-2016 Red Balloon Technology Ltd (8notes.com)
This file may be printed and performed freely, but should not be digitally copied, shared or reproduced without permission.
Parts, Versions, Transpositions

Alternative Keys

This piece is also available in the following transpositions:


C major

C# major

D major

Eb major

E major

F major

F# major

G major

Ab major

A major

Bb major

B major



Request New Transposition



Parts


The parts for this piece have not yet been generated.

Request Parts



Alternative Versions

Arrangements of this piece also available for:
Items to buy by Elgar
| | |
| --- | --- |
| | "Concerto in E Minor, Op. 85 for Violoncello and Orchestra" "(Arranged for Cello and Piano). By Edward Elgar (1857-1934). Edited by John Pickard. For Cello, Piano Accompaniment. Music Sales America. Romantic, 20th Century. Softcover. 56 pages. Novello & Co Ltd. #NOV081334. Published by Novello & Co Ltd." |
| | |
| --- | --- |
| | Nimrod From Enigma Variations Op. 36 (Piano Solo). By Edward Elgar (1857-1934). For Piano Solo. Music Sales America. Romantic. Softcover. 4 pages. Novello & Co Ltd. #NOV100041R. Published by Novello & Co Ltd. |
| | |
| --- | --- |
| | Konzert fur Violoncello und Orchester e-Moll op. 85 (Arrangement for Violoncello and Piano by the Composer). By Edward Elgar (1857-1934). Edited by Jonathan Del Mar. Cello and orchestra. For cello/piano. This edition: Urtext edition. Bearbeitung fur Violoncello und Klavier vom Komponisten. Piano Reduction; |
| | |
| --- | --- |
| | Salut D'Amour "By Edward Elgar (1857-1934). Edited by Donald Burrows. For violin and piano accompaniment. This edition: Urtext. Classical Period. Difficulty: medium. Set of performance parts (includes separate pull-out violin part). Solo part, piano accompaniment and p |
| | |
| --- | --- |
| | Lux Aeterna "By Edward Elgar (1857-1934). Arranged by John Cameron. For SATB Choir (SSAATTBB). Music Sales America. Romantic, Sacred, Choral. 12 pages. Novello & Co Ltd. #NOV290690R. Published by Novello & Co Ltd." |
| | |
| --- | --- |
| | "Pomp and Circumstance, Op. 39, No. 1" "By Edward Elgar (1857-1934). Arranged by John W. Schaum. For solo piano. Masterworks; Piano Solo; Solo. Schaum Solo. Classical Period, 20th Century and Instructional. SMP Level 4 (Intermediate). Single piece. Standard notation, fingerings and introductor |
| | |
| --- | --- |
| | Nimrod (from Elgar's Variations) By Edward Elgar (1857-1934). Arranged by Alfred Reed. Concert Band. Concert Band; Masterworks; SmartMusic. Belwin Classic Band. Form: March. Funeral; Graduation; Masterwork; Romantic. Grade 3.5. Conductor Score & Parts. 120 pages. Published by Belwin Publ |
| | |
| --- | --- |
| | Chanson de nuit; Chanson de matin "By Edward Elgar (1857-1934). For violin and piano accompaniment. This edition: Urtext. Classical Period. Difficulty: difficult. Set of performance parts. Bowings, fingerings, introductory text and critical commentary. Opus 15. 17 pages. Published by Edit |
| | |
| --- | --- |
| | Elgar's Treasures (for Violin and Piano). By Edward Elgar (1857-1934). Violin. Fentone Instrumental Books. Play Along. Softcover with CD. 32 pages. Fentone Music #F919400. Published by Fentone Music |
| | |
| --- | --- |
| | "Ravel, Elgar and More - Volume VII (Flute)" "(The Orchestra Musician's CD-ROM Library, Volume 7). By Edward Elgar (1857-1934) and Maurice Ravel (1875-1937). For flute and piccolo. The Orchestra Musician's CD-ROM Library. 20th Century, Classical Period and Classical. CD-ROM (Windows and Mac). 8 page |
| | |
| --- | --- |
| | 6 Very Easy Pieces for Violin Op. 22 "By Edward Elgar (1857-1934). For Violin, Piano Accompaniment. Music Sales America. Romantic, 20th Century. 11 pages. Bosworth & Co. #BOE003912R. Published by Bosworth & Co." |
| | |
| --- | --- |
| | Romance for Bassoon and Orchestra "(Arranged for Bassoon and Piano). By Edward Elgar (1857-1934). For Bassoon, Piano Accompaniment. Music Sales America. Romantic. 8 pages. Novello & Co Ltd. #NOV120137R. Published by Novello & Co Ltd." |
| | |
| --- | --- |
| | Concerto for Cello Op. 85 "(Cello and Piano Reduction). By Edward Elgar (1857-1934). For Viola, Piano Accompaniment. Music Sales America. Romantic. 34 pages. Novello & Co Ltd. #NOV120068R. Published by Novello & Co Ltd." |
| | |
| --- | --- |
| | "Ravel, Elgar and More - Volume VII (Violin 1-2)" "(The Orchestra Musician's CD-ROM Library, Volume 7). By Edward Elgar (1857-1934) and Maurice Ravel (1875-1937). For Violin 1-2. The Orchestra Musician's CD-ROM Library. CD-ROM only. Published by Hal Leonard" |
| | |
| --- | --- |
| | Pomp and Circumstance (Piano Solo). By Edward Elgar (1857-1934). Edited by Joseph Prostakoff. Piano Solo. 12 pages. G. Schirmer #ST44382. Published by G. Schirmer |
| | |
| --- | --- |
| | "Ravel, Elgar and More - Volume VII (Oboe)" "(The Orchestra Musician's CD-ROM Library, Volume 7). By Edward Elgar (1857-1934) and Maurice Ravel (1875-1937). For Oboe. The Orchestra Musician's CD-ROM Library. CD-ROM only. Published by Hal Leonard" |
| | |
| --- | --- |
| | Sonata in G Major (Urtext) By Edward Elgar (1857-1934). For Organ. Masterworks; Organ Solo; Solo. Kalmus Edition. Form: Sonata. Masterwork; Romantic. Sheet. 32 pages. Published by Alfred Music Publishing |
Search for other pieces by Edward Elgar by entering text in the box below:


8notes in other languages: