Handel - Bouree from Music for the Royal Fireworks sheet music
Thank you for trying the 8notes.com Audio Playback
You have reached your limit of audio playback for today.
Please subscribe for unlimited playback
Individual Subscriptions:

Click here for more info on subscriptions

Handel - Bouree from Music for the Royal Fireworks sheet music for Piano
TEMPO: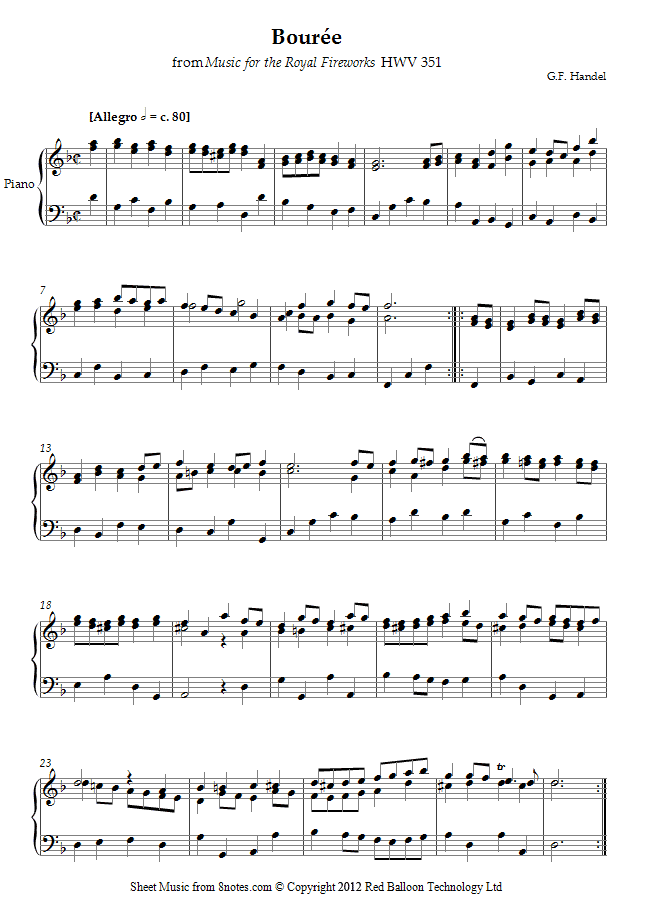 Keyboard Shortcuts:

space

Play & Pause
About 'Bouree from Music for the Royal Fireworks '

Artist:
Handel, George Frideric (biography) (sheet music)
Born:
1685 , Halle
Died:
1759 , London
The Artist:
Important composer from the Baroque period who became a British citizen in 1726. He wrote many operas and oratorios, including the popular Messiah.

| | |
| --- | --- |
| Composition Date: | unknown |
| Composition Info: | |
| Number of Pages | 1 |
| Difficulty Level | Intermediate Level: Recommended for Intermediate Level players |
Instrument:
Piano (View more Intermediate Piano Music)
Style:
Classical (View more Classical Piano Music)

Tags





Copyright:
© Copyright 2000-2016 Red Balloon Technology Ltd (8notes.com)
This file may be printed and performed freely, but should not be digitally copied, shared or reproduced without permission.
Items to buy by Handel
| | |
| --- | --- |
| | Messiah "(An Oratorio). By George Frideric Handel (1685-1759). Edited by T. Tertius Noble. For SATB choir (with solos) and piano accompaniment (SATB). Choral. Baroque. Difficulty: medium to medium-difficult. Vocal score. Choral notation, piano reduction, introduc |
| | |
| --- | --- |
| | Messiah "(A sacred oratorio). By George Frideric Handel (1685-1759). Edited by Watkins Shaw. For soprano solo voice, alto solo voice, tenor solo voice, bass solo voice, SATB choir and piano accompaniment (Vocal Score). Music Sales America. Baroque, Choral, Christ |
| | |
| --- | --- |
| | Aria Con Variazioni - Trumpet/Piano "(From 5th Harpsichord Suite). By George Frideric Handel (1685-1759). Edited by trans. Bernard Fitzgerald. Arranged by R. Bernard Fitzgerald. For Bb trumpet (cornet) and piano. Brass - B-Flat Cornet (Trumpet) Solo; Masterworks; Solo. Baroque. Difficulty: |
| | |
| --- | --- |
| | Water Music "By George Frideric Handel (1685-1759). Arranged by Arthur Campbell. For solo piano. Baroque. SMP Level 6 (Late Intermediate). Collection. Standard notation, fingerings and introductory text (does not include words to the songs). 14 pages. Published by Ed |
| | |
| --- | --- |
| | 45 Arias from Operas and Oratorios "(Volume III - High Voice). By George Frideric Handel (1685-1759). For high voice solo and piano accompaniment (high voice). Baroque. Difficulty: difficult. Songbook. Vocal melody, lyrics and piano accompaniment. Published by International Music Company" |
| | |
| --- | --- |
| | Passacaglia - Duo for Violin and Cello (score & parts) By George Frideric Handel (1685-1759). Edited by Frieda R. Davis and Nathan Stutch. For violin and cello. Baroque. Difficulty: difficult. Set of performance parts and score. Bowings and fingerings. 10 pages. Published by International Music Company |
| | |
| --- | --- |
| | Sonata No. 3 (Alto Sax and Piano). By George Frideric Handel (1685-1759). Arranged by Sigurd Rascher. For alto saxophone and piano accompaniment (Alto Sax). Woodwind Solo. Baroque. Difficulty: medium. Set of performance parts (includes separate pull-out saxophone part |
| | |
| --- | --- |
| | 45 Arias from Operas and Oratorios - for Voice and Piano (Low) "(Volume I). By George Frideric Handel (1685-1759). Edited by Sergius Kagen. For low voice and piano accompaniment (low voice). Baroque. Difficulty: difficult. Collection. Vocal melody, lyrics, piano accompaniment, translations and introductory text. 63 p |
| | |
| --- | --- |
| | Seven (7) Sonatas and Famous Largo By George Frideric Handel (1685-1759). For flute and piano. Woodwind Solos & Ensembles - Flute Collection. Baroque. Set of performance parts. 100 pages. Published by Southern Music Company |
| | |
| --- | --- |
| | Seven Sonatas for Flute and Piano (for Flute & Piano). By George Frideric Handel (1685-1759). Arranged by Louis Moyse. For flute and piano (Flute). Woodwind Solo. Baroque. Set of performance parts. 66 pages. G. Schirmer #ED3164. Published by G. Schirmer |
| | |
| --- | --- |
| | 45 Arias from Operas and Oratorios "(Low Voice - Volume II). By George Frideric Handel (1685-1759). For voice and piano (low voice). Baroque. Difficulty: difficult. Songbook. Vocal melody, lyrics and piano accompaniment. Published by International Music Company" |
| | |
| --- | --- |
| | Hallelujah Chorus From The Messiah "((from Messiah)). By George Frideric Handel (1685-1759). For SATB choir and piano accompaniment (SATB). Choral. Baroque, Choral and Sacred. Octavo. 12 pages. G. Schirmer #OC2020. Published by G. Schirmer" |
| | |
| --- | --- |
| | Eleven Sonatas For Flute And Basso Continuo "By George Frideric Handel (1685-1759). Edited by Hans-Peter Schmitz and Terence Best. For flute (alto recorder) and basso continuo. This edition: Urtext edition. Baroque. Difficulty: medium. 2 volume set. Basso continuo, keyboard realization and introduc |
| | |
| --- | --- |
| | Passacaglia - Duo for Violin and Viola (Score & Parts). By George Frideric Handel (1685-1759) and Johann Halvorsen (1864-1935). Edited by Frieda R. Davis and Leonard Davis. For violin and viola. Baroque. Difficulty: difficult. Set of performance parts and score. Bowings and fingerings. 12 page |
| | |
| --- | --- |
| | Six Sonatas - Piano / Violin (Violin and Piano). By George Frideric Handel (1685-1759). Edited by A Betti. Arranged by Adolfo Betti. For violin and piano (Violin). String Solo. Baroque. Difficulty: medium. Set of performance parts. Solo part and piano accompaniment. 51 pages. G. Schi |
| | |
| --- | --- |
| | Water Music Suites for String Quartet "By George Frideric Handel (1685-1759). For string quartet (violin 1, violin 2, viola, cello). Instrumental Ensemble - Strings. A very playable arrangement of the complete suites. Includes 3rd violin part. Baroque. Grade 3. Set of performance parts. Publi |
| | |
| --- | --- |
| | Ombra mai fu (Voice and Piano). By George Frideric Handel (1685-1759). Vocal Solo. 4 pages. Ricordi #R127487. Published by Ricordi |
Search for other pieces by George Frideric Handel by entering text in the box below:


8notes in other languages: