Dvořák - Humoresque Op. 101, No. 7 sheet music
Thank you for trying the 8notes.com Audio & Transposition features
You have reached your limit for today.
Please subscribe for unlimited playback & transpositions
Individual Subscriptions:

Click here for more info on subscriptions

Dvořák - Humoresque Op. 101, No. 7 sheet music for Violin-Cello Duet
TEMPO: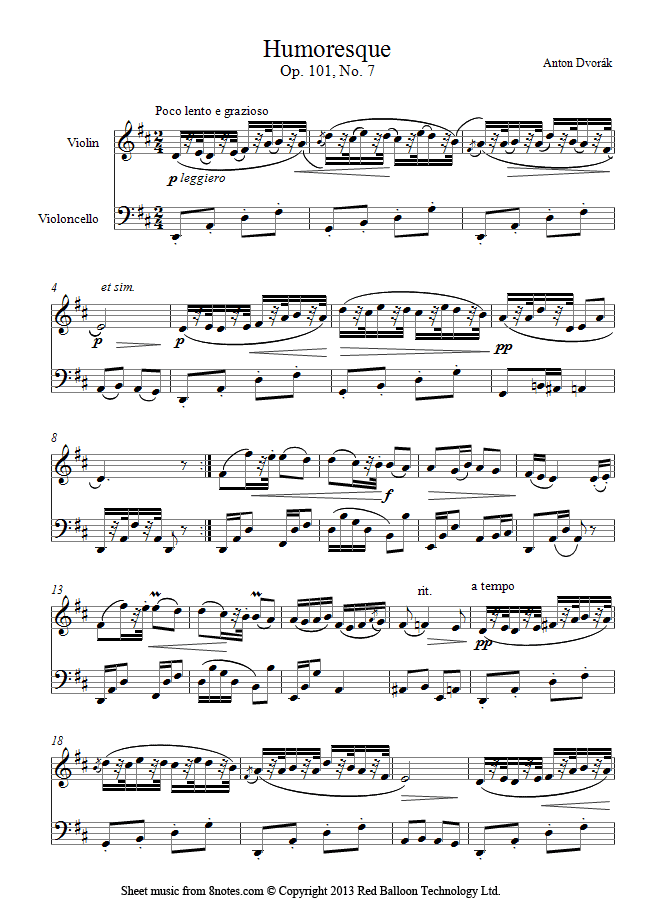 Keyboard Shortcuts:

←

Previous page

→

Next page

space

Play & Pause
About 'Humoresque Op. 101, No. 7'

Artist:
Dvořák, Antonín (biography) (sheet music)
Born:
1841 , Nelahozeves, Bohemia
Died:
1904 , Prague
The Artist:
Czech composer, whose influences include Brahms, Wagner and folk music from his nature land.

| | |
| --- | --- |
| Composition Date: | 1894 |
| Composition Info: | Originally for piano solo. Humoresque Op. 101, No. 7 |
| Score Type | Arrangement for Violin and Cello Duet |
| Score Key | D major (Sounding Pitch) |
| Number of Pages | 3 |
| Difficulty Level | Intermediate Level: Recommended for Intermediate Level players |
Parts, Versions, Transpositions

Alternative Keys

This piece is also available in the following transpositions:


A major

Bb major

B major

C major

C# major

D major

Eb major

E major

F major

F# major

G major

Ab major





Other bespoke requested transpositions:



Request New Transposition



Parts



Request Additional Parts

Request Large Note Part

Request Part with Chords



Alternative Versions

Arrangements of this piece also available for:
Items to buy by Dvořák
| | |
| --- | --- |
| | Song to the Moon from Rusalka "By Antonin Dvorak (1841-1904). Edited by Roger Nichols. For soprano voice solo and piano accompaniment. Classical Period. Difficulty: medium-difficult. Single piece. Vocal melody, lyrics, piano accompaniment and introductory text. 8 pages. Published by E |
| | |
| --- | --- |
| | "Four Romantic Pieces For Violin And Piano, Op. 75" (Violin and Piano). By Antonin Dvorak (1841-1904). Edited by Rok Klopcic. For violin and piano accompaniment (Violin). String Solo. Classical Period. Difficulty: medium. Set of performance parts (includes separate pull-out violin part). 16 pages. G. Schir |
| | |
| --- | --- |
| | Goin' Home "(From the Largo of the Symphony ""from the New World,"" Op. 95). By Antonin Dvorak (1841-1904). Arranged by William Arms Fisher. For Low Voice, Piano. Classical. Piano reduction/vocal score. Standard notation. Composed JULY 20 1922. Opus 95. 5 pages. Pub |
| | |
| --- | --- |
| | "Concerto in B minor, Opus 104" By Antonin Dvorak (1841-1904). Edited by Leonard Rose. For cello and piano accompaniment. Classical Period. Difficulty: difficult. Instrumental solo book. Bowings and fingerings. Composed 1894-95. 63 pages. Published by International Music Company |
| | |
| --- | --- |
| | "Quartet No. 12 in F major, Opus 96 ('American')" "(PAGANINI QUARTET). By Antonin Dvorak (1841-1904). For string quartet (2 violins, viola, cello). Classical Period. Difficulty: difficult. Set of performance parts. Bowings and fingerings. Composed 1893. 44 pages. Published by International Music Company" |
| | |
| --- | --- |
| | "Complete Slavonic Dances - Piano, Four Hands" "By Antonin Dvorak (1841-1904). For piano four-hands. Piano Duet (1 Piano, 4 Hands). Dover Edition. Classical Period. Difficulty: medium-difficult. Collection. Standard notation and introductory text. 129 pages. Published by Dover Publications" |
| | |
| --- | --- |
| | "Trio in E minor, Opus 90 - 'Dumky'" "By Antonin Dvorak (1841-1904). For violin, cello and piano. Classical Period. Difficulty: difficult. Set of performance parts. Bowings. Composed 1891. 68 pages. Published by International Music Company" |
| | |
| --- | --- |
| | Dumky Piano Trio Op. 90 "(for Violin, Cello and Piano). By Antonin Dvorak (1841-1904). Edited by Klaus Doge. Piano Trios. Henle Music Folios. Softcover. 88 pages. G. Henle Verlag #HN799. Published by G. Henle Verlag" |
| | |
| --- | --- |
| | Goin' Home (From the Largo of the New World Symphony). By Antonin Dvorak (1841-1904). Arranged by William Arms Fisher. For medium voice and piano. Classical Period. Piano/Vocal Score. Standard notation. Opus 95. 5 pages. Published by Theodore Presser Company |
| | |
| --- | --- |
| | "Biblical Songs, Op.99 - Low Voice" "(Low Voice). By Antonin Dvorak (1841-1904). For low voice and piano (Low Voice). Vocal Collection. Classical Period. Difficulty: medium. Collection. Vocal melody, lyrics and piano accompaniment. 36 pages. G. Schirmer #LB1825. Published by G. Schirmer" |
| | |
| --- | --- |
| | "Sonatina, Op. 100 - Piano / Violin" (Violin and Piano). By Antonin Dvorak (1841-1904). Arranged by Rok Klopcic. For violin and piano (Violin). String Solo. Classical Period. Difficulty: medium. Set of performance parts (includes separate pull out violin part). Introductory text. 31 pages. G |
| | |
| --- | --- |
| | "Quintet in A major, Opus 81" "By Antonin Dvorak (1841-1904). For piano quintet (2 violins, viola, cello, piano). Classical Period. Difficulty: difficult. Set of performance parts. Bowings, fingerings and introductory text. Composed 1887. 107 pages. Published by International Music Co |
| | |
| --- | --- |
| | "Dvorak, Rimsky-Korsakov and More - Volume V (Violin)" (Complete Violin I and II Parts to 64 Orchestral Masterworks on CD-ROM). By Antonin Dvorak (1841-1904) and Nikolay Andreyevich Rimsky-Korsakov (1844-1908). For violin I and violin II (Violin). The Orchestra Musician's CD-ROM Library. Classical. Difficulty |
| | |
| --- | --- |
| | Slavonic Dances Op. 46 "(1 Piano, 4 Hands). By Antonin Dvorak (1841-1904). Edited by Klaus Doge. For 1 piano, 4-hands. Piano, 4-hands, Piano Duets. Henle Music Folios. Pages: IX and 92. SMP Level 8 (Early Advanced). Softcover. 100 pages. G. Henle Verlag #HN757. Published by G. |
| | |
| --- | --- |
| | Songs My Mother Taught Me By Antonin Dvorak (1841-1904). Arranged by Fritz Kreisler. For violin and piano. Classical Period and 20th Century. Set of performance parts. Bowings and fingerings. 6 pages. Published by Carl Fischer |
| | |
| --- | --- |
| | "Concerto in A minor, Op. 53" By Antonin Dvorak (1841-1904). Edited by Ivan Galamanian. For violin and piano. Published by International Music Company |
| | |
| --- | --- |
| | "Romance, Op. 11 - Piano/Violin" (Violin and Piano). By Antonin Dvorak (1841-1904). Arranged by Rok Klopcic. For violin and piano (Violin). String Solo. Classical Period. Difficulty: medium. Set of performance parts (includes separate pull out violin part). Introductory text. 14 pages. G |
Search for other pieces by Antonin Dvorak by entering text in the box below:


8notes in other languages: