Dukas - The Sorcerers Apprentice (easy) sheet music
Thank you for trying the 8notes.com Audio Playback
You have reached your limit of audio playback for today.
Please subscribe for unlimited playback
Individual Subscriptions:

Click here for more info on subscriptions

Dukas - The Sorcerers Apprentice (easy) sheet music for Piano
TEMPO: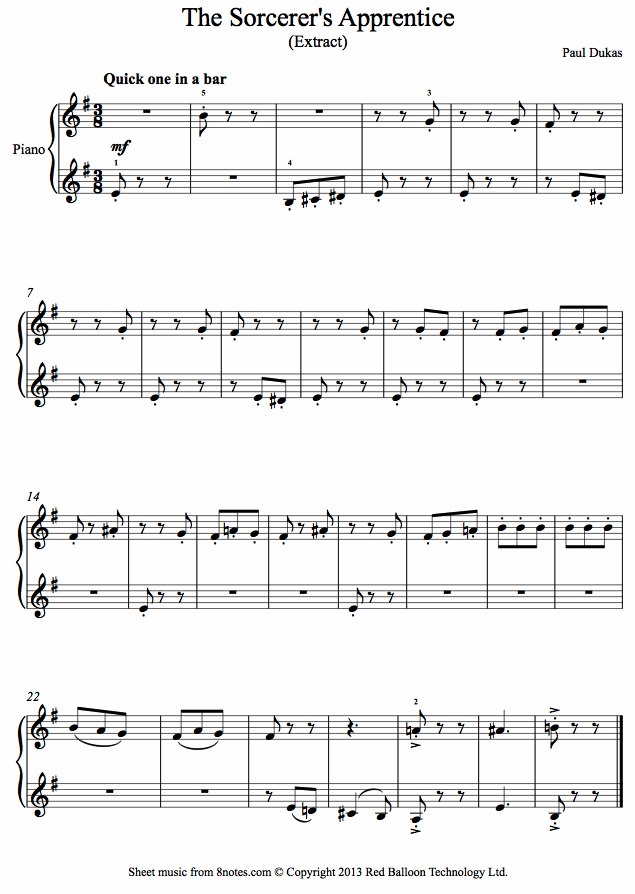 Keyboard Shortcuts:

space

Play & Pause
About 'The Sorcerers Apprentice (easy)'

Artist:
Dukas,Paul (biography) (sheet music)
Born:
1865 , Paris
Died:
1935 , Paris
The Artist:
French composer and contemporary of Debussy, with whom he shared an interest in the plays of Maeterlinck.

| | |
| --- | --- |
| Composition Date: | 1896 |
| Composition Info: | The Sorcerer's Apprentice (L'apprenti sorcier) is a symphonic poem by the French composer Paul Dukas, written in 1896-97. Subtitled "Scherzo after a ballad by Goethe," the piece was inspired by Johann Wolfgang von Goethe's 1797 poem of the same name. By far the most performed and recorded of Dukas's works, its notable appearance in the Walt Disney 1940 animated film Fantasia has led to the piece becoming widely known to audiences outside the classical concert hall. |
| Score Type | Simplified Arrangement for Piano |
| Score Key | E minor (Sounding Pitch) |
| Number of Pages | 1 |
| Difficulty Level | Beginners Level: Recommended for Beginners |
Instrument:
Piano (View more Beginners Piano Music)
Style:
Classical (View more Classical Piano Music)

Tags





Copyright:
© Copyright 2000-2015 Red Balloon Technology Ltd (8notes.com)
This file may be printed and performed freely, but should not be digitally copied, shared or reproduced without permission.
Parts, Versions, Transpositions

Alternative Keys Available:

Request New Transposition






Parts
No parts available for this pieces as it is for solo piano.

Other Versions Available For:
No other versions currently available.

Request New Version


Items to buy by Dukas
| | |
| --- | --- |
| | Villanelle (French Horn and Piano). By Paul Dukas (1865-1935). Editions Durand. 18 pages. Editions Durand #DF0679700. Published by Editions Durand |
| | |
| --- | --- |
| | The Sorcerer's Apprentice "By Paul Dukas (1865-1935). Arranged by James Christensen. For woodwind quintet (flute, oboe, Bb clarinet, horn in F, and bassoon). Woodwind Quintet. Disney. Grade 3. Set of performance parts. Published by Kendor Music Inc" |
| | |
| --- | --- |
| | Fanfare from La Peri "By Paul Dukas (1865-1935). Arranged by Kenneth Kemmerer. Brass quintet. For 2 Trumpets, Horn, Trombone, Tuba. Score and set of parts. Published by AK Brass Press" |
| | |
| --- | --- |
| | Sorcerer's Apprentice (Piano Solo). By Paul Dukas (1865-1935). Edited by G Sandor. Piano. SMP Level 10 (Advanced). 28 pages. G. Schirmer #LB1738. Published by G. Schirmer |
| | |
| --- | --- |
| | Fanfare (from La Peri) By Paul Dukas (1865-1935). Arranged by David Marlatt. For Brass Choir (3.4.3.0.1). Brass - Brass Choir; Masterworks. Eighth Note Publications. Contemporary. Duration 00:01:45. Published by Eighth Note Publications |
| | |
| --- | --- |
| | Villanelle By Paul Dukas (1865-1935). For horn (or euphonium) / wind symphony or band. Concerto/Instrumental Solo; Transcriptions. Masters Symphonic Band Concert Band. Impressionist; French. Grade 4. Score and set of parts. Composed 1906/1995. Duration 6 minutes. Pu |
| | |
| --- | --- |
| | The Sorcerer's Apprentice "By Paul Dukas (1865-1935). Arranged by James Christensen. For Clarinet Quartet. Kendor Ensemble Series. Movie, Disney. Grade 3. Score and Set of Parts. Duration 1:10. Published by Kendor Music Inc" |
| | |
| --- | --- |
| | Sonata in E-Flat Minor By Paul Dukas (1865-1935). For Piano. Masterworks; Piano Solo; Solo. Kalmus Edition. Form: Sonata. 20th Century; Masterwork; Romantic. 60 pages. Published by Alfred Music Publishing |
| | |
| --- | --- |
| | L'Apprenti Sorcier (The Sorcerer's Apprentice) "By Paul Dukas (1865-1935). For Orchestra: 2+1, 2, 2+1, 3+1 - 4, 2+2, 3, 0, timpani, percussion, harp, strings. Tone Poems; Original Works. Masters Study Scores. Post-Romantic. Study score. Composed 1897. Duration 12 minutes. Published by Masters Music Pu |
| | |
| --- | --- |
| | Villanelle By Paul Dukas (1865-1935). Edited by James Chambers. For horn and piano. Published by International Music Company |
| | |
| --- | --- |
| | The Sorcerer's Apprentice By Paul Dukas (1865-1935). Arranged by Charles Warren. For brass quintet. Quintet music. Grade 3. Published by Cimarron Music Press |
| | |
| --- | --- |
| | The Sorcerer's Apprentice By Paul Dukas. For piano. Classical; Disney; Film/TV; Halloween. Piano. 3 pages. Published by Hal Leonard - Digital Sheet Music |
| | |
| --- | --- |
| | Alla Gitana By Paul Dukas (1865-1935). For alto saxophone / piano. Impressionist. Score & part. Composed 1909. Published by Masters Music Publications Inc. |
| | |
| --- | --- |
| | Alla Gitana (Saxophone Mib et Piano). By Paul Dukas (1865-1935) and Marcel Mule (1901-2001). For E-flat saxophone and piano. Published by Alphonse Leduc |
| | |
| --- | --- |
| | The Sorcerer's Apprentice (Scherzo). By Paul Dukas (1865-1935). Arranged by Frank Winterbottom. BAND SET. Boosey & Hawkes Concert Band. Boosey & Hawkes #M060053856. Published by Boosey & Hawkes |
| | |
| --- | --- |
| | Villanelle By Paul Dukas (1865-1935). For horn / piano. Score & part. Published by Masters Music Publications Inc. |
| | |
| --- | --- |
| | Fanfare from La Peri By Paul Dukas (1865-1935). Arranged by David Marlatt. For Double Brass Quintet. Brass Ensemble - Quintet; Masterworks. Eighth Note Publications. Form: Fanfare. 20th Century; Masterwork Arrangement; Romantic. 40 pages. Published by Eighth Note Publications |
Search for other pieces by Paul Dukas by entering text in the box below:


8notes in other languages: