Scott Joplin - Maple Leaf Rag sheet music
Thank you for trying the 8notes.com Audio Playback
You have reached your limit of audio playback for today.
Please subscribe for unlimited playback
Individual Subscriptions:

Click here for more info on subscriptions

Scott Joplin - Maple Leaf Rag sheet music for Guitar
TEMPO: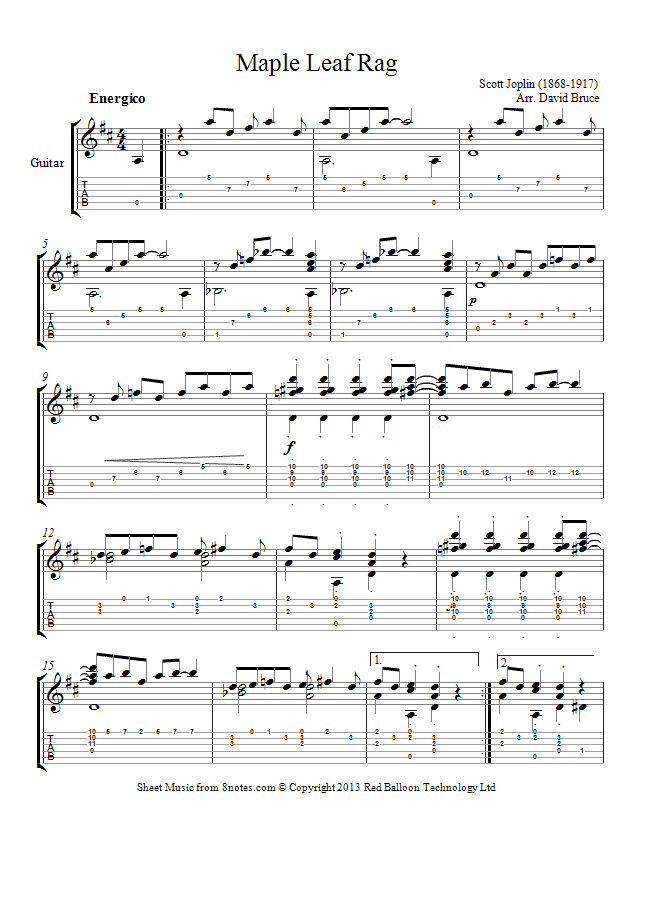 Keyboard Shortcuts:

←

Previous page

→

Next page

space

Play & Pause
About 'Maple Leaf Rag'

Artist:
Joplin, Scott (biography) (sheet music)
Born:
1868 , Texarhana, Texas
Died:
1917 , New York
The Artist:
African-American composer and pianist. He composer many of the most popular ragtime classics, such as The Entertainer, and the Maple Leaf Rag.

Composition Date:
1899
Composition Info:
It is one of the most famous of all ragtime pieces.As a result Joplin was called the "King of Ragtime".
The "Maple Leaf Rag" is associated with the city of Sedalia, Missouri.
Score Type
Arrangement for Guitar solo in notation and tab formats
Score Key
D major (Sounding Pitch)

Number of Pages
3
Difficulty Level
Intermediate Level: Recommended for Intermediate Level players
Instrument:
Guitar (View more Intermediate Guitar Music)
Style:
Jazz (View more Jazz Guitar Music)

Tags





Copyright:
© Copyright 2000-2016 Red Balloon Technology Ltd (8notes.com)
This file may be printed and performed freely, but should not be digitally copied, shared or reproduced without permission.
Items to buy by Scott Joplin
| | |
| --- | --- |
| | Complete Rags for Piano By Scott Joplin (1868-1917). For solo piano. Piano. Ragtime. SMP Level 9 (Advanced). Songbook. Introductory text (does not include words to the songs). 196 pages. G. Schirmer #LB2020. Published by G. Schirmer |
| | |
| --- | --- |
| | The Entertainer By Scott Joplin (1868-1917). Arranged by Pamela Schultz. For piano. Masterworks; Piano Solo; Solo. Easy piano. Ragtime. SMP Level 4 (Intermediate). Single. Chord names. 4 pages. Published by Alfred Music Publishing |
| | |
| --- | --- |
| | Maple Leaf Rag (Original Version) (Piano Solo). By Scott Joplin (1868-1917). For solo piano. Piano Solo Sheets. Ragtime. SMP Level 8 (Early Advanced). Single. 6 pages. Hal Leonard #MS236. Published by Hal Leonard |
| | |
| --- | --- |
| | Five Joplin Rags "By Scott Joplin (1868-1917). Edited by Dallas Weekley, Nancy Arganbright. For 1 Piano four-hands. Intermediate Level piece for the Piano Duet Event (One Piano, Four Hands) with the National Federation of Music Clubs (NFMC) Festivals Bulletin 2008-2009-20 |
| | |
| --- | --- |
| | "The Entertainer - From ""The Sting""" By Scott Joplin (1868-1917). Arranged by Gunther Schuller. For solo piano. Masterworks; Piano Solo; Solo. Ragtime and Movies. SMP Level 7 (Late Intermediate). Single. 5 pages. Published by Alfred Music Publishing |
| | |
| --- | --- |
| | Ragtime Solos And Duets "(20 Scott Joplin Favorites). By Scott Joplin (1868-1917). Arranged by Jerry Silverman. For instrument solo or duet (flute, recorder, oboe, violin, mandolin, harmonica). Woodwind. Ragtime. Difficulty: medium. Duet songbook. Duet notation and chord names. |
| | |
| --- | --- |
| | The Entertainer By Scott Joplin (1868-1917). Arranged by Willard A. Palmer. For Piano. Masterworks; Piano Solo; Solo. Simply Classics Solos. Masterwork Arrangement; Ragtime; Romantic. SMP Level 2 (Late Elementary). Sheet. 4 pages. Published by Alfred Music Publishing |
| | |
| --- | --- |
| | Scott Joplin at the Piano By Scott Joplin (1868-1917). Edited by Maurice Hinson. For Piano. Artist/Personality; Masterworks; Piano Collection. Alfred Masterwork Edition: At the Piano. Late Intermediate/Early Advanced level piece for the Piano Solo event with the National Federatio |
| | |
| --- | --- |
| | Scott Joplin -- Complete Piano Works "(Rags, Waltzes, Marches). By Scott Joplin (1868-1917). For Piano. Artist/Personality; Book; Masterworks; Piano Collection. Masterwork; Ragtime; Romantic. Advanced; Early Advanced. 376 pages. Published by Alfred Music Publishing" |
| | |
| --- | --- |
| | The Sting (Piano Solo). By Scott Joplin (1868-1917). Arranged by Marvin Hamlisch. Piano Solo Songbook. SMP Level 7 (Late Intermediate). 40 pages. Published by Hal Leonard |
| | |
| --- | --- |
| | Ragtime for Violin (6 Scott Joplin Rags). By Scott Joplin (1868-1917). Arranged by Itzhak Perlman. For violin solo and piano accompaniment (Violin). Great Performer's Edition. Ragtime. Difficulty: difficult. Violin solo book. Standard notation and piano accompaniment. 40 pa |
| | |
| --- | --- |
| | The Joplin Album for String Trio "(Violin, Viola, and Cello with optional Violin 2 for Viola). By Scott Joplin (1868-1917). Arranged by Lynne Latham. For string trio (violin, viola, and cello with optional violin 2 for viola). Instrumental Ensemble - Strings. Grade 3.5. Set of parts. Pub |
| | |
| --- | --- |
| | The Entertainer By Scott Joplin (1868-1917). Edited by Maurice Hinson. For Piano. Masterworks; Piano Solo; Solo. Alfred Masterwork Edition. Masterwork; Romantic. Late Intermediate. Sheet. 8 pages. Published by Alfred Music Publishing |
| | |
| --- | --- |
| | Solace "By Scott Joplin (1868-1917). For solo piano. Masterworks; Piano Solo; Solo. Alfred Masterworks Editions. Late Intermediate level piece for the Piano Solo event with the National Federation of Music Clubs (NFMC) Festivals Bulletin 2008-2009-2010. Ragtime. |
| | |
| --- | --- |
| | Maple Leaf Rag By Scott Joplin (1868-1917). Arranged by E. L. Lancaster and Kenon D. Renfrow. For Piano. Masterworks; Piano Solo; Solo. Simply Classics Solos. Masterwork Arrangement; Ragtime; Romantic. SMP Level 4 (Intermediate). Sheet. 4 pages. Published by Alfred Musi |
| | |
| --- | --- |
| | Maple Leaf Rag "By Scott Joplin (1868-1917). Arranged by Red McLeod. For AATB Saxophones. Saxophone Quartet. Ragtime, Jazz. Grade 4. Published by Kendor Music Inc" |
| | |
| --- | --- |
| | Simply Joplin (The Music of Scott Joplin -- 16 of His Ragtime Classics (Easy Piano)). By Scott Joplin (1868-1917). Arranged by Mary K. Sallee. For Piano. Masterworks; Piano Collection; Piano Supplemental. Simply Series. Masterwork Arrangement; Ragtime; Recital; Romanti |
| | |
| --- | --- |
| | The Entertainer "By Scott Joplin (1868-1917). Arranged by Red McLeod. For AATB Saxophones. Saxophone Quartet. Ragtime, Jazz. Grade 4. Published by Kendor Music Inc" |
| | |
| --- | --- |
| | 18 Rags In Easier Versions (Piano Solo). By Scott Joplin (1868-1917). Arranged by Lawrence Rosen. For solo piano. Piano Collection. Ragtime. SMP Level 4 (Intermediate). Collection. Introductory text (does not include words to the songs). 84 pages. G. Schirmer #ED4099. Published by |
| | |
| --- | --- |
| | Ragtimes for String Quartet (4) "By Scott Joplin (1868-1917). Edited by Christa Sokoll. String Quartets. For string quartet (2 violins, viola, cello). Ragtime. Difficulty: medium-difficult. Set of performance parts. 32 pages. Published by Heinrichshofen Verlag" |
Search for other pieces by Scott Joplin by entering text in the box below:


8notes in other languages: