Blues Brothers - Soul Man-style bass guitar riff
Thank you for trying the 8notes.com Audio & Transposition features
You have reached your limit for today.
Please subscribe for unlimited playback & transpositions
Individual Subscriptions:

Click here for more info on subscriptions

Blues Brothers - Soul Man-style bass guitar riff for Bass Guitar Riff Lesson
TEMPO: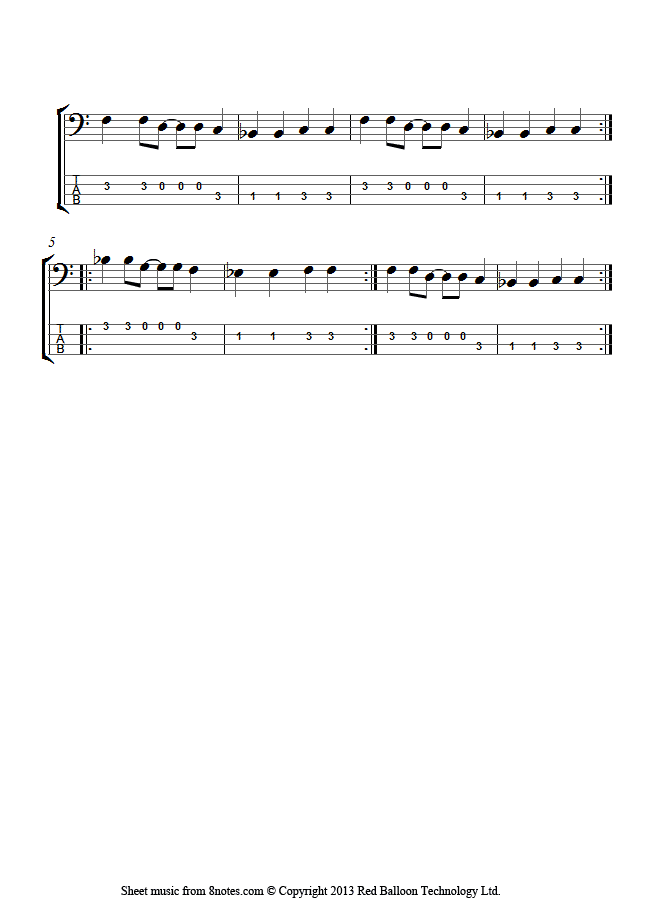 Keyboard Shortcuts:

space

Play & Pause
Instrument:
Bass Guitar (View more Easy Bass Guitar Music)
Style:
Pop (View more Pop Bass Guitar Music)

Tags





Copyright:
Chord progressions and other generic musical features are not considered copyrightable. 8notes strives to obey copyright law and if you think this contravenes copyright law please get in touch via our contact page.
The typesetting and editing in this file is however copyright. It may be printed and performed freely, but should not be digitally copied, shared or reproduced without permission.
Parts, Versions, Transpositions

Alternative Keys Available:



Sorry, transposition requests not available for this piece Why?






Parts

Sorry, parts requests not available for this piece Why?



Other Versions Available For:
Items to buy by Blues Brothers
| | |
| --- | --- |
| | Blues Brothers Revue By The Blues Brothers. Arranged by Roger Holmes. Score & Parts. Jazz Ensemble Library. Grade 4. Published by Hal Leonard |
| | |
| --- | --- |
| | The Blues Brothers Revue By The Blues Brothers. Arranged by Jay Bocook. Score & Parts. Score and full set of parts.. Young Concert Band. Grade 3. Published by Hal Leonard |
| | |
| --- | --- |
| | Rawhide "By The Blues Brothers. By Dimitri Tiomkin (1894-1979). For piano, voice, and guitar (chords only). Country; Film/TV. 4 pages. Published by Hal Leonard - Digital Sheet Music" |
| | |
| --- | --- |
| | Everybody Needs Somebody To Love "By Solomon Burke and The Blues Brothers. By Bert Russell and Jerry Wexler (1917-). For piano, voice, and guitar (chords only). Blues; Film/TV; Soul. 4 pages. Published by Hal Leonard - Digital Sheet Music" |
| | |
| --- | --- |
| | Sweet Home Chicago "By The Blues Brothers and Robert Johnson. For piano, voice, and guitar (chords only). Blues; Pop; Rock. Piano/Vocal/Guitar. 7 pages. Published by Hal Leonard - Digital Sheet Music" |
| | |
| --- | --- |
| | Soul Man "By Sam And Dave, Isaac Hayes, and The Blues Brothers. For piano, voice, and guitar (chords only). Film/TV; Pop; R & B; Rock; Soul. 3 pages. Published by Hal Leonard - Digital Sheet Music" |
| | |
| --- | --- |
| | Soul Man "By Sam And Dave, Isaac Hayes, and The Blues Brothers. For easy piano. Film/TV; Pop; R & B; Rock; Soul. 4 pages. Published by Hal Leonard - Digital Sheet Music" |
| | |
| --- | --- |
| | I Can't Turn You Loose - Piano By Otis Redding and The Blues Brothers. By Otis Redding. Arranged by Paul Murtha. Pop. Jazz Band. 3 pages. Published by Hal Leonard - Digital Sheet Music |
| | |
| --- | --- |
| | Everybody Needs Somebody "By The Blues Brothers. Arranged by Jan van Kraeydonck. For Concert Band / Wind Ensemble. Also on the Bernaerts CD: Hit Party. Film music, pop music. Medium. Score and set of parts. Duration 3:02. Published by Bernaerts Music" |
| | |
| --- | --- |
| | The Blues Brothers Greatest Hits By The Blues Brothers. Arranged by Paul Murtha. Score & Parts. Discovery Plus Concert Band. Grade 2. Softcover. Published by Hal Leonard |
| | |
| --- | --- |
| | The Blues Brothers (Featuring: Everybody Needs Somebody to Love / I Can't Turn You Loose / Soul Man / Respect / Gimme Some Loving). Arranged by Les Taylor. Concert Band. Concert Band. Pop Symphonic Band. Form: Medley. Blues; Contemporary; Movie. Grade 4. Conductor Score & P |
| | |
| --- | --- |
| | Soul Man By The Blues Brothers. Arranged by M Huff. SATB. Pop Choral Series. 12 pages. Published by Hal Leonard |
| | |
| --- | --- |
| | Briefcase Full of Blues ((A Tribute to the Blues Brothers)). By The Blues Brothers. Arranged by Alan Billingsley. SATB. Pop Choral Series. 28 pages. Published by Hal Leonard |
| | |
| --- | --- |
| | Sweet Home Chicago By The Blues Brothers and Robert Johnson. For guitar. Blues; Rock. Guitar TAB. 6 pages. Published by Hal Leonard - Digital Sheet Music |
| | |
| --- | --- |
| | Sweet Home Chicago "By Freddie King, The Blues Brothers, and Robert Johnson. For easy piano. Blues; Pop; Rock. Easy Piano. 6 pages. Published by Hal Leonard - Digital Sheet Music" |
| | |
| --- | --- |
| | Briefcase Full of Blues ((A Tribute to the Blues Brothers)). By The Blues Brothers. Arranged by Alan Billingsley. TTBB. Pop Choral Series. 28 pages. Published by Hal Leonard |
| | |
| --- | --- |
| | Sweet Home Chicago "By Freddie King, The Blues Brothers, and Robert Johnson. For guitar. Blues; Film/TV; Rock. Guitar TAB. 7 pages. Published by Hal Leonard - Digital Sheet Music" |
Search for other pieces by Blues Brothers by entering text in the box below:


8notes in other languages: