James Brown - James Brown-style Trombone Lick
Thank you for trying the 8notes.com Audio Playback
You have reached your limit of audio playback for today.
Please subscribe for unlimited playback
Individual Subscriptions:

Click here for more info on subscriptions

James Brown - James Brown-style Trombone Lick for Trombone Riff Lesson
TEMPO: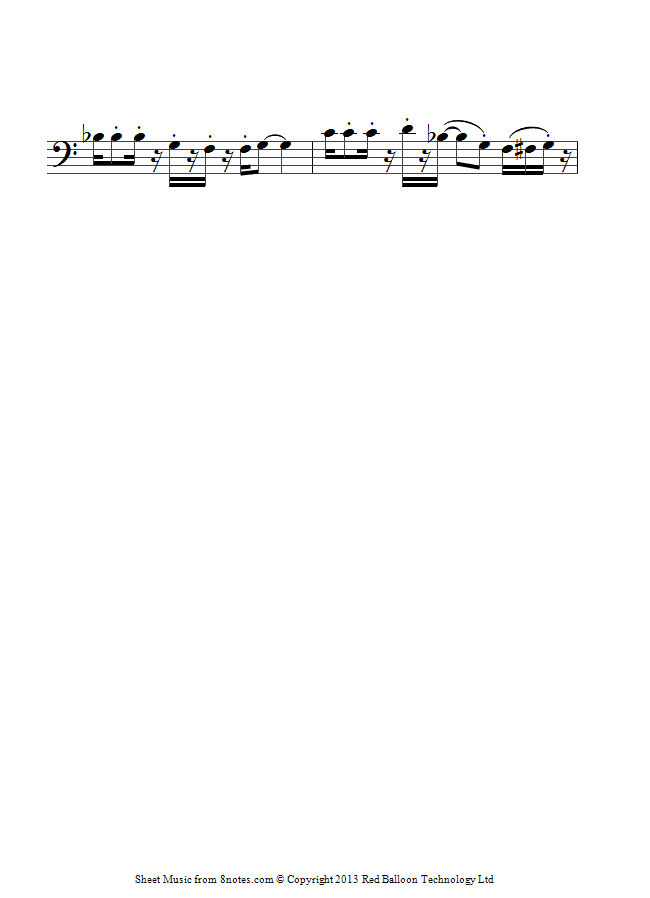 Keyboard Shortcuts:

space

Play & Pause
| | |
| --- | --- |
| Composition Date: | 2013 |
| Composition Info: | A funky riff in the style of James Brown. Good for practicing off-beat syncopations. |
| Score Type | Arrangement for Trombone and Piano |
| Score Key | G minor (Sounding Pitch) |
| Number of Pages | 1 |
| Difficulty Level | Intermediate Level: Recommended for Intermediate Level players |
Instrument:
Trombone (View more Intermediate Trombone Music)
Style:
Pop (View more Pop Trombone Music)

Tags





Copyright:
Chord progressions and other generic musical features are not considered copyrightable. 8notes strives to obey copyright law and if you think this contravenes copyright law please get in touch via our contact page.
The typesetting and editing in this file is however copyright. It may be printed and performed freely, but should not be digitally copied, shared or reproduced without permission.
Parts, Versions, Transpositions

Alternative Keys Available:
Sorry, transposition requests not available for this piece Why?




Parts
Sorry, parts requests not available for this piece Why?

Other Versions Available For:
No other versions currently available.

Request New Version


Items to buy by James Brown
| | |
| --- | --- |
| | I Got You (I Feel Good) By James Brown. By James Brown. Arranged by Johnnie Vinson. Score & Parts. Discovery Concert Band. Grade 1.5. Published by Hal Leonard |
| | |
| --- | --- |
| | Tower of Power - Diggin' On James Brown "(Score and Parts). By Tower Of Power. By Emilio Castillo, Ken Kessie, and Stephen Kupka. Arranged by Barry Danielian, Dave Eskridge, and David Mann. Score & Parts. Jazz Combo. Published by Cherry Lane Music" |
| | |
| --- | --- |
| | The Sixties: Music that Rocked the World "((Medley)). By Aretha Franklin, Blood, Sweat and Tears, Chubby Checker, James Brown, Simon And Garfunkel, The Beach Boys, The Beatles, and The Rascals. Arranged by Kirby Shaw. SATB. Pop Choral Series. 40 pages. Published by Hal Leonard" |
| | |
| --- | --- |
| | Oboe Duets - Volume 2 By Various. Edited by James Brown. For Oboe Duet. Music Sales America. Classical. 32 pages. Chester Music #CH55356. Published by Chester Music |
| | |
| --- | --- |
| | I Got You (I Feel Good) By James Brown. Arranged by Johnnie Vinson. Easy Marching Band. Grade 2-3. Published by Hal Leonard |
| | |
| --- | --- |
| | For Your Precious Love "By James Brown and Jerry Butler & The Impressions. For piano, voice, and guitar (chords only). Love; Pop; R & B; Rock; Soul. Piano/Vocal/Guitar. 5 pages. Published by Hal Leonard - Digital Sheet Music" |
| | |
| --- | --- |
| | 20 All Time Greatest Hits "By James Brown. For voice, piano and guitar chords. Piano/Vocal/Guitar Artist Songbook. Funk and R&B. Difficulty: medium. Songbook. Vocal melody, piano accompaniment, lyrics, chord names, guitar chord diagrams, introductory text and black & white photos. |
| | |
| --- | --- |
| | The Sixties: Music that Rocked the World "((Medley)). By Aretha Franklin, Blood, Sweat and Tears, Chubby Checker, James Brown, Simon And Garfunkel, The Beach Boys, The Beatles, and The Rascals. Arranged by Kirby Shaw. SSA. Pop Choral Series. 40 pages. Published by Hal Leonard" |
| | |
| --- | --- |
| | Oboe Duets - Volume 1 By Various. Edited by James Brown. For 2 Oboe. Music Sales America. Classical. 26 pages. Chester Music #CH55135. Published by Chester Music |
| | |
| --- | --- |
| | The Sixties: Music that Rocked the World "((Medley)). By Aretha Franklin, Blood, Sweat and Tears, Chubby Checker, James Brown, Simon And Garfunkel, The Beach Boys, The Beatles, and The Rascals. Arranged by Kirby Shaw. SAB. Pop Choral Series. 40 pages. Published by Hal Leonard" |
| | |
| --- | --- |
| | The Sixties: Music that Rocked the World "((Medley)). By Aretha Franklin, Blood, Sweat and Tears, Chubby Checker, James Brown, Simon And Garfunkel, The Beach Boys, The Beatles, and The Rascals. Arranged by Kirby Shaw. ShowTrax CD. Pop Choral Series. CD only. Published by Hal Leonard" |
| | |
| --- | --- |
| | I Got You (I Feel Good) "By James Brown. For piano, voice, and guitar (chords only). Funk; Pop; R & B; Rock; Soul. 5 pages. Published by Hal Leonard - Digital Sheet Music" |
| | |
| --- | --- |
| | James Brown (A Step-by-Step Breakdown of the Styles and Techniques of James Brown's Bassists). By James Brown and Bootsy Collins. Signature Licks Bass. Softcover with CD. 32 pages. Published by Hal Leonard |
| | |
| --- | --- |
| | James Brown (A Step-by-Step Breakdown of the Styles and Techniques of James Brown's Bassists). By James Brown and Bootsy Collins. Signature Licks Bass. Softcover with CD. 32 pages. Published by Hal Leonard |
| | |
| --- | --- |
| | I Got You (I Feel Good) By James Brown. Arranged by Tom Wallace. Score & Parts. Arrangers' Publ Marching Band. Grade 3. Published by Arrangers' Publishing Company |
| | |
| --- | --- |
| | I Got You (I Feel Good) By James Brown. Arranged by Jerry Nowak. Discovery Jazz. Book with CD. Published by Hal Leonard |
| | |
| --- | --- |
| | I Got You (I Feel Good) By James Brown. For easy piano. Funk; Pop; R & B; Rock; Soul. 3 pages. Published by Hal Leonard - Digital Sheet Music |
| | |
| --- | --- |
| | I Got You (I Feel Good) By James Brown. Arranged by Andrea Ravizza. Concert band. As performed by the King of Funky. Pop Music. Grade 3. Score and set of parts. Duration 2:48. Published by Scomegna Edizioni Musical srl |
Search for other pieces by James Brown by entering text in the box below:


8notes in other languages: