Dvořák - Rusalkas Song to the Moon sheet music
Thank you for trying the 8notes.com Audio Playback
You have reached your limit of audio playback for today.
Please subscribe for unlimited playback
Individual Subscriptions:

Click here for more info on subscriptions

Dvořák - Rusalkas Song to the Moon sheet music for Voice
TEMPO: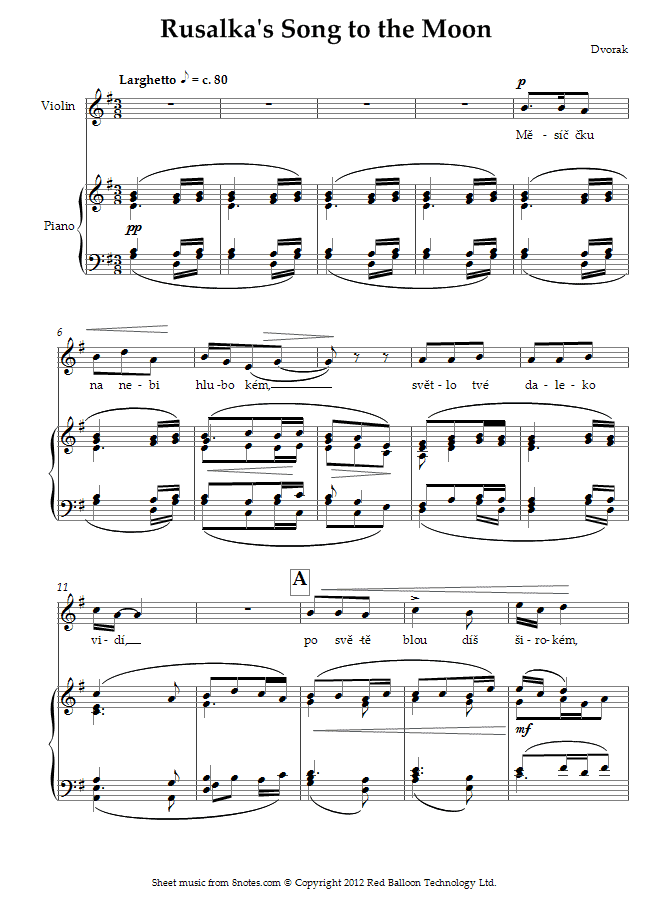 Keyboard Shortcuts:

←

Previous page

→

Next page

space

Play & Pause
About 'Rusalkas Song to the Moon'

Artist:
Dvořák, Antonín (biography) (sheet music)
Born:
1841 , Nelahozeves, Bohemia
Died:
1904 , Prague
The Artist:
Czech composer, whose influences include Brahms, Wagner and folk music from his nature land.

Composition Date:
1901
Composition Info:
Rusalka is an opera by Antonín Dvořák. The Czech libretto was written by the poet Jaroslav Kvapil based on the fairy tales of Karel Jaromír Erben and Božena Němcová. Rusalka is one of the most successful Czech operas, and represents a cornerstone of the repertoire of Czech opera houses. A Rusalka is a water sprite from Slavic mythology, usually inhabiting a lake or river.

This popular excerpt from Rusalka is the "Song to the Moon" ("Měsíčku na nebi hlubokém") from Act 1 which is often performed in concert and recorded separately. It has also been arranged for violin and used on film sound tracks.
Score Type
Original Version arranged for Voice and Piano (minor cut between of instrumental music verses)
Score Key
G major (Sounding Pitch)

Number of Pages
5
Difficulty Level
Intermediate Level: Recommended for Intermediate Level players
Instrument:
Voice (View more Intermediate Voice Music)
Style:
Classical (View more Classical Voice Music)

Tags





Copyright:
© Copyright 2000-2015 Red Balloon Technology Ltd (8notes.com)
This file may be printed and performed freely, but should not be digitally copied, shared or reproduced without permission.
Items to buy by Dvořák
| | |
| --- | --- |
| | Song to the Moon from Rusalka "By Antonin Dvorak (1841-1904). Edited by Roger Nichols. For soprano voice solo and piano accompaniment. Classical Period. Difficulty: medium-difficult. Single piece. Vocal melody, lyrics, piano accompaniment and introductory text. 8 pages. Published by E |
| | |
| --- | --- |
| | "Four Romantic Pieces For Violin And Piano, Op. 75" (Violin and Piano). By Antonin Dvorak (1841-1904). Edited by Rok Klopcic. For violin and piano accompaniment (Violin). String Solo. Classical Period. Difficulty: medium. Set of performance parts (includes separate pull-out violin part). 16 pages. G. Schir |
| | |
| --- | --- |
| | Goin' Home "(From the Largo of the Symphony ""from the New World,"" Op. 95). By Antonin Dvorak (1841-1904). Arranged by William Arms Fisher. For Low Voice, Piano. Classical. Piano reduction/vocal score. Standard notation. Composed JULY 20 1922. Opus 95. 5 pages. Pub |
| | |
| --- | --- |
| | "Concerto in B minor, Opus 104" By Antonin Dvorak (1841-1904). Edited by Leonard Rose. For cello and piano accompaniment. Classical Period. Difficulty: difficult. Instrumental solo book. Bowings and fingerings. Composed 1894-95. 63 pages. Published by International Music Company |
| | |
| --- | --- |
| | "Quartet No. 12 in F major, Opus 96 ('American')" "(PAGANINI QUARTET). By Antonin Dvorak (1841-1904). For string quartet (2 violins, viola, cello). Classical Period. Difficulty: difficult. Set of performance parts. Bowings and fingerings. Composed 1893. 44 pages. Published by International Music Company" |
| | |
| --- | --- |
| | "Complete Slavonic Dances - Piano, Four Hands" "By Antonin Dvorak (1841-1904). For piano four-hands. Piano Duet (1 Piano, 4 Hands). Dover Edition. Classical Period. Difficulty: medium-difficult. Collection. Standard notation and introductory text. 129 pages. Published by Dover Publications" |
| | |
| --- | --- |
| | "Trio in E minor, Opus 90 - 'Dumky'" "By Antonin Dvorak (1841-1904). For violin, cello and piano. Classical Period. Difficulty: difficult. Set of performance parts. Bowings. Composed 1891. 68 pages. Published by International Music Company" |
| | |
| --- | --- |
| | Dumky Piano Trio Op. 90 "(for Violin, Cello and Piano). By Antonin Dvorak (1841-1904). Edited by Klaus Doge. Piano Trios. Henle Music Folios. Softcover. 88 pages. G. Henle Verlag #HN799. Published by G. Henle Verlag" |
| | |
| --- | --- |
| | Goin' Home (From the Largo of the New World Symphony). By Antonin Dvorak (1841-1904). Arranged by William Arms Fisher. For medium voice and piano. Classical Period. Piano/Vocal Score. Standard notation. Opus 95. 5 pages. Published by Theodore Presser Company |
| | |
| --- | --- |
| | "Biblical Songs, Op.99 - Low Voice" "(Low Voice). By Antonin Dvorak (1841-1904). For low voice and piano (Low Voice). Vocal Collection. Classical Period. Difficulty: medium. Collection. Vocal melody, lyrics and piano accompaniment. 36 pages. G. Schirmer #LB1825. Published by G. Schirmer" |
| | |
| --- | --- |
| | "Sonatina, Op. 100 - Piano / Violin" (Violin and Piano). By Antonin Dvorak (1841-1904). Arranged by Rok Klopcic. For violin and piano (Violin). String Solo. Classical Period. Difficulty: medium. Set of performance parts (includes separate pull out violin part). Introductory text. 31 pages. G |
| | |
| --- | --- |
| | "Quintet in A major, Opus 81" "By Antonin Dvorak (1841-1904). For piano quintet (2 violins, viola, cello, piano). Classical Period. Difficulty: difficult. Set of performance parts. Bowings, fingerings and introductory text. Composed 1887. 107 pages. Published by International Music Co |
| | |
| --- | --- |
| | "Dvorak, Rimsky-Korsakov and More - Volume V (Violin)" (Complete Violin I and II Parts to 64 Orchestral Masterworks on CD-ROM). By Antonin Dvorak (1841-1904) and Nikolay Andreyevich Rimsky-Korsakov (1844-1908). For violin I and violin II (Violin). The Orchestra Musician's CD-ROM Library. Classical. Difficulty |
| | |
| --- | --- |
| | Slavonic Dances Op. 46 "(1 Piano, 4 Hands). By Antonin Dvorak (1841-1904). Edited by Klaus Doge. For 1 piano, 4-hands. Piano, 4-hands, Piano Duets. Henle Music Folios. Pages: IX and 92. SMP Level 8 (Early Advanced). Softcover. 100 pages. G. Henle Verlag #HN757. Published by G. |
| | |
| --- | --- |
| | Songs My Mother Taught Me By Antonin Dvorak (1841-1904). Arranged by Fritz Kreisler. For violin and piano. Classical Period and 20th Century. Set of performance parts. Bowings and fingerings. 6 pages. Published by Carl Fischer |
| | |
| --- | --- |
| | "Concerto in A minor, Op. 53" By Antonin Dvorak (1841-1904). Edited by Ivan Galamanian. For violin and piano. Published by International Music Company |
| | |
| --- | --- |
| | "Romance, Op. 11 - Piano/Violin" (Violin and Piano). By Antonin Dvorak (1841-1904). Arranged by Rok Klopcic. For violin and piano (Violin). String Solo. Classical Period. Difficulty: medium. Set of performance parts (includes separate pull out violin part). Introductory text. 14 pages. G |
Search for other pieces by Antonin Dvorak by entering text in the box below:


8notes in other languages: