Christina Aguilera - Say Something (A Great Big World)
Thank you for trying the 8notes.com Audio & Transposition features
You have reached your limit for today.
Please subscribe for unlimited playback & transpositions
Individual Subscriptions:

Click here for more info on subscriptions

Christina Aguilera - Say Something (A Great Big World) for Piano Riff Lesson
Most of this song uses a simple VI-IV-I-V progression found in many popular songs
This one is in D major, meaning the chords are: B minor, G, D and A
The twist is the held 'D' throughout the song which gives the A chord an extra poignancy - and creates an "A add4" chord
Between each of the chords shown you can add an extra D on each quarter note to complete the effect.
TEMPO: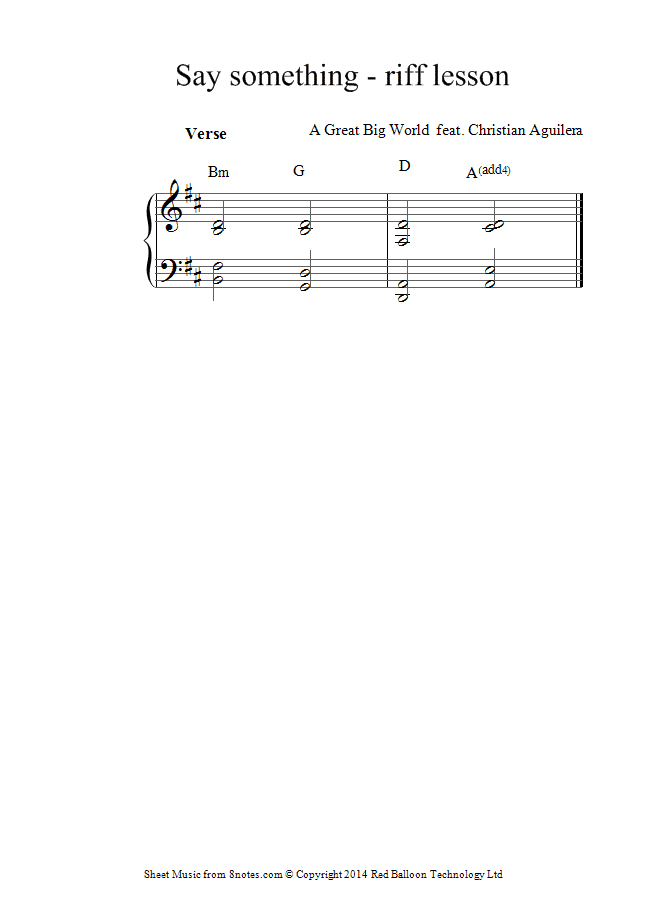 Keyboard Shortcuts:

space

Play & Pause
About 'Say Something (A Great Big World)'

Artist:
Aguilera, Christina (biography) (sheet music)
Born:
December 18, 1980 , Staten Island New York
Died:
-
The Artist:
Christina Maria Aguilera is an American pop singer and ex-Mouseketeer who rose to fame in 1999 with her debut hit song Genie in a Bottle. As of 2004, she has achieved four number one singles on the Billboard Hot 100, two US top 5 albums and won three Grammy Awards.

Instrument:
Piano (View more Easy Piano Music)
Style:
Pop (View more Pop Piano Music)

Tags





Copyright:
Chord progressions and other generic musical features are not considered copyrightable. 8notes strives to obey copyright law and if you think this contravenes copyright law please get in touch via our contact page.
The typesetting and editing in this file is however copyright. It may be printed and performed freely, but should not be digitally copied, shared or reproduced without permission.
Parts, Versions, Transpositions

Alternative Keys Available:



Sorry, transposition requests not available for this piece Why?






Parts

Sorry, parts requests not available for this piece Why?



Other Versions Available For:
Items to buy by Christina Aguilera
| | |
| --- | --- |
| | Burlesque (Music from the Motion Picture Soundtrack). By Cher and Christina Aguilera. Piano/Vocal/Guitar Songbook. Softcover. 80 pages. Published by Hal Leonard |
| | |
| --- | --- |
| | Beautiful "By Christina Aguilera. For voice, piano and guitar chords. Piano Vocal. Dance Pop and Pop. Difficulty: medium. Single. Vocal melody, piano accompaniment, lyrics, chord names and guitar chord diagrams. 6 pages. Published by Hal Leonard" |
| | |
| --- | --- |
| | Hurt By Christina Aguilera. Piano Vocal. 8 pages. Published by Hal Leonard |
| | |
| --- | --- |
| | Reflection "By Christina Aguilera. For voice, piano and guitar chords. Piano Vocal. Disney, Movies, Dance Pop and Pop. Difficulty: medium. Single. Vocal melody, piano accompaniment, lyrics, chord names and guitar chord diagrams. 5 pages. Published by Hal Leonard" |
| | |
| --- | --- |
| | Bound To You By Christina Aguilera and Burlesque (Movie). Film/TV; Musical/Show; Pop. Piano/Vocal/Guitar. 5 pages. Published by Hal Leonard - Digital Sheet Music |
| | |
| --- | --- |
| | Beautiful - Easy Piano "By Christina Aguilera. By Linda Perry. For voice and easy piano. Hal Leonard Easy Adult Piano. Pop. Difficulty: easy-medium. Single. Vocal melody, easy piano notation, lyrics and chord names. 6 pages. Published by Hal Leonard" |
| | |
| --- | --- |
| | Beautiful "By Christina Aguilera. For piano, voice, and guitar (chords only). Pop. 5 pages. Published by Hal Leonard - Digital Sheet Music" |
| | |
| --- | --- |
| | Moves like Jagger By Christina Aguilera and Maroon 5. Piano Vocal. 8 pages. Published by Hal Leonard |
| | |
| --- | --- |
| | Something's Got A Hold On Me "By Etta James, Christina Aguilera, and Burlesque (Movie). Film/TV; Musical/Show; Pop; R & B; Standards. Piano/Vocal/Guitar. 7 pages. Published by Hal Leonard - Digital Sheet Music" |
| | |
| --- | --- |
| | Hurt "By Christina Aguilera. By Linda Perry and Mark Ronson. For piano, voice, and guitar (chords only). Pop. 5 pages. Published by Hal Leonard - Digital Sheet Music" |
| | |
| --- | --- |
| | The Voice Within "By Christina Aguilera. By Christina Aguilera and Glen Ballard. For voice, piano and guitar (chords only). Piano Vocal. Pop and Adult Contemporary. Difficulty: medium. Single. Vocal melody, piano accompaniment, lyrics, chord names and guitar chord diagram |
| | |
| --- | --- |
| | I Turn To You "By Christina Aguilera. For voice, piano and guitar chords. This edition: Piano/Vocal/Chords. Artist/Personality; Piano/Vocal/Chords; Sheet; Solo. Original Sheet Music. Dance Pop and Pop. Difficulty: medium. Single. Vocal melody, piano accompaniment, lyri |
| | |
| --- | --- |
| | Moves Like Jagger "By Maroon 5, Christina Aguilera, and Maroon 5 featuring Christina Aguilera. Pop; Rock. Piano/Vocal/Guitar. 5 pages. Published by Hal Leonard - Digital Sheet Music" |
| | |
| --- | --- |
| | You Lost Me By Christina Aguilera. Pop. Piano/Vocal/Guitar. 5 pages. Published by Hal Leonard - Digital Sheet Music |
| | |
| --- | --- |
| | Stripped "By Christina Aguilera. For voice, piano and guitar chords. Piano/Vocal/Guitar Artist Songbook. Dance Pop and Pop. Songbook. Vocal melody, piano accompaniment, lyrics, chord names and guitar chord diagrams. 118 pages. Published by Hal Leonard" |
| | |
| --- | --- |
| | Hurt (Easy Piano Sheet Music). By Christina Aguilera. Easy Piano. 8 pages. Published by Hal Leonard |
| | |
| --- | --- |
| | Lady Marmalade "By Christina Aguilera, Lil Kim, Mya, and Pink. For voice, piano and guitar chords. Piano Vocal. Dance Pop and Pop. Difficulty: medium. Single. Vocal melody, piano accompaniment, lyrics, chord names and guitar chord diagrams. 11 pages. Published by Hal Le |
| | |
| --- | --- |
| | Beautiful By Christina Aguilera. For easy piano. Pop. 5 pages. Published by Hal Leonard - Digital Sheet Music |
| | |
| --- | --- |
| | Beautiful By Christina Aguilera. Arranged by Mac Huff. SSA. Pop Choral Series. 12 pages. Published by Hal Leonard |
Search for other pieces by Christina Aguilera by entering text in the box below:


8notes in other languages: