OneRepublic - Counting Stars
Thank you for trying the 8notes.com Audio Playback
You have reached your limit of audio playback for today.
Please subscribe for unlimited playback
Individual Subscriptions:

Click here for more info on subscriptions

OneRepublic - Counting Stars for Guitar Riff Lesson
OneRepublic's Counting Stars uses a standard progression of IV-I-V-IV
We've put two versions here, one in the original key of E and one in an easier key of C
However the E key sounds great if you no how to play a 'bar'
For all the major chords shown, play the lowest note with your index finger, and use your ring finger to cover the three remaining notes by placing it flat on the fingerboard.
It can be a bit painful if you're a beginner, but it's the best way to achieve the sound if you can.
Use the same chords later in the song, but strumed rather than plucked.
TEMPO: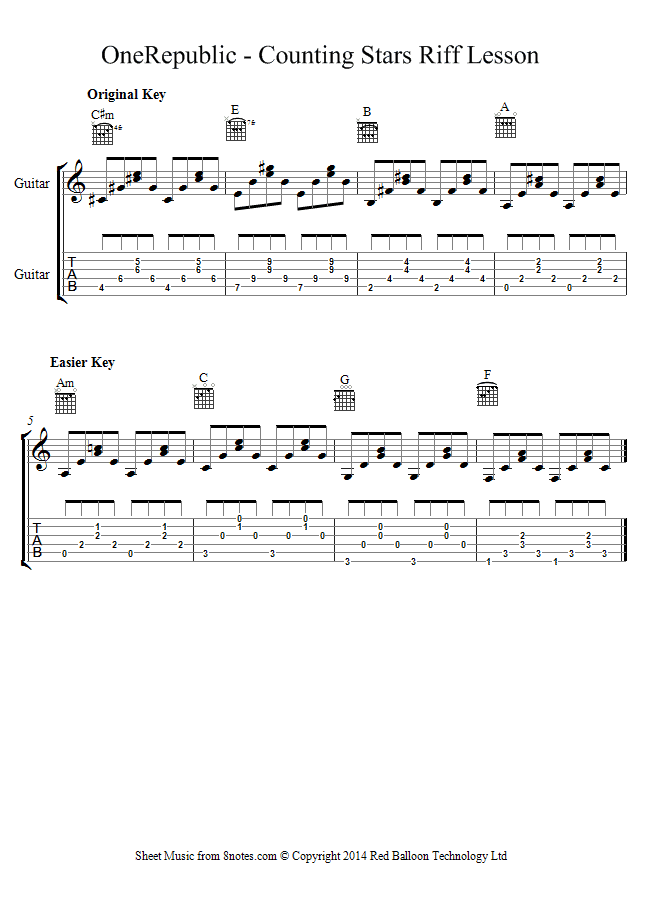 Keyboard Shortcuts:

space

Play & Pause
Instrument:
Guitar (View more Beginners Guitar Music)
Style:
Pop (View more Pop Guitar Music)
Film (View more Film Guitar Music)

Tags





Copyright:
Chord progressions and other generic musical features are not considered copyrightable. 8notes strives to obey copyright law and if you think this contravenes copyright law please get in touch via our contact page.
The typesetting and editing in this file is however copyright. It may be printed and performed freely, but should not be digitally copied, shared or reproduced without permission.
Parts, Versions, Transpositions

Alternative Keys Available:
Sorry, transposition requests not available for this piece Why?




Parts
Sorry, parts requests not available for this piece Why?

Other Versions Available For:
No other versions currently available.

Request New Version


Items to buy by OneRepublic


Search for other pieces by OneRepublic by entering text in the box below:




8notes in other languages: