Bizet - Habanera from Carmen sheet music
Thank you for trying the 8notes.com Audio Playback
You have reached your limit of audio playback for today.
Please subscribe for unlimited playback
Individual Subscriptions:

Click here for more info on subscriptions

Bizet - Habanera from Carmen sheet music for Voice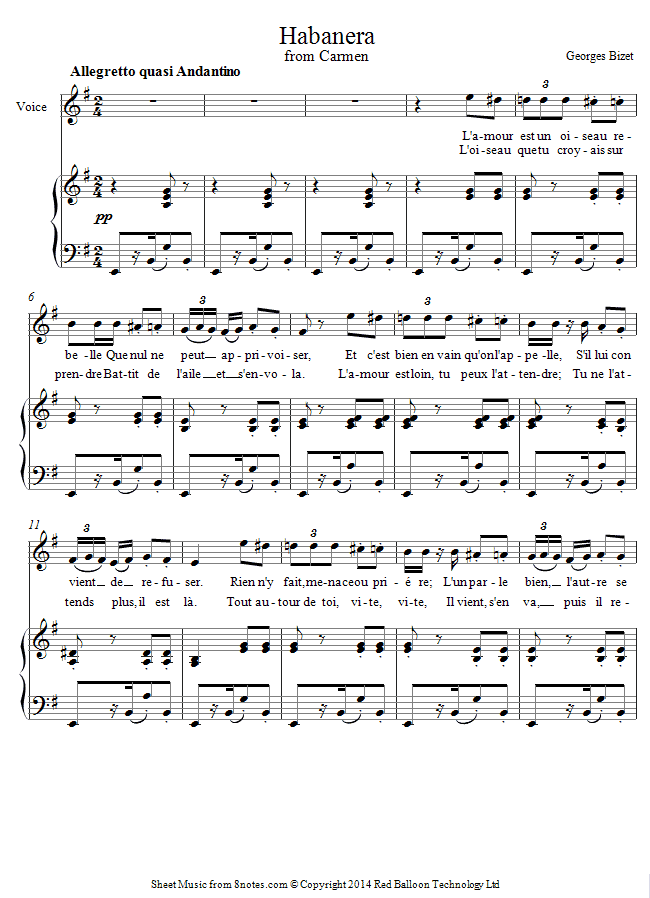 Keyboard Shortcuts:

←

Previous page

→

Next page

space

Play & Pause
About 'Habanera from Carmen'

Artist:
Bizet, Georges (biography) (sheet music)
Born:
1838
Died:
1875
The Artist:
(October 25, 1838 - June 3, 1875) was a French composer and pianist of the romantic era. He is best known for his opera Carmen.

Composition Date:
1875
Composition Info:
Habanera is the popular name for the aria "L'amour est un oiseau rebelle" (Love is a rebellious bird) from Georges Bizet's 1875 opera Carmen. It is the entrance aria of the title character, a mezzo-soprano role, in scene 5 of the first act.has been a crowd favorite since its creation

Text:

L'amour est un oiseau rebelle
Que nul ne peut apprivoiser,
Et c'est bien en vain qu'on l'appelle,
S'il lui convient de refuser.
Rien n'y fait, menace ou prière;
L'un parle bien, l'autre se tait,
Et c'est l'autre que je préfère;
Il n'a rien dit mais il me plaît.


L'amour est l'enfant de Bohême,
Il n'a jamais, jamais connu de loi;
Si tu ne m'aimes pas, je t'aime;
Si je t'aime, prends garde à toi! (Prends garde à toi!)
Si tu ne m'aimes pas,
Si tu ne m'aimes pas, je t'aime; (Prends garde à toi!)
Mais si je t'aime, si je t'aime;
Prends garde à toi!
Number of Pages
3
Difficulty Level
Intermediate Level: Recommended for Intermediate Level players
Instrument:
Voice (View more Intermediate Voice Music)
Style:
Classical (View more Classical Voice Music)

Tags





Copyright:
© Copyright 2000-2015 Red Balloon Technology Ltd (8notes.com)
This file may be printed and performed freely, but should not be digitally copied, shared or reproduced without permission.
Items to buy by Bizet
| | |
| --- | --- |
| | Au Fond Du Temple Saint "(Duet From The Pearl Fishers). By Georges Bizet (1838-1875). Edited by Roger Nichols. For tenor/baritone voice duet and piano accompaniment. Classical Period. Difficulty: medium. Vocal score. Duet notation, piano reduction and introductory text. 25 pages |
| | |
| --- | --- |
| | Carmen "(Vocal Score). By Georges Bizet (1838-1875). Arranged by Ruth & Thomas Martin. For SATB chorus, 12 solo voices and piano accompaniment (Score). G. Schirmer Opera Score Editions. Classical Period and Opera. Difficulty: difficult. Vocal score. Vocal score, |
| | |
| --- | --- |
| | Habanera from the Opera Carmen "By Georges Bizet (1838-1875). Edited by Edwin Mclean. For voice, piano and guitar (chords only). P/V/C. Bizet's ever-popular Habanera from the opera Carmen is presented here in its original piano/vocal form, but with a newly translated English lyric as w |
| | |
| --- | --- |
| | 44 Original Piano Duets (Haydn to Stravinsky (Easy to Intermediate Grades)). By Georges Bizet Igor Fyodorovich Stravinsky. For Piano 4 Hands. Solo part. Standard notation. 159 pages. Published by Theodore Presser Company |
| | |
| --- | --- |
| | Fantasy on Themes From Bizet's Carmen "By Georges Bizet (1838-1875). Edited by Mack Wilberg. For 2 pianos, 8-hands. Late Intermediate. Music book. Published by Neil A. Kjos Music Company" |
| | |
| --- | --- |
| | Carmen "(A Concert Suite for Two Pianos/Four Hands). By Georges Bizet (1838-1875). Arranged by Richard Simm. For Piano. This edition: 2 copies required. Duet or Duo; Piano Duo (2 Pianos, 4 Hands). Advanced level piece for the Piano Duo event with the National Fe |
| | |
| --- | --- |
| | Bizet -- Jeux d'enfants "By Georges Bizet (1838-1875). Edited by Charles Timbrell. For Piano. Duet or Duo; Masterworks; Piano Duet (1 Piano, 4 Hands). Alfred Masterwork Edition. Masterwork; Romantic. Early Advanced. Book. 72 pages. Published by Alfred Music Publishing" |
| | |
| --- | --- |
| | The Rafael Mendez Collection "(Transcriptions, Arrangements and Original Works for B-Flat Trumpet and Piano). By Guiseppe F Verdi Georges Bizet. Arranged by Rafael Mendez. For Trumpet Solo, Piano. Solo part with piano reduction. Standard notation. 256 pages. Published by Carl Fischer |
| | |
| --- | --- |
| | Habanera de Carmen By Georges Bizet (1838-1875). Arranged by Luc Levesque. For Guitar Ensemble. 2. 28 pages. Published by Les Productions d'OZ |
| | |
| --- | --- |
| | A Carmen Celebration By Georges Bizet (1838-1875). Arranged by Kevin Olson. For piano. The FJH Piano Ensemble Series. Romantic Period. Late Intermediate/Early Advanced. Single sheet. Published by The FJH Music Company Inc |
| | |
| --- | --- |
| | Carmen Overture "(1 Piano, 6 Hands/Mid-Intermediate Level). By Georges Bizet (1838-1875). Arranged by Arnoldo Sartorio. Willis. Mid-Intermediate. 16 pages. Willis Music #4489. Published by Willis Music" |
| | |
| --- | --- |
| | Church Piano Music (From the Works of the Foremost Masters). By Adolph Friedrich Hesse Georges Bizet. Arranged by Martha Powell Setchell. Piano. For Piano Solo. Solo part. Standard notation. 72 pages. Published by Carl Fischer |
| | |
| --- | --- |
| | "Six Etudes in Canon Form, Op. 56" "By Robert Schumann. Edited by Maurice Hinson and Allison Nelson. Arranged by Georges Bizet. For 1 piano, 4-hands. Duet or Duo; Masterworks; Piano Duet (1 Piano, 4 Hands); Technique Musicianship. Alfred Masterwork Edition. Masterwork; Romantic. Early Adva |
| | |
| --- | --- |
| | "L'Arlesienne, Suites 1 & 2" "By Georges Bizet (1838-1875). For Piano. Duet or Duo; Masterworks; Piano Duet (1 Piano, 4 Hands). Kalmus Edition. Form: Suite. Masterwork; Romantic. Book. 64 pages. Published by Alfred Music Publishing" |
| | |
| --- | --- |
| | "Carmen (Concert Fantasy), Op. 25" "(For Violin and Piano, Op. 25). By Pablo De Sarasate Georges Bizet. Edited by Gustave Saenger. For Violin Solo, Piano. Set of parts. Standard notation. Opus 25. 29 pages. Published by Carl Fischer" |
| | |
| --- | --- |
| | My Favorite Duet Album "(25 Selected Duets for Piano-Four Hands). By Peter Ilyich Tchaikovsky Georges Bizet. Edited by Maxwell Eckstein. Arranged by Maxwell Eckstein Fritz Spindler. Piano 4-hands. For Piano I, Piano II. Softcover. Standard notation. 159 pages. Published by Carl |
| | |
| --- | --- |
| | 20 Melodies -- Soprano or Tenor (Contents identical with K06832 (French Language Edition)). By Georges Bizet (1838-1875). For Voice. Masterworks; Vocal Collection. Kalmus Edition. Masterwork; Romantic. Book. 136 pages. Published by Alfred Music Publishing |
| | |
| --- | --- |
| | Bizet: 20 Melodies (Mezzo Soprano/Baritone) (Twenty of Bizet's best-known songs (German Language Edition)). By Georges Bizet (1838-1875). For Voice. Masterworks; Vocal Collection. Kalmus Edition. Masterwork; Romantic. Book. 136 pages. Published by Alfred Music Publishing |
| | |
| --- | --- |
| | Carmen Fantasy By Georges Bizet (1838-1875). Arranged by Bob Elkjer. Solo. For trombone solo. With piano. From the Slidearea recording. Duration Approx. 10:00. Published by Alessi Publications |
Search for other pieces by Georges Bizet by entering text in the box below:


8notes in other languages: