Holst - Personent Hodie (Words from Piae Cantiones) sheet music
Close X
Thank you for trying the 8notes.com Audio & Transposition features
You have reached your limit for today.
Please subscribe for unlimited playback & transpositions
Individual Subscriptions:

Click here for more info on subscriptions

Holst - Personent Hodie (Words from Piae Cantiones) sheet music for Trumpet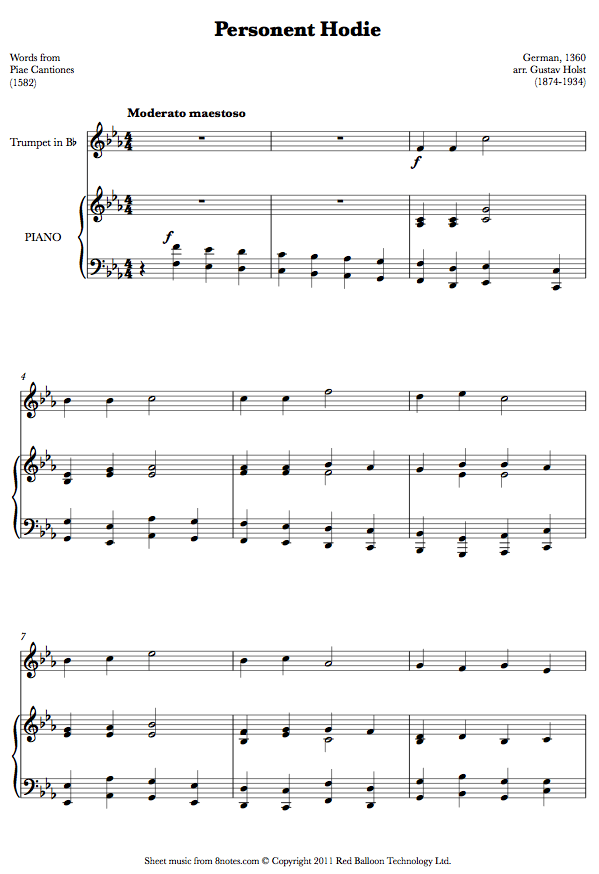 About 'Personent Hodie (Words from Piae Cantiones)'

Artist:
Holst, Gustav (biography) (sheet music)
Born:
September 21, 1874, , Cheltenham, United Kingdom
Died:
May 25, 1934, , London, United Kingdom
The Artist:
Gustav Theodore Holst was an English composer, arranger and teacher. Best known for his orchestral suite The Planets, he composed a large number of other works across a range of genres.

Composition Date:
Composition Info:
Score Key
Eb major (Sounding Pitch)
F major (Trumpet in Bb)
Number of Pages
2
Difficulty Level
Easy Level: Recommended for Beginners with some playing experience
Instrument:
Trumpet (View more Easy Trumpet Music)
Style:
Classical (View more Classical Trumpet Music)
christmas (View more christmas Trumpet Music)

Tags





Copyright:
© Copyright 2000-2016 Red Balloon Technology Ltd (8notes.com)
This file may be printed and performed freely, but should not be digitally copied, shared or reproduced without permission.
Parts, Versions, Transpositions

Alternative Keys

This piece is also available in the following transpositions:


Bb major

B major

C major

C# major

D major

Eb major

E major

F major

F# major

G major

Ab major

A major



Request New Transposition



Parts

The following parts are available:


Request Additional Parts

Request Large Note Part

Request Part with Chords



Alternative Versions

Arrangements of this piece also available for:
Items to buy by Holst
| | |
| --- | --- |
| | The Planets - Full Score By Gustav Holst (1874-1934). For full orchestra and double SSA chorus. Full Orchestra (Full Score). Dover Edition. 20th Century. Full score. Full score notation. 192 pages. Published by Dover Publications |
| | |
| --- | --- |
| | "First Suite In Eb For Military Band, Op. 28, No. 1" "(for Military Band). By Gustav Holst (1874-1934). Edited by Colin Matthews. For military band (Full Score). Boosey & Hawkes Concert Band. Classical Period. Full score. Opus 28, No. 1; H. 105. 48 pages. Duration 10m. Boosey & Hawkes #M060052521. Published |
| | |
| --- | --- |
| | Second Suite in F (Revised) (Full Score). By Gustav Holst (1874-1934). Arranged by Colin Matthews. Score. Boosey & Hawkes Concert Band. Softcover. 56 pages. Boosey & Hawkes #M060052569. Published by Boosey & Hawkes |
| | |
| --- | --- |
| | First Suite in E Flat (Revised) By Gustav Holst (1874-1934). Arranged by Colin Matthews. Score. Boosey & Hawkes Concert Band. Softcover with CD. 48 pages. Boosey & Hawkes #M051661473. Published by Boosey & Hawkes |
| | |
| --- | --- |
| | "O God, Beyond All Praising" "By Gustav Holst (1874-1934). Arranged by Richard Proulx. For SATB choir and organ accompaniment. Concertato Series. 20th Century and Sacred. Easy. Vocal score. Vocal score notation, lyrics and organ accompaniment. 8 pages. Published by GIA Publications" |
| | |
| --- | --- |
| | St. Paul's Suite By Gustav Holst (1874-1934). Score & Parts. Orchestra. Grade 3-4. G. Schirmer #OR42901. Published by G. Schirmer |
| | |
| --- | --- |
| | "4 Songs for Voice and Violin, Op. 35" By Gustav Holst (1874-1934). For Violin and Voice (High Voice). Music Sales America. Romantic. 8 pages. Chester Music #CH03853. Published by Chester Music |
| | |
| --- | --- |
| | The Evening Watch "By Gustav Holst, poem by Henry Vaughan. Edited by Imogen Holst. Choir Secular. SATB choir. Choral Octavo; Masterworks. Faber Edition. 20th Century; Masterwork; Romantic. Published by Faber Music" |
| | |
| --- | --- |
| | In The Bleak Midwinter "(For Chorus of Mixed Voices with Piano or Organ). By Gustav Holst (1874-1934). Arranged by Albin C Whitworth. SATB chorus. For SATB, Piano, Organ, Alto Solo. Choral. Piano reduction/vocal score. Standard notation. 7 pages. Published by Carl Fischer" |
| | |
| --- | --- |
| | First Suite in E Flat (Revised) (for Military Band). By Gustav Holst/ed. Colin Matthews. Score & Parts. Boosey & Hawkes Concert Band. Grade 4. Softcover. 512 pages. Boosey & Hawkes #M060052538. Published by Boosey & Hawkes |
| | |
| --- | --- |
| | Nunc Dimittis "By Gustav Holst (1874-1934). Arranged by Desmond Ratcliffe. For SATB Choir (SATB). Music Sales America. Sacred, 20th Century, Choral. 16 pages. Novello & Co Ltd. #NOV290459R. Published by Novello & Co Ltd." |
| | |
| --- | --- |
| | Second Suite in F "By Gustav Holst (1874-1934). Arranged by Dave Sabourin. Brass Quintet. For 2 trumpets, horn in F, trombone, tuba. British Military Band. Advanced. Full score & set of parts. Published by Cherry Classics" |
| | |
| --- | --- |
| | Christmas Day "By Gustav Holst (1874-1934). For SATB Choir, Organ (SATB). Music Sales America. Christmas, 20th Century, Choral. 16 pages. Novello & Co Ltd. #NOV290129R. Published by Novello & Co Ltd." |
| | |
| --- | --- |
| | Brook Green Suite By Gustav Holst (1874-1934). Orchestra. Grade 3-4. G. Schirmer #OR45354. Published by G. Schirmer |
| | |
| --- | --- |
| | The Planets By Gustav Holst (1874-1934). Arranged by Douglas E. Wagner. Concert Band. Concert Band; Masterworks; SmartMusic. Belwin Young Band. Form: Transcription. 20th Century; Masterwork Arrangement; Romantic. Grade 2. Conductor Score & Parts. 240 pages. Published |
| | |
| --- | --- |
| | "Fugal Concerto Op. 40, No. 2" "(Flute, Oboe and Piano). By Gustav Holst (1874-1934). For Flute, Oboe, Piano Accompaniment. Music Sales America. Classical. 18 pages. Music Sales #NOV120060. Published by Music Sales" |
| | |
| --- | --- |
| | In the Bleak Midwinter "By Gustav Holst (1874-1934). Arranged by Brad Printz. For Handbells, Percussion, Windchimes (2-part). Choral music. Christmas, Classics, Hymntune, Sacred. Print Music Single (2-part Mixed). 12 pages. Published by Hope Publishing Company" |
| | |
| --- | --- |
| | A Holst Christmas "(Featuring: In the Bleak Midwinter / Lullay My Liking / excerpts from ""Christmas Day""). By Gustav Holst (1874-1934). Arranged by Douglas E. Wagner. Orchestra. Full Orchestra; Part(s); Score. Belwin Intermediate Full Orchestra. Form: Medley. 20th Centur |