Aloha Oe (Farewell to Thee) (Hawaiian traditional) sheet music
Thank you for trying the 8notes.com Audio Playback
You have reached your limit of audio playback for today.
Please subscribe for unlimited playback
Individual Subscriptions:

Click here for more info on subscriptions

Aloha Oe (Farewell to Thee) (Hawaiian traditional) sheet music for Ukulele
TEMPO: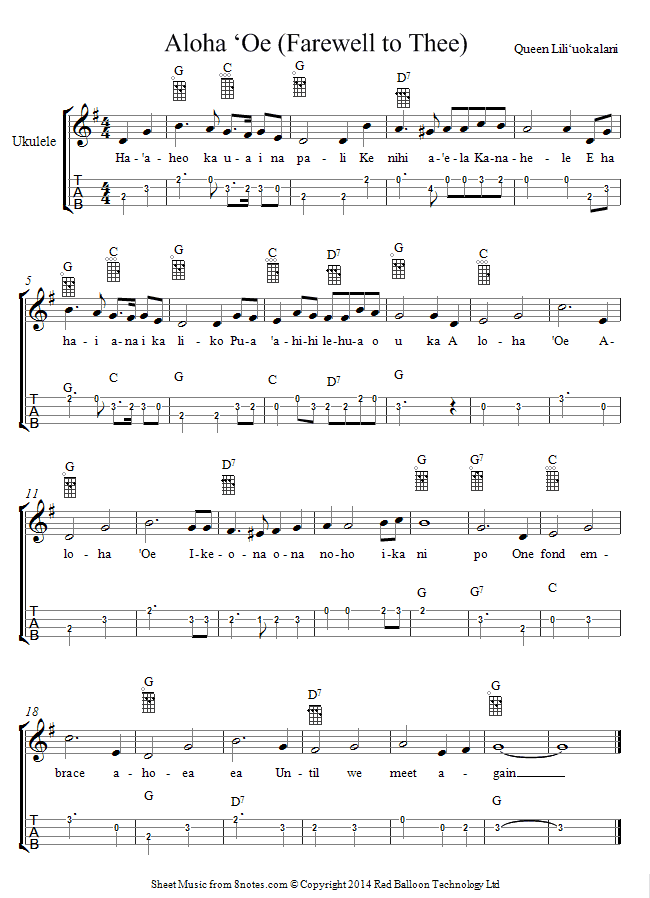 Keyboard Shortcuts:

space

Play & Pause
About 'Aloha Oe (Farewell to Thee) (Hawaiian traditional)'

Artist:
Traditional Melody
The Artist:
Traditional Music of unknown author.

Composition Date:
1878
Composition Info:
"Aloha ʻOe" (Farewell to Thee) was written in 1878 by Queen Liliʻuokalani and is associated with Hawaii as one of it's most recognisable melodies.

Lyrics

Haʻaheo ka ua i nā pali Proudly swept the rain by the cliffs
Ke nihi aʻela i ka nahele As it glided through the trees
E hahai (uhai) ana paha i ka liko Still following ever the bud
Pua ʻāhihi lehua o uka The ʻāhihi lehua[5] of the vale

Hui: Chorus:
Aloha ʻoe, aloha ʻoe Farewell to thee, farewell to thee
E ke onaona noho i ka lipo The charming one who dwells in the shaded bowers
One fond embrace, One fond embrace,
A hoʻi aʻe au 'Ere I depart
Until we meet again Until we meet again

ʻO ka haliʻa aloha i hiki mai Sweet memories come back to me
Ke hone aʻe nei i Bringing fresh remembrances
Kuʻu manawa Of the past
ʻO ʻoe nō kaʻu ipo aloha Dearest one, yes, you are mine own
A loko e hana nei From you, true love shall never depart

Tomago: Refrain?:
Maopopo kuʻu ʻike i ka nani I have seen and watched your loveliness
Nā pua rose o Maunawili The sweet rose of Maunawili
I laila hiaʻia nā manu And 'tis there the birds of love dwell
Mikiʻala i ka nani o ka lipo And sip the honey from your lips
Hui Chorus
Number of Pages
1
Difficulty Level
Easy Level: Recommended for Beginners with some playing experience
Instrument:
Ukulele (View more Easy Ukulele Music)
Style:
World (View more World Ukulele Music)

Tags





Copyright:
© Copyright 2000-2016 Red Balloon Technology Ltd (8notes.com)
This file may be printed and performed freely, but should not be digitally copied, shared or reproduced without permission.
View more American sheet music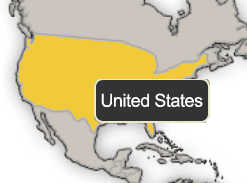 Traditional Music Items to buy
















Search for other pieces by Trad. by entering text in the box below:




8notes in other languages: