Palestrina - Dona Nobis Pacem (canon) sheet music
Close X
Thank you for trying the 8notes.com Audio & Transposition features
You have reached your limit for today.
Please subscribe for unlimited playback & transpositions
Individual Subscriptions:

Click here for more info on subscriptions

Palestrina - Dona Nobis Pacem (canon) sheet music for Choir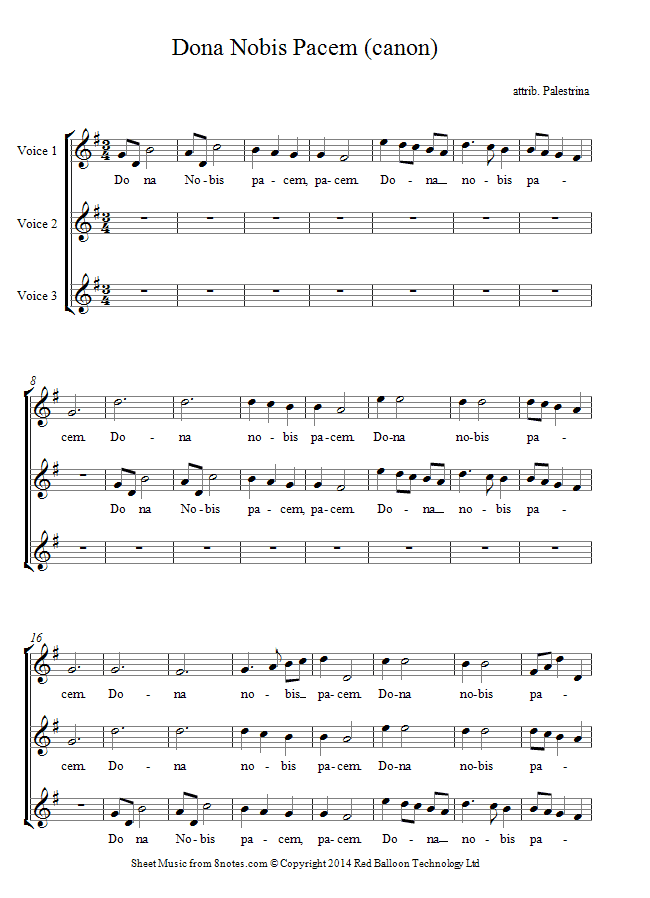 | | |
| --- | --- |
| Composition Date: | unknown |
| Composition Info: | "Dona Nobis Pacem" is a song with Latin text, often sung as a canon. The words, which mean "Grant us peace", come from the Latin Mass. The origin of the melody is unknown (most hymnals list it as "traditional"). It is sometimes attributed to Giovanni Pierluigi da Palestrina, though numerous sources attribute it to Mozart. |
| Score Key | G major (Sounding Pitch) |
| Number of Pages | 2 |
| Difficulty Level | Easy Level: Recommended for Beginners with some playing experience |
Instrument:
Choir (View more Easy Choir Music)
Style:
Classical (View more Classical Choir Music)

Tags





Copyright:
© Copyright 2000-2016 Red Balloon Technology Ltd (8notes.com)
This file may be printed and performed freely, but should not be digitally copied, shared or reproduced without permission.
Parts, Versions, Transpositions

Alternative Keys

This piece is also available in the following transpositions:


D major

Eb major

E major

F major

F# major

G major

Ab major

A major

Bb major

B major

C major

C# major



Request New Transposition



Parts


The parts for this piece have not yet been generated.

Request Parts



Alternative Versions

Arrangements of this piece also available for:
Items to buy by Palestrina
| | |
| --- | --- |
| | Sicut Cervus (A Cappella) By Giovanni Pierluigi da Palestrina (1525-1594). For SATB choir (a cappella) (SATB). Choral. Choral. Renaissance and Sacred. Difficulty: medium. Octavo and motet. Piano rehearsal part. 8 pages. G. Schirmer #OC6444. Published by G. Schirmer |
| | |
| --- | --- |
| | Renaissance Men "((Choral Collection)). By Giovanni Croce, Giovanni Pierluigi da Palestrina (1525-1594), Giuseppe Ottavio Pitoni, Jacques (Jacob) Arcadelt, and Michael Praetorius (1571-1621). Edited by John Leavitt. Arranged by John Leavitt. TTBB A Cappella. Treasury Cho |
| | |
| --- | --- |
| | Sicut Cervus "(Motet for Four Mixed Voices, A Cappella). By Giovanni Pierluigi da Palestrina (1525-1594). Edited by Robert Hufstader. For Soprano, Alto, Tenor, Bass, Keyboard. Sacred, Choral. Piano reduction/vocal score. Standard notation. 8 pages. Published by Theodo |
| | |
| --- | --- |
| | Sicut Cervus "By Giovanni Pierluigi da Palestrina, words based on Psalm 42:1. Arranged by Russell L. Robinson. Choir Sacred. 3-Part Mixed Choir (SAB). Choral (Sacred); Choral Octavo; Worship Resources. Choral Designs. Masterwork Arrangement; Renaissance; Sacred. Chora |
| | |
| --- | --- |
| | Missa Brevis in F (SATB). By Giovanni Pierluigi da Palestrina (1525-1594). Arranged by F Damrosch. SATB. Choral Large Works. 32 pages. G. Schirmer #ED369. Published by G. Schirmer |
| | |
| --- | --- |
| | Adoramus Te By Giovanni Pierluigi da Palestrina (1525-1594). Edited by John Leavitt. TTBB A Cappella. Treasury Choral. 4 pages. Published by Hal Leonard |
| | |
| --- | --- |
| | Masses and Motets By Giovanni Pierluigi da Palestrina (1525-1594). For mixed vocal ensemble. Choral Worship Cantata (Full Score). Dover Edition. Renaissance and Sacred. Difficulty: medium-difficult. Vocal score. Vocal score and lyrics. 224 pages. Published by Dover Publica |
| | |
| --- | --- |
| | O Bone Jesu By Giovanni Pierluigi da Palestrina (1525-1594). SATB. Schott Chorblattreihe (Choral Music). Choral Score. 1 pages. Schott Music #CHBL269. Published by Schott Music |
| | |
| --- | --- |
| | Alma Redemptoris Mater By Giovanni Pierluigi da Palestrina (1525-1594). Arranged by Terry Eder. SATB A Cappella. Festival Choral. Festival. 8 pages. Published by Hal Leonard |
| | |
| --- | --- |
| | Interpolations on Sicut cervus desiderat "By Giovanni Pierluigi da Palestrina (1525-1594). Edited by Michael Spoer. Arranged by James Jordan. For SATB Choir and piano reduction. Bible Reference: Psalm 42:1. Evoking Sound. Sacred, Lent. Medum. Text language: Latin. 12 pages. Published by GIA Publ |
| | |
| --- | --- |
| | Miserere Nostri (Show thy mercy on us) "By Giovanni Pierluigi da Palestrina (1525-1594). For SATB Choir, optional organ (Mixed Voices). Psalm, Lent. Psalm 123:3-4. Choral. 12 pages. Published by E.C. Schirmer Publishing" |
| | |
| --- | --- |
| | The Strife is O'er By Giovanni Pierluigi da Palestrina (1525-1594). Arranged by C. Traupman-Car. For brass quintet. Quintet music. Published by Cimarron Music Press |
| | |
| --- | --- |
| | Missa brevis By Giovanni Pierluigi da Palestrina (1525-1594). Score available separately - see item CA.9190400. Part: Soprano. Language: Latin. 8 pages. Published by Carus Verlag |
| | |
| --- | --- |
| | Adoramus Te - Score and parts By Giovanni Pierluigi da Palestrina (1525-1594). For recorder consort (TTBGb). Recorder Quartets. 1 - Easy. Score and Parts. Published by Polyphonic Publications |
| | |
| --- | --- |
| | O Come Let Us Worship "By Giovanni Pierluigi da Palestrina (1525-1594). For SATB Choir (Mixed Voices). Psalm, General. Psalm 95:6, 7. Choral. 4 pages. Published by E.C. Schirmer Publishing" |
| | |
| --- | --- |
| | Adoramus te By Giovanni Pierluigi da Palestrina (1525-1594). Arranged by John Leavitt. SATB A Cappella. Treasury Choral. Festival. 8 pages. Published by Hal Leonard |
| | |
| --- | --- |
| | Hodie Christus natus est "By Giovanni Pierluigi da Palestrina (1525-1594). Edited by Jameson Marvin. For SSAA choir and piano accompaniment (for rehearsal only). Upper Voices. Music of the Renaissance for Women's Choir. Renaissance. Difficulty: medium-difficult. Vocal score. Voca |
| | |
| --- | --- |
| | Sicut Cervus "By Giovanni Pierluigi da Palestrina, words based on Psalm 42:1. Arranged by Russell L. Robinson. Choir Sacred. Women's Choir. Choral (Sacred); Choral Octavo; Worship Resources. Choral Designs. Masterwork Arrangement; Renaissance; Sacred. 8 pages. Publish |
| | |
| --- | --- |
| | Adoramus Te "By Giovanni Pierluigi da Palestrina (1525-1594). Arranged by Mike Ware. For Soprano, Alto, Tenor, Bass. Octavo. 4 pages. Duration 55 seconds. Published by Carl Fischer" |