Chick Corea - Chick Corea-style two hands phrasing
Thank you for trying the 8notes.com Audio Playback
You have reached your limit of audio playback for today.
Please subscribe for unlimited playback
Individual Subscriptions:

Click here for more info on subscriptions

Chick Corea - Chick Corea-style two hands phrasing for Piano Riff Lesson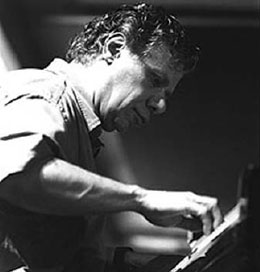 This piece is part of our
Chick Corea Piano Licks
Compilation
Many famous jazz piano players use two-hand technique to enhance their melodic phrasing.
In this example we use both unison and tertial (third) intervals split by two octaves.
Notice how this enhances the melody line considerably.
Phrase ends with Csus4 chord which is common in Chick Corea's tunes
TEMPO: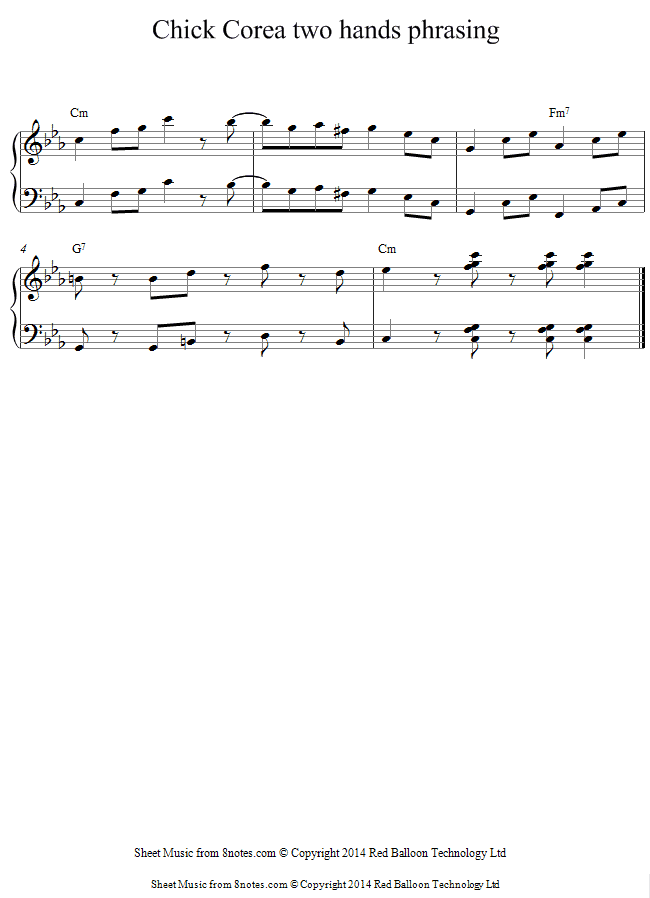 Keyboard Shortcuts:

space

Play & Pause
Instrument:
Piano (View more Intermediate Piano Music)
Style:
Jazz (View more Jazz Piano Music)

Tags





Copyright:
Chord progressions and other generic musical features are not considered copyrightable. 8notes strives to obey copyright law and if you think this contravenes copyright law please get in touch via our contact page.
The typesetting and editing in this file is however copyright. It may be printed and performed freely, but should not be digitally copied, shared or reproduced without permission.
Parts, Versions, Transpositions

Alternative Keys Available:
Sorry, transposition requests not available for this piece Why?




Parts
Sorry, parts requests not available for this piece Why?

Other Versions Available For:
No other versions currently available.

Request New Version


Items to buy by Chick Corea
| | |
| --- | --- |
| | Children's Songs (20 Pieces for Keyboard). By Chick Corea. For solo piano (or keyboard). Schott. 20th Century and Jazz Fusion. SMP Level 8 (Early Advanced). Collection. Standard notation and introductory text (does not include words to the songs). 56 pages. Schott Music # |
| | |
| --- | --- |
| | Chick Corea Collection "By Chick Corea. For piano. Personality. Jazz. Difficulty: medium. Instrumental solo songbook. Piano score, introductory text and performance notes. 120 pages. Published by Hal Leonard" |
| | |
| --- | --- |
| | Solos for Jazz Piano By Chick Corea Bud Powell. Edited by Ronny S. Schiff. Arranged by Art Tatum Ahmad Jamal. Piano. For Piano Solo. SMP Level 8 (Early Advanced). Solo part. Standard notation. 63 pages. Published by Carl Fischer |
| | |
| --- | --- |
| | Chick Corea (Jazz Play-Along Volume 67). By Chick Corea. Jazz Play Along. Play Along. Softcover with CD. 80 pages. Published by Hal Leonard |
| | |
| --- | --- |
| | Schott's 20th Century Piano Classics (54 Pieces from JanÝŠcek to Chick Corea). By Various. Arranged by Fritz Emonts and Rainer Mohrs. Piano. Schott. Book only. 132 pages. Schott Music #ED9565. Published by Schott Music |
| | |
| --- | --- |
| | Spain By Chick Corea. By Chick Corea. Arranged by Paul Jennings. Jazz Ensemble Library. Grade 4. Published by Hal Leonard |
| | |
| --- | --- |
| | Spain - Conductor Score (Full Score) "By Al Jarreau, Chick Corea, Joaquin Rodrigo (1901-1999), and Artie Maren. Arranged by Paul Jennings. Jazz band. Jazz; Latin. Jazz Band. 10 pages. Published by Hal Leonard - Digital Sheet Music" |
| | |
| --- | --- |
| | Paint The World By Chick Corea. For solo piano. Hal Leonard Artist Transcriptions. Jazz Fusion and Jazz. Difficulty: medium-difficult. Collection. Introductory text and chord names (does not include words to the songs). 40 pages. Published by Hal Leonard |
| | |
| --- | --- |
| | Spain By Chick Corea. Arranged by John La Barbera. Score & Parts. Little Big Band Series. Grade 4. Softcover. Published by Hal Leonard |
| | |
| --- | --- |
| | Spain - Piano "By Al Jarreau, Chick Corea, Joaquin Rodrigo (1901-1999), and Artie Maren. Arranged by Paul Jennings. Jazz band. For Piano. Jazz; Latin. Jazz Band. 6 pages. Published by Hal Leonard - Digital Sheet Music" |
| | |
| --- | --- |
| | Spain - Bass By Chick Corea. By Chick Corea. Arranged by John La Barbera. Jazz. Jazz Band. 3 pages. Published by Hal Leonard - Digital Sheet Music |
| | |
| --- | --- |
| | Spain - Bass Clef Solo Sheet By Chick Corea. By Chick Corea. Arranged by John La Barbera. Jazz. Jazz Band. 1 pages. Published by Hal Leonard - Digital Sheet Music |
| | |
| --- | --- |
| | The Jazz Solos of Chick Corea "Edited by Transcribed by Peter Sprague. Transcribed by Peter Sprague,Chick Corea's official transcriber. Single Line Melody Songbook. Published by Sher Music Company" |
| | |
| --- | --- |
| | Chick Corea -- Keyboard Workshop "(Methods of Composition, Improvisation, and Practice). By Chick Corea. For Keyboard; Piano. Keyboard/Piano DVD; Method/Instruction. Warner Bros. Classics. DVD. 1 pages. Published by Alfred Music Publishing" |
| | |
| --- | --- |
| | Children's Songs By Chick Corea. For Piano. Children's. Book. Published by Advance Music |
| | |
| --- | --- |
| | Spain By Chick Corea. For piano. Jazz; Latin. 7 pages. Published by Hal Leonard - Digital Sheet Music |
| | |
| --- | --- |
| | La Fiesta By Chick Corea. Arranged by Michael Philip Mossman. Score & Parts. Professional Editions-Jazz Ens. Grade 5. Softcover. Published by Hal Leonard |
| | |
| --- | --- |
| | North Africa By Chick Corea. Arranged by Mike Tomaro. Score & Parts. Boosey & Hawkes Concert Band. Grade 4. Published by Boosey & Hawkes |
Search for other pieces by Chick Corea by entering text in the box below:


8notes in other languages: