Vivaldi - Spring from The Four Seasons 1. Allegro (longer version) sheet music
Close X
Thank you for trying the 8notes.com Audio & Transposition features
You have reached your limit for today.
Please subscribe for unlimited playback & transpositions
Individual Subscriptions:

Click here for more info on subscriptions

Vivaldi - Spring from The Four Seasons 1. Allegro (longer version) sheet music for String Ensemble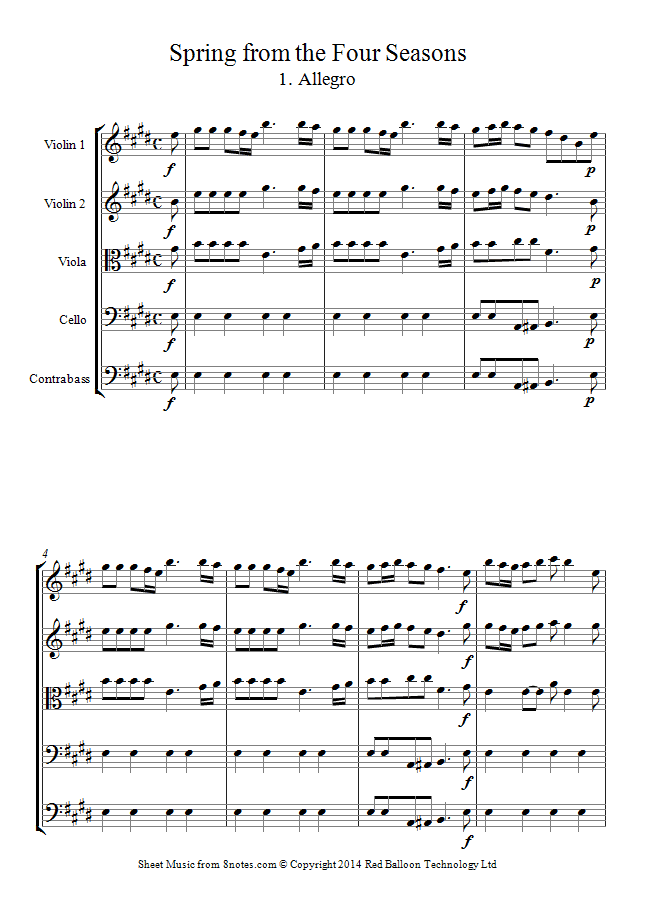 About 'Spring from The Four Seasons 1. Allegro (longer version)'

Artist:
Vivaldi, Antonio (biography) (sheet music)
Born:
March 4,1678 , Venice
Died:
July 28, 1741 , Vienna
The Artist:
Vivalidi was a very prolific composer and had some 500 concertos to his credit.

| | |
| --- | --- |
| Composition Date: | 1725 |
| Composition Info: | One of the most famous and well-loved of all baroque works, the four seasons are the first of 12 concerti that make up Il Cemento Dell'armonia e dell'inventione ( The Contest of Harmony and Invention). There were originally written for solo violin and orchestra. |
| Score Key | E major (Sounding Pitch) |
| Number of Pages | 6 |
| Difficulty Level | Intermediate Level: Recommended for Intermediate Level players |
Instrument:
String Ensemble (View more Intermediate String Ensemble Music)
Style:
Classical (View more Classical String Ensemble Music)
weddings (View more weddings String Ensemble Music)

Tags





Copyright:
© Copyright 2000-2016 Red Balloon Technology Ltd (8notes.com)
This file may be printed and performed freely, but should not be digitally copied, shared or reproduced without permission.
Parts, Versions, Transpositions

Alternative Keys





Bespoke requested transpositions:



Request New Transposition



Parts

The following parts are available:




Request Additional Parts

Request Large Note Part

Request Part with Chords



Alternative Versions

Arrangements of this piece also available for:
Items to buy by Vivaldi
| | |
| --- | --- |
| | "The Four Seasons, Complete (Violin & Piano Reduction)" "(Four Concertos for Violin and Orchestra). By Antonio Vivaldi (1678-1741). Edited by Rok Klopcic. For solo violin and piano. String. Baroque. Difficulty: medium. Performance part and piano reduction. Solo part, piano reduction, bowings, fingerings, intro |
| | |
| --- | --- |
| | 6 Sonatas For Cello And Piano "(Cello and Piano). By Antonio Vivaldi (1678-1741). Edited by Nikolai Graudan and N Graudan. For cello and piano (Cello). String Solo. Baroque. Difficulty: medium. Set of performance parts (includes separate pull-out cello part). Solo part, piano accompan |
| | |
| --- | --- |
| | Four Seasons - Piano Solo By Antonio Vivaldi (1678-1741). Arranged by R. Fred Kern. For solo piano. Piano Solo; Solo. Baroque. SMP Level 5 (Intermediate). Single piece. 10 pages. Published by Alfred Music Publishing |
| | |
| --- | --- |
| | Selections from The Four Seasons for String Quartet By Antonio Vivaldi (1678-1741). For string quartet. Instrumental Ensemble - Strings. Five movements from Spring and Autumn. Violin I limited to 3rd position. Includes 3rd violin part. Baroque. Grade 3. Set of performance parts. Published by Latham Music E |
| | |
| --- | --- |
| | Gloria (RV 589) "(Vocal Score). By Antonio Vivaldi (1678-1741). Edited by William Herrman. Arranged by W Herrmann. For SATB choir, 2 soprano solo voices, alto solo voice and piano accompaniment (SATB). Choral Large Works. Baroque. Difficulty: difficult. Conductor's score |
| | |
| --- | --- |
| | Arie per Soprano da Opere "(Arias for Soprano from Operas). By Antonio Vivaldi (1678-1741). Arranged by Azio Corghi. For soprano voice solo and piano accompaniment. Vocal Collection. Baroque and Opera. Difficulty: difficult. Collection. Vocal melody, lyrics, piano accompaniment an |
| | |
| --- | --- |
| | Gloria "By Antonio Vivaldi (1678-1741). Edited by Mason Martens. For solo voices, SATB choir and orchestra (SATB). Walton Choral. Choral. Baroque. Octavo. Piano reduction. 80 pages. Walton Music #WM101. Published by Walton Music" |
| | |
| --- | --- |
| | "The Four Seasons, Op. 8, Nos. 1-4 - Music Minus One" "By Antonio Vivaldi (1678-1741). For violin solo. Baroque and Play Along. Difficulty: difficult. Sheet music and accompaniment CD. Solo part and standard notation. Op. 8, Nos. 1-4; RV 252. 35 pages. Published by Music Minus One" |
| | |
| --- | --- |
| | "10 Bassoon Concerti, Vol. 1" (Bassoon with Piano Accompaniment). By Antonio Vivaldi (1678-1741). Edited by Sol Schoenbach. Woodwind Solo. 88 pages. G. Schirmer #ED2889. Published by G. Schirmer |
| | |
| --- | --- |
| | Gloria in D RV589 "By Antonio Vivaldi (1678-1741). For SSA Voice Soli, SATB Chorus, Piano. Sacred. Piano/Vocal Score. Text Language: Latin. Published by Edition Peters" |
| | |
| --- | --- |
| | Nulla in mundo pax sincera RV630 (Critical Edition Score). By Antonio Vivaldi (1678-1741). Edited by Paul Everett. Score. Study Score. 50 pages. Ricordi #RPR1294. Published by Ricordi |
| | |
| --- | --- |
| | Six Sonatas (Double Bass and Piano). By Antonio Vivaldi (1678-1741). Edited by L Drew. String Solo. 52 pages. G. Schirmer #LB1894. Published by G. Schirmer |
| | |
| --- | --- |
| | "Concerto in A minor, RV 522" By Antonio Vivaldi (1678-1741). Edited by Ivan Galamian; Piccioli. For 2 violins and piano. Published by International Music Company |
| | |
| --- | --- |
| | Violin Concerto "By Antonio Vivaldi (1678-1741). Edited by Ferdinand Kuechler. For violin and piano. Baroque. Difficulty: medium. Set of performance parts (includes separate pull-out violin part). Solo part and piano reduction. Opus 3, No. 6. 19 pages. Published by Editi |
| | |
| --- | --- |
| | The Four Seasons Op.8 "By Antonio Vivaldi (1678-1741). For Violin Solo, Piano (Strings, Basso continuo). This edition: Urtext. Play Along. Solo part, piano reduction & play-along CD. Duration 46 minutes. Published by Edition Peters" |
| | |
| --- | --- |
| | The Four Seasons - Violin & Piano "By Antonio Vivaldi (1678-1741). Edited by Christopher Hogwood. For violin and piano. This edition: Urtext edition. Baroque. Difficulty: medium. Set of performance parts (includes separate pull-out violin part). Solo part, piano reduction, introductory te |