Debussy - Arabesque No.1 sheet music
Thank you for trying the 8notes.com Audio & Transposition features
You have reached your limit for today.
Please subscribe for unlimited playback & transpositions
Individual Subscriptions:

Click here for more info on subscriptions

Debussy - Arabesque No.1 sheet music for Piano
TEMPO: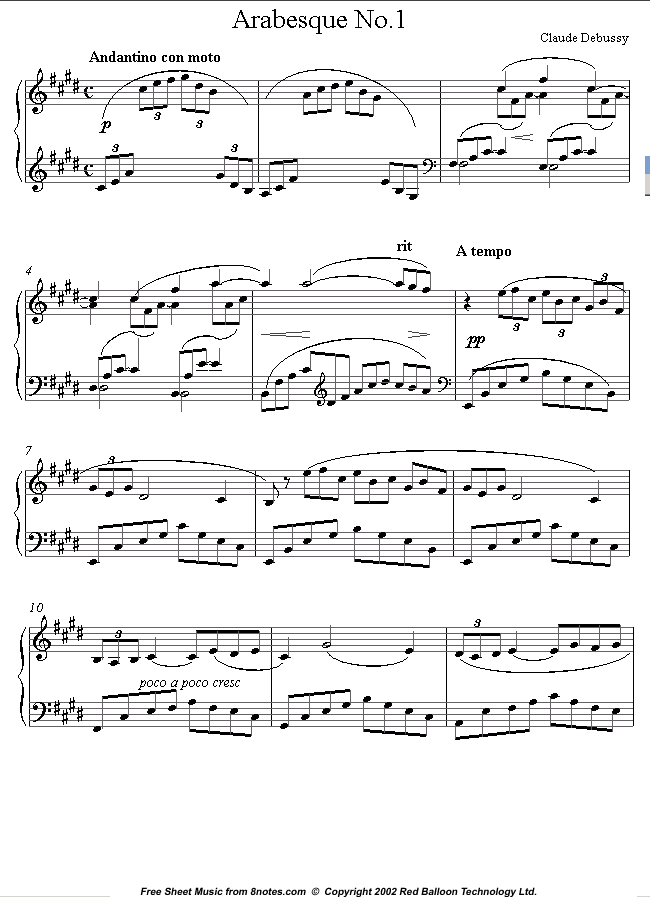 Keyboard Shortcuts:

←

Previous page

→

Next page

space

Play & Pause
About 'Arabesque No.1'

Artist:
Debussy, Claude (biography) (sheet music)
Born:
1862 , St Germain-en-Laye
Died:
1918 , Paris
The Artist:
Among the most important 20th century composers, and the most influential. Often dubbed a musical impressionist, but his music always has a strong sense of form.

| | |
| --- | --- |
| Composition Date: | 1894 |
| Composition Info: | The two arabesques are Debussy's first major piano work. The first displays the influence of Massenet, the second is written more in the baroque manner. The meaning of the title may describe Debussy's love for ornamental melodic writing. |
| Number of Pages | 9 |
| Difficulty Level | Intermediate Level: Recommended for Intermediate Level players |
Instrument:
Piano (View more Intermediate Piano Music)
Style:
Classical (View more Classical Piano Music)

Tags





Copyright:
© Copyright 2000-2016 Red Balloon Technology Ltd (8notes.com)
This file may be printed and performed freely, but should not be digitally copied, shared or reproduced without permission.
Parts, Versions, Transpositions

Alternative Keys Available:

B C C# D Eb E F F# G Ab A Bb


Request New Transposition








Parts

No parts available for this pieces as it is for solo piano.



Other Versions Available For:
Items to buy by Debussy
| | |
| --- | --- |
| | Claire De Lune "(For Piano Solo (Original Version, Unedited)). By Claude Debussy (1862-1918). For solo piano. Masterworks; Piano Solo; Solo. Kalmus Edition. Form: Suite. Impressionistic. SMP Level 9 (Advanced). Single piece. 7 pages. Published by Alfred Music Publishing |
| | |
| --- | --- |
| | Clair De Lune - Easy Piano (Easy Piano Solo). By Claude Debussy (1862-1918). For easy solo piano. Hal Leonard Easy Adult Piano. Impressionistic. SMP Level 2 (Late Elementary). Single piece. Easy piano notation and chord names (does not include words to the songs). 4 pages. Publishe |
| | |
| --- | --- |
| | Claire De Lune (Piano Solo). By Claude Debussy (1862-1918). For solo piano. Piano Solo. Impressionistic. SMP Level 8 (Early Advanced). Single piece. 7 pages. G. Schirmer #ST45071. Published by G. Schirmer |
| | |
| --- | --- |
| | Clair de lune (from Suite Bergamasque) By Claude Debussy (1862-1918). Edited by Willard A. Palmer. For Piano. Masterworks; Piano Solo; Solo. Alfred Masterwork Edition. Impressionistic; Masterwork. SMP Level 9 (Advanced). Book. 8 pages. Published by Alfred Music Publishing |
| | |
| --- | --- |
| | Children's Corner "(For the Piano). By Claude Debussy (1862-1918). Edited by Maurice Hinson. For solo piano. Masterworks; Piano Collection. Alfred Masterworks Editions. Form: Suite. Impressionistic. SMP Level 9 (Advanced). Collection. Standard notation, fingerings and intr |
| | |
| --- | --- |
| | Suite Bergamasque "(Piano Solo). By Claude Debussy (1862-1918). Edited by Ernst-Gunter Heinemann. For solo piano. Piano (Harpsichord), 2-hands. Henle Music Folios. Urtext edition-paper bound. Impressionistic. SMP Level 9 (Advanced). Collection. Introductory text, performan |
| | |
| --- | --- |
| | Debussy Selected Works For Piano By Claude Debussy (1862-1918). Edited by Keith Snell. For piano. Neil A. Kjos Master Composer Library. Intermediate. Sheet music. Published by Neil A. Kjos Music Company |
| | |
| --- | --- |
| | Syrinx for Flute Solo (La flute de Pan). By Claude Debussy (1862-1918). Edited by Ernst-Gunter Heinemann. For flute (unaccompanied). Flute. Henle Music Folios. Pages: 7. Impressionistic. Difficulty: medium to medium-difficult. Flute solo single. Introductory text. 5 pages. G. |
| | |
| --- | --- |
| | Premiere Rhapsody "(For Clarinet and Orchestra). By Claude Debussy (1862-1918). For Clarinet Solo, Piano Reduction. Solo part with piano reduction. Standard notation. 12 pages. Published by Theodore Presser Company" |
| | |
| --- | --- |
| | A Debussy Album for Flute and Piano By Claude Debussy (1862-1918). Arranged by Franco Cesarini. Mitropa Play-Along Book. Book with CD. 64 pages. Mitropa Music #150808400. Published by Mitropa Music |
| | |
| --- | --- |
| | Preludes - Books 1 and 2 "By Claude Debussy (1862-1918). Edited by Roy Howat and Claude Helffer. For solo piano. Piano. Impressionistic. SMP Level 10 (Advanced). Collection. Standard notation, introductory text and performance notes (does not include words to the songs). 139 page |
| | |
| --- | --- |
| | Piano Music 1888-1905 By Claude Debussy (1862-1918). For solo piano. Piano Collection. Dover Edition. Impressionistic. SMP Level 10 (Advanced). Collection. Introductory text (does not include words to the songs). 175 pages. Published by Dover Publications |
| | |
| --- | --- |
| | Clair de Lune "(Piano Solo). By Claude Debussy (1862-1918). Edited by Ernst-Gunter Heinemann. For piano solo. Piano (Harpsichord), 2-hands. Henle Music Folios. Pages: 6. SMP Level 10 (Advanced). Softcover. 8 pages. G. Henle Verlag #HN391. Published by G. Henle Verlag" |
| | |
| --- | --- |
| | Sonata for Violoncello and Piano "By Claude Debussy (1862-1918). Edited by E. G. Heinemann. For cello and piano. Violoncello. Henle Music Folios. Urtext edition-paper bound. Impressionistic. Single piece and set of performance parts. Introductory text, performance notes, bowings and fing |
| | |
| --- | --- |
| | First Arabesque (Piano Solo). By Claude Debussy (1862-1918). For solo piano. Piano Solo. Original and Unedited. Impressionistic. SMP Level 8 (Early Advanced). Single piece. Standard notation (does not include words to the songs). Composed 1888. 7 pages. G. Schirmer #ST45 |
| | |
| --- | --- |
| | Clair de lune (from Suite Bergamasque) By Claude Debussy (1862-1918). Arranged by Allan Small. For Piano. Masterworks; Piano Solo; Solo. Simply Classics Solos. Impressionistic; Masterwork Arrangement. SMP Level 8 (Early Advanced). Sheet. 4 pages. Published by Alfred Music Publishing |
| | |
| --- | --- |
| | Preludes - Books 1 and 2 (Piano Solo). By Claude Debussy (1862-1918). For solo piano. Piano Collection. Impressionistic. SMP Level 10 (Advanced). Collection. Thematic index (does not include words to the songs). 136 pages. G. Schirmer #LB1972. Published by G. Schirmer |
| | |
| --- | --- |
| | "Debussy -- Preludes, Book 1" By Claude Debussy (1862-1918). Edited by Maurice Hinson. For Piano. Book; CD; Masterworks; Piano Collection. Alfred Masterwork Edition. Form: Prelude. Impressionistic; Masterwork. Advanced; Early Advanced. 64 pages. Published by Alfred Music Publishing |
Search for other pieces by Claude Debussy by entering text in the box below:


8notes in other languages: