Pachelbel - Canon in D (easy version) sheet music
Thank you for trying the 8notes.com Audio & Transposition features
You have reached your limit for today.
Please subscribe for unlimited playback & transpositions
Individual Subscriptions:

Click here for more info on subscriptions

Pachelbel - Canon in D (easy version) sheet music for Piano
TEMPO: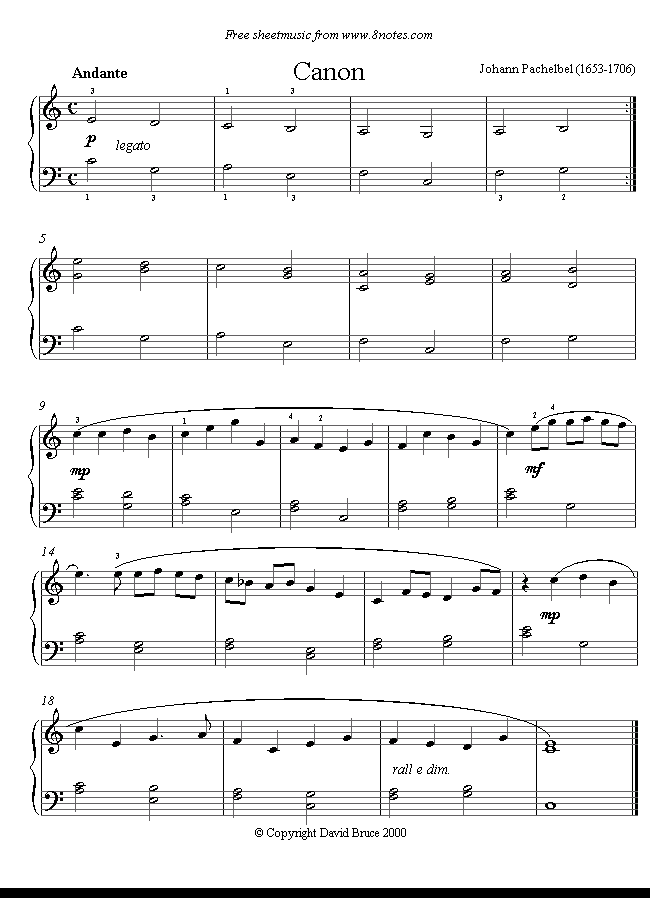 Keyboard Shortcuts:

space

Play & Pause
About 'Canon in D (easy version)'

Artist:
Pachelbel, Johann (biography) (sheet music)
Born:
late August 1653 , March, 1706
Died:
Nurnberg , Nurnberg
The Artist:
Pachelbel was a German Baroque composer and organist and is best remembered for his Canon in D, which is often heard at weddings. He wrote a considerable number cantatas for the Lutheran church, hymn settings, and chamber sonatas for various instruments, especially the violin.

| | |
| --- | --- |
| Composition Date: | c.1680 |
| Composition Info: | Pachelbel's most famous work, originally for three violins and basso continuo, but since arranged for a wide variety of instruments. |
| Number of Pages | 1 |
| Difficulty Level | Intermediate Level: Recommended for Intermediate Level players |
Instrument:
Piano (View more Intermediate Piano Music)
Style:
Classical (View more Classical Piano Music)
Weddings (View more Weddings Piano Music)

Tags





Copyright:
© Copyright 2000-2016 Red Balloon Technology Ltd (8notes.com)
This file may be printed and performed freely, but should not be digitally copied, shared or reproduced without permission.
Parts, Versions, Transpositions

Alternative Keys Available:




Request New Transposition








Parts

No parts available for this pieces as it is for solo piano.



Other Versions Available For:
Items to buy by Pachelbel
| | |
| --- | --- |
| | Canon In D (Advanced Piano Solo). By Johann Pachelbel (1653-1706). Edited by transcr. Robert Schultz. Arranged by Robert Schultz. For solo piano. Masterworks; Piano Solo; Solo. Baroque. SMP Level 6 (Late Intermediate). Single piece. 10 pages. Published by Alfred Mus |
| | |
| --- | --- |
| | Canon In D - Easy Piano By Johann Pachelbel (1653-1706). Arranged by Dan Coates. For easy solo piano. Masterworks; Piano Solo; Solo. Baroque. SMP Level 4 (Intermediate). Single piece. Chord names and easy piano notation (does not include words to the songs). 5 pages. Published b |
| | |
| --- | --- |
| | Canon In D "By Johann Pachelbel (1653-1706). Arranged by Samuel Marder. For violin and piano accompaniment. Baroque. Difficulty: medium. Set of performance parts (includes separate pull-out violin part). Solo part, piano reduction and introductory text. 7 pages. Dur |
| | |
| --- | --- |
| | Pachelbel Canon (Jazz Version) (Advanced Piano Solo). By Johann Pachelbel (1653-1706). Arranged by Nancy Faber. For Piano. Faber Piano AdventuresŒ¬. Sheet Music. Advanced. 8 pages. Faber Piano Adventures #A2013. Published by Faber Piano Adventures |
| | |
| --- | --- |
| | Canon In D "(Advanced Piano Duet). By Johann Pachelbel (1653-1706). Arranged by Robert Schultz. For one piano four-hands (primo and secundo parts on opposing pages). Duet or Duo; Masterworks; Piano Duet (1 Piano, 4 Hands). Popular Piano Duet Series. Baroque. SMP Lev |
| | |
| --- | --- |
| | Canon in D By Johann Pachelbel (1653-1706). Arranged by Simon Salz. For solo guitar. This edition: Classical Guitar TAB. Classical Guitar Solo; Guitar TAB; Masterworks; Solo; Solo Guitar TAB (EZ/Int). CPP Classical Guitar Tab Editions. Baroque. Intermediate. Guitar |
| | |
| --- | --- |
| | Canon in D By Johann Pachelbel (1653-1706). Arranged by Dale Tucker. For solo organ. Masterworks; Organ Solo. Organ solo. Baroque. Difficulty: medium. Organ solo single. Organ notation. 4 pages. Published by Alfred Music Publishing |
| | |
| --- | --- |
| | Pachelbel Canon "(For Violin, Cello, and Piano). By Johann Pachelbel (1653-1706). Arranged by Daniel Dorff. String duet. For violin, cello and piano. Baroque. Set of performance parts. Standard notation. 9 pages. Duration 3h. Published by Theodore Presser Company" |
| | |
| --- | --- |
| | Canon in D By Johann Pachelbel (1653-1706). Arranged by Willard A. Palmer. For Piano. Masterworks; Piano Solo; Solo. Alfred Masterwork Edition. Baroque; Masterwork. SMP Level 5 (Intermediate). Sheet. 8 pages. Published by Alfred Music Publishing |
| | |
| --- | --- |
| | Canon of Praise "By Johann Pachelbel (1653-1706). Arranged by Hal H. Hopson. For SAB choir (3-part Mixed). Choral music. Hope's All-Time Best Selling Choral Series. General, Children, General Worship, Praise, Classics, Sacred. Choral octavo. Published by Hope Publishing |
| | |
| --- | --- |
| | Canon In D - Guitar Solo (Guitar Solo). By Johann Pachelbel (1653-1706). For guitar. Guitar Sheet. Baroque. Difficulty: medium. Guitar solo single. Standard guitar notation and guitar tablature. 8 pages. Published by Hal Leonard |
| | |
| --- | --- |
| | Canon in D By Johann Pachelbel (1653-1706). Arranged by Willard A. Palmer. For Piano. Masterworks; Piano Solo; Solo. Simply Classics Solos. Baroque; Masterwork Arrangement. SMP Level 4 (Intermediate). Sheet. 4 pages. Published by Alfred Music Publishing |
| | |
| --- | --- |
| | Pachelbel Canon "(For String Quartet). By Johann Pachelbel (1653-1706). Arranged by Daniel Dorff. String quartet. For string quartet (violin 1, violin 2, viola, cello). Baroque and Wedding. Set of performance parts. Standard notation. 4 pages. Duration 5m30s. Published b |
| | |
| --- | --- |
| | Canon in D By Johann Pachelbel (1653-1706). Arranged by Dan Coates. For Easy Piano. Classical. 4 pages. Published by Alfred Music. Digital Sheet Music |
| | |
| --- | --- |
| | Pachelbel Canon "(For Woodwind Quintet). By Johann Pachelbel (1653-1706). Arranged by Daniel Dorff. Woodwind quintet. For Flute, Oboe, Clarinet, Horn, Bassoon. Score and part(s). Standard notation. 6 pages. Duration 3 minutes, 30 seconds. Published by Theodore Presser Co |
| | |
| --- | --- |
| | Canon In D By Johann Pachelbel (1653-1706). Arranged by Dan Coates. For solo piano. Masterworks; Piano Solo; Solo. Baroque. SMP Level 5 (Intermediate). Single piece. 5 pages. Published by Alfred Music Publishing |
| | |
| --- | --- |
| | Canon in D for Trumpet and Organ By Johann Pachelbel (1653-1706). Arranged by Lani Smith. Instrumental solo (brass). For trumpet and organ. Wedding. Moderately easy. Sheet Music. Published by Unity Music Press |
| | |
| --- | --- |
| | Canon In D - Easy Piano "(Easy Piano). By Johann Pachelbel (1653-1706). For easy solo piano. Hal Leonard Easy Adult Piano. Baroque. Difficulty: easy to easy-medium. Single piece. Standard notation, fingerings, chord names and easy piano notation (does not include words to the so |
| | |
| --- | --- |
| | Canon In D By Johann Pachelbel. For piano. Classical; Wedding. 7 pages. Published by Hal Leonard - Digital Sheet Music |
| | |
| --- | --- |
| | Canon (Over A Basso Ostinato for Piano Solo). By Johann Pachelbel (1653-1706). Arranged by Denes Agay. Piano. For Piano Solo. Baroque. Solo part. Standard notation. 5 pages. Duration 3 minutes. Published by Theodore Presser Company |
Search for other pieces by Johann Pachelbel by entering text in the box below:


8notes in other languages: