Borodin - Polovtsian Dance sheet music
Thank you for trying the 8notes.com Audio Playback
You have reached your limit of audio playback for today.
Please subscribe for unlimited playback
Individual Subscriptions:

Click here for more info on subscriptions

Borodin - Polovtsian Dance sheet music for Piano
TEMPO: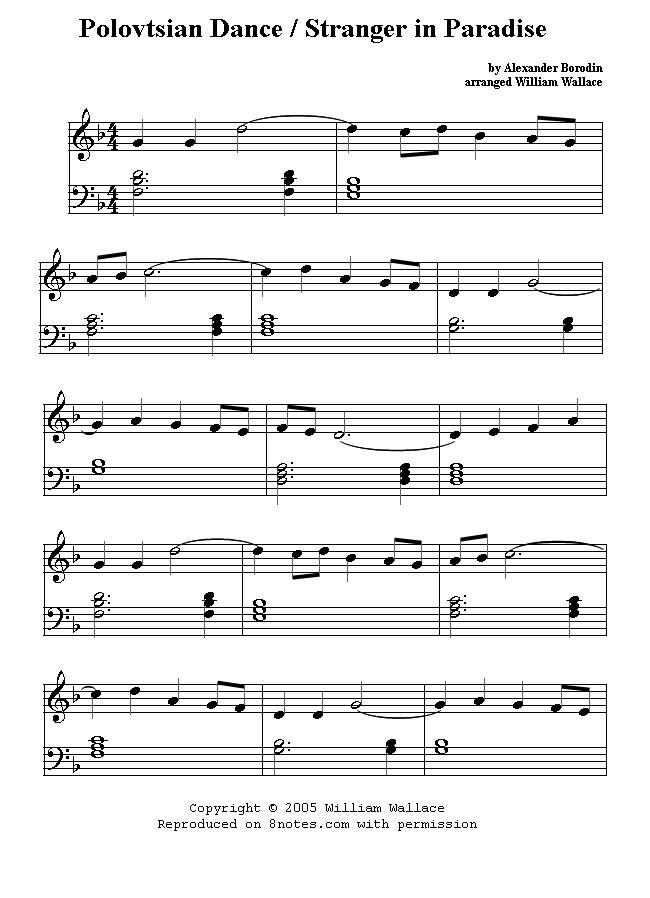 Keyboard Shortcuts:

←

Previous page

→

Next page

space

Play & Pause
About 'Polovtsian Dance'

Artist:
Borodin, Alexander (biography) (sheet music)
Born:
12 November 1833 , St Petersburg
Died:
27 February 1887 , St Petersburg
The Artist:
Russian composer, one of the group known as The Five.

Composition Date:
1875
Composition Info:
The Polovtsian Dance is From the 2nd Act Borodin's Opera Prince Igor.

This is an arrangement for easy Violin and Piano accompaniament.
Number of Pages
3
Difficulty Level
Easy Level: Recommended for Beginners with some playing experience
Instrument:
Piano (View more Easy Piano Music)
Style:
Classical (View more Classical Piano Music)

Tags





Copyright:
© Copyright 2000-2016 Red Balloon Technology Ltd (8notes.com)
This file may be printed and performed freely, but should not be digitally copied, shared or reproduced without permission.
Items to buy by Borodin
| | |
| --- | --- |
| | Quartet No. 2 in D major "By Alexander Borodin (1833-1887). For 2 violins, viola and cello. Classical Period. Difficulty: difficult. Set of performance parts. Standard notation. Composed 1881. 49 pages. Published by International Music Company" |
| | |
| --- | --- |
| | "Dvorak, Rimsky-Korsakov and More - Volume V (Flute)" "(Complete Flute and Piccolo Parts to 64 Orchestral Masterworks on CD-ROM). By Alexander Borodin (1833-1887), Alexander Scriabin (1872-1915), Antonin Dvorak (1841-1904), Bedrich Smetana (1824-1884), and Nikolay Andreyevich Rimsky-Korsakov (1844-1908). For |
| | |
| --- | --- |
| | String Quartet No.2 "By Alexander Borodin (1833-1887). String Quartets. For string quartet (2 violins, viola, cello). Classical Period. Intermediate. Set of performance parts. Published by Belaieff Verlag" |
| | |
| --- | --- |
| | Nocturne from String Quartet No. 2 in D Major - Cello and Piano "By Alexander Borodin (1833-1887). Edited by David Curran. For cello solo and piano accompaniment. Classical Period. Difficulty: medium-difficult. Instrumental solo book. Solo part, standard notation and piano accompaniment. 11 pages. Published by Edition |
| | |
| --- | --- |
| | Nocturne from String Quartet No. 2 in D Major - Violin and Piano "By Alexander Borodin (1833-1887). Arranged by David Curran. For violin solo and piano accompaniment. Classical Period. Difficulty: medium-difficult. Instrumental solo book. Solo part, standard notation and piano accompaniment. 11 pages. Published by Edit |
| | |
| --- | --- |
| | String Quartet No.2 "By Alexander Borodin (1833-1887). String Quartets. For string quartet (2 violins, viola, cello). Classical Period. Intermediate. Study score. Published by Belaieff Verlag" |
| | |
| --- | --- |
| | Polovetzian Dance By Alexander Borodin (1833-1887). Arranged by Lloyd Conley. For 4 Bb Clarinets. Clarinet Quartet. Grade 3+. Published by Kendor Music Inc |
| | |
| --- | --- |
| | String Quartet No. 2 in D Major By Alexander Borodin (1833-1887). Masterworks; Quartet; String Quartet. Kalmus Edition. Masterwork; Romantic. Book. 52 pages. Published by Alfred Music Publishing |
| | |
| --- | --- |
| | Oriental Nocturne (from the Broadway Show Kismet) By Alexander Borodin (1833-1887). Arranged by John W. Schaum. For Piano. Masterworks; Piano - Schaum Method Supplement (Sheet); Solo. Schaum Publications Sheet Solo. Masterwork Arrangement; Romantic. Late Intermediate. Sheet. Published by Alfred Music Pub |
| | |
| --- | --- |
| | "Dvorak, Rimsky-Korsakov and More - Volume 5" "(The Orchestra Musician's CD-ROM Library - Full Scores on DVD-ROM). By Alexander Borodin (1833-1887), Alexander Scriabin (1872-1915), AntonÝ_n DvorÝšk, Bedrich Smetana (1824-1884), and Nikolay Andreyevich Rimsky-Korsakov (1844-1908). Score. CD Sheet Musi |
| | |
| --- | --- |
| | Polovetsian Dances "(from Prince Igor). By Alexander Borodin (1833-1887). Arranged by Ann Pope. For Piano. This edition: 2 copies required. Duet or Duo; Piano Duo (2 Pianos, 4 Hands). Early Advanced level piece for the Piano Duo event with the National Federation of Music C |
| | |
| --- | --- |
| | Igor's Paradise By Alexander Borodin (1833-1887). Arranged by Mike Lewis. Jazz Ensemble. Jazz Ensemble; Masterworks. Jazz Expressions Series. Masterwork Arrangement; Romantic. Grade 2. Conductor Score. Published by Alfred Music Publishing |
| | |
| --- | --- |
| | Polovetsian Dances By Alexander Borodin (1833-1887). Edited by Forrest Buchtel. Band. For Bb tenor saxophone solo. Solos/ensembles. Grade 2. Music book. Published by Neil A. Kjos Music Company |
| | |
| --- | --- |
| | "Polowetzer Tanze aus ""Furst Igor""" By Alexander Borodin (1833-1887). For solo piano. Classical Period. Difficulty: medium-difficult. Single piece. Standard notation (does not include words to the songs). 27 pages. Published by Belaieff Verlag |
| | |
| --- | --- |
| | String Quartet in D Major (Study Score). By Alexander Borodin (1833-1887). Study Score. Eulenburg Taschenpartituren (Pocket Scores). Study Score. 48 pages. Schott Music #ETP201. Published by Schott Music |
| | |
| --- | --- |
| | String Quintet in f minor "By Alexander Borodin (1833-1887). Edited by Labhart. String Quintets. For 2 Violins, Viola, 2 Cellos. Parts. Published by Edition Kunzelmann" |
| | |
| --- | --- |
| | Polovtsian Dances from Prince Igor "By Alexander Borodin (1833-1887). Arranged by John Rutter. For SATB choir and piano/orchestra (Piccolo, 2 flutes, 2 oboes (II + english horn), 2 clarinets, 2 bassoon, 4 horn, 2 trumpets, 3 trombones, tuba, timpani, percussion (glockenspiel, triangle, tam |
| | |
| --- | --- |
| | String Quartet No. 1 in A "By Alexander Borodin (1833-1887). String Quartets. For 2 Violins, Viola, Cello. Intermediate. Set of parts. Published by Belaieff Verlag" |
| | |
| --- | --- |
| | Scherzo and Petite Suite By Alexander Borodin (1833-1887). For Piano. Masterworks; Piano Solo; Solo. Kalmus Edition. Form: Suite. Masterwork; Romantic. Advanced; Early Advanced; Intermediate; Late Intermediate. 32 pages. Published by Alfred Music Publishing |
| | |
| --- | --- |
| | String Quartet No.1 "(Streichquartett Nr.1). By Alexander Borodin (1833-1887). String Quartets. For string quartet (2 violins, viola, cello). Classical Period. Difficulty: difficult. Miniature score. 48 pages. Published by Belaieff Verlag" |
Search for other pieces by Alexander Borodin by entering text in the box below:


8notes in other languages: