Scarlatti - Sonata for Keyboard no.28 k.239 sheet music
Thank you for trying the 8notes.com Audio & Transposition features
You have reached your limit for today.
Please subscribe for unlimited playback & transpositions
Individual Subscriptions:

Click here for more info on subscriptions

Scarlatti - Sonata for Keyboard no.28 k.239 sheet music for Piano
TEMPO: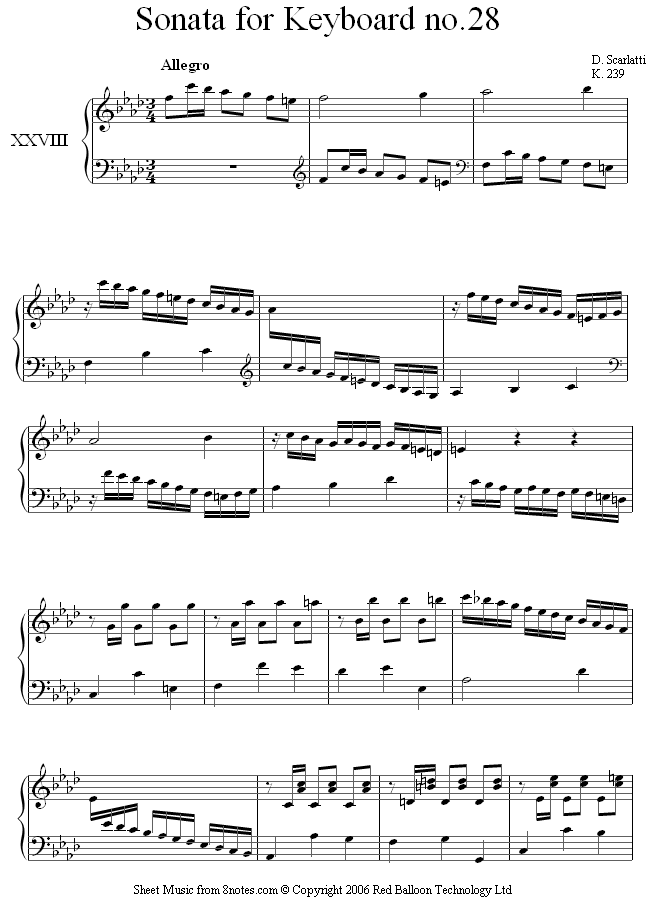 Keyboard Shortcuts:

←

Previous page

→

Next page

space

Play & Pause
About 'Sonata for Keyboard no.28 k.239'

Artist:
Scarlatti, Domenico (biography) (sheet music)
Born:
October 26, 1685 , Naples, Italy
Died:
July 23, 1757 , Madrid
The Artist:
Domenico Scarlatti (October 26, 1685 – July 23, 1757) was an Italian composer of the Baroque era. He was extremely influential in the development of keyboard music, especially in Spain, Portugal and England, through his highly idiosyncratic and individual style.

Instrument:
Piano (View more Intermediate Piano Music)
Style:
Classical (View more Classical Piano Music)

Tags





Copyright:
© Copyright 2000-2016 Red Balloon Technology Ltd (8notes.com)
This file may be printed and performed freely, but should not be digitally copied, shared or reproduced without permission.
Items to buy by Scarlatti
| | |
| --- | --- |
| | 60 Sonatas - Volume I "(Piano Solo). By Domenico Scarlatti (1685-1757). Edited by Ralph Kirkpatrick. For solo piano. Piano Collection. Baroque. SMP Level 9 (Advanced). Collection. Standard notation, introductory text and manuscript facsimiles (does not include words to the son |
| | |
| --- | --- |
| | "Selected Piano Sonatas, Volume I" "(Piano Solo). By Domenico Scarlatti (1685-1757). Edited by Bengt Johnsson. For solo piano. Piano (Harpsichord), 2-hands. Henle Music Folios. Urtext edition-paper bound. Baroque. SMP Level 9 (Advanced). Collection. Introductory text and performance notes. |
| | |
| --- | --- |
| | "60 Sonatas, Books 1 and 2" By Domenico Scarlatti (1685-1757). Edited by Ralph Kirkpatrick. Piano. Softcover. 256 pages. G. Schirmer #LB2063. Published by G. Schirmer |
| | |
| --- | --- |
| | 60 Sonatas - Volume II "(Piano Solo). By Domenico Scarlatti (1685-1757). Edited by Ralph Kirkpatrick. For solo piano. Piano Collection. Baroque. SMP Level 9 (Advanced). Collection. Standard notation, performance notes and manuscript facsimiles (does not include words to the son |
| | |
| --- | --- |
| | Scarlatti -- Selected Sonatas By Domenico Scarlatti (1685-1757). Edited by Maurice Hinson. For Piano. Masterworks; Piano Collection. Alfred Masterwork Edition. Form: Sonata. Baroque; Masterwork. Early Advanced; Intermediate; Late Intermediate. Book. 64 pages. Published by Alfred Music |
| | |
| --- | --- |
| | "Selected Piano Sonatas, Volume II" "(Piano Solo). By Domenico Scarlatti (1685-1757). Edited by Bengt Johnsson. For solo piano. Piano (Harpsichord), 2-hands. Henle Music Folios. Urtext edition-paper bound. Baroque. SMP Level 9 (Advanced). Collection. Introductory text and fingerings. 103 pa |
| | |
| --- | --- |
| | "Selected Piano Sonatas, Volume III" "(Piano Solo). By Domenico Scarlatti (1685-1757). Edited by Bengt Johnsson. For solo piano. Piano (Harpsichord), 2-hands. Henle Music Folios. Urtext edition-paper bound. Baroque. SMP Level 9 (Advanced). Collection. Introductory text and fingerings. 114 pa |
| | |
| --- | --- |
| | "Sonatas, Volume 1" By Domenico Scarlatti (1685-1757). Edited by Maurice Hinson. For Piano. Masterworks; Piano Collection. Alfred Masterwork Edition. Form: Sonata. Baroque; Masterwork. Early Advanced; Intermediate; Late Intermediate. Book. 64 pages. Published by Alfred Music |
| | |
| --- | --- |
| | 12 Easy Scarlatti Sonatas (Piano Solo). By Domenico Scarlatti (1685-1757). Arranged by Alfred Mirovitch. Piano Publications. SMP Level 8 (Early Advanced). 24 pages. Edward B. Marks Music #M96. Published by Edward B. Marks Music |
| | |
| --- | --- |
| | 100 Sonatas in Three Volumes - Volume 1 "(Sonata 1, K. 6 through Sonata 33, K. 226). By Domenico Scarlatti (1685-1757). Edited by Eiji Hashimoto. For solo piano. Piano Collection. Classical Period. SMP Level 8 (Early Advanced). Collection. Introductory text and performance notes (does not inclu |
| | |
| --- | --- |
| | "Sonatas, Volume 2" By Domenico Scarlatti (1685-1757). Edited by Maurice Hinson. For Piano. Masterworks; Piano Collection. Alfred Masterwork Edition. Form: Sonata. Baroque; Masterwork. Early Advanced; Late Intermediate. Book. 68 pages. Published by Alfred Music Publishing |
| | |
| --- | --- |
| | At the Piano with Scarlatti By Domenico Scarlatti (1685-1757). Edited by Maurice Hinson. For Piano. Masterworks; Piano Collection. At the Piano. Baroque; Masterwork. Intermediate; Late Intermediate. Book. 64 pages. Published by Alfred Music Publishing |
| | |
| --- | --- |
| | "The Complete Works, Volume 8" By Domenico Scarlatti (1685-1757). For Piano. Masterworks; Piano Collection. Kalmus Edition. Baroque; Masterwork. Book. 192 pages. Published by Alfred Music Publishing |
| | |
| --- | --- |
| | Celebrate Scarlatti "By Domenico Scarlatti (1685-1757). Edited by Reid Alexander, Samuel S. Holland, Marc Widner, Andrew Hisey. For Piano. Solo Piano. Composer Editions. In the Composer Editions, pianists at various stages of musical development will find a practical selecti |
| | |
| --- | --- |
| | 37 Keyboard Pieces & Sonatas: Book 2 By Domenico Scarlatti (1685-1757). Edited by A. Goldsbrough. For Piano. ABRSM Signature Series. Grades 5-8. Sheet Music. Published by ABRSM (Associated Board of the Royal Schools of Music) |
| | |
| --- | --- |
| | 3 Sonatas By Domenico Scarlatti (1685-1757). Arranged by Schollmann. For 2 Guitar. Sheet Music. Published by Edition Peters |
Search for other pieces by Domenico Scarlatti by entering text in the box below:


8notes in other languages: