AC/DC Sheet Music (Subscription)
AC/DC Sheet Music (Subscription)
Sorry, no AC/DC Sheet Music (Subscription) available for at present.
Please try another option.



About AC/DC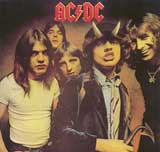 AC/DC is an Australian rock band and considered pioneers of hard rock and heavy metal music. Their albums have sold in colossal numbers — the total is now estimated to be around 100 million copies worldwide.

Read More
Sheet Music to Buy by AC/DC
| | |
| --- | --- |
| | Play Guitar With...AC/DC "By AC/DC. For guitar and voice. Music Sales America. Hard Rock and Play Along. Difficulty: easy-medium to medium. Guitar tablature songbook and accompaniment CD. Guitar tablature, standard notation, vocal melody, lyrics, chord names and guitar notation l |
| | |
| --- | --- |
| | AC/DC Classics (Guitar Play-Along Volume 119). By AC/DC. Guitar Play-Along. Softcover with CD. Guitar tablature. 64 pages. Hal Leonard #HL00701356. Published by Hal Leonard |
| | |
| --- | --- |
| | Thunderstruck By AC/DC. For easy guitar. Easy Guitar with TAB. Metal; Pop; Rock. Easy Guitar with TAB. Standard notation with tablature. 7 pages. Published by Hal Leonard - Digital Sheet Music |
| | |
| --- | --- |
| | You Shook Me All Night Long "By AC/DC. For piano, voice, and guitar (chords only). Metal; Pop; Rock. 7 pages. Published by Hal Leonard - Digital Sheet Music" |
| | |
| --- | --- |
| | The Best Of AC/DC "(Guitar Tab). By AC/DC. For guitar and voice. Music Sales America. Hard Rock. Difficulty: medium. Guitar tablature songbook. Guitar tablature, standard notation, vocal melody, lyrics, chord names and guitar notation legend. 136 pages. Amsco Publications |
| | |
| --- | --- |
| | AC/DC Anthology By AC/DC. Piano/Vocal/Guitar Artist Songbook. Softcover. 138 pages. Hal Leonard #AM1002210. Published by Hal Leonard |
| | |
| --- | --- |
| | Jam With AC/DC "By AC/DC. For guitar and voice. Music Sales America. Instructional, Hard Rock and Play Along. Guitar tablature songbook and accompaniment CD. Guitar tablature, standard notation, vocal melody, lyrics, chord names, guitar notation legend and performance n |
| | |
| --- | --- |
| | Back In Black "By AC/DC. By Brian Johnson, Angus Young, and Malcolm Young. For guitar. Metal; Rock. Guitar TAB. Guitar TAB. 9 pages. Published by Hal Leonard - Digital Sheet Music" |
| | |
| --- | --- |
| | The Definitive AC/DC Songbook (Updated Edition). By AC/DC. Music Sales America. Softcover. Guitar tablature. 840 pages. Amsco Publications #AM1001572. Published by Amsco Publications |
| | |
| --- | --- |
| | Classic AC/DC - The Early Years "By AC/DC. For guitar and voice. Music Sales America. Hard Rock. Difficulty: medium. Guitar tablature songbook. Guitar tablature, standard notation, vocal melody, lyrics, chord names and guitar notation legend. 172 pages. Amsco Publications #AM85531. Publ |
| | |
| --- | --- |
| | AC/DC (Easy Guitar with Riffs and Solos). By AC/DC. Easy Guitar. Softcover. Guitar tablature. 88 pages. Hal Leonard #AM999790. Published by Hal Leonard |
| | |
| --- | --- |
| | Back In Black "By AC/DC. For guitar and voice. Music Sales America. Hard Rock. Difficulty: medium. Guitar tablature songbook. Guitar tablature, standard notation, vocal melody, lyrics, chord names, guitar notation legend and black & white photos. 96 pages. Amsco Public |
| | |
| --- | --- |
| | You Shook Me All Night Long By AC/DC. For easy guitar. Easy Guitar with TAB. Metal; Pop; Rock. Easy Guitar with TAB. Standard notation with tablature. 5 pages. Published by Hal Leonard - Digital Sheet Music |
| | |
| --- | --- |
| | Let There Be Rock "By AC/DC. For piano, voice, and guitar (chords only). Metal; Pop; Rock. 10 pages. Published by Hal Leonard - Digital Sheet Music" |
| | |
| --- | --- |
| | T.N.T. By AC/DC. For easy guitar. Easy Guitar with TAB. Metal; Pop; Rock. Easy Guitar with TAB. Standard notation with tablature. 5 pages. Published by Hal Leonard - Digital Sheet Music |
| | |
| --- | --- |
| | Bassology of AC/DC (Bass Tab). By AC/DC. For bass. Music Sales America. Rock. Softcover. Guitar tablature. 160 pages. Amsco Publications #AM989439. Published by Amsco Publications |
| | |
| --- | --- |
| | Bonfire "By AC/DC. For guitar and voice. Music Sales America. Hard Rock. Difficulty: medium. Guitar tablature songbook. Guitar tablature, standard notation, vocal melody, lyrics, chord names and guitar notation legend. 303 pages. Music Sales #AM945670. Published |
| | |
| --- | --- |
| | AC/DC (Fender Special Edition G-DEC Guitar Play-Along Pack). By AC/DC. Fender G-Dec Guitar Play-Along. Softcover with disk. Guitar tablature. 64 pages. Published by Hal Leonard |
| | |
| --- | --- |
| | Highway To Hell "By AC/DC. By Brian Johnson, Angus Young, and Malcolm Young. For piano, voice, and guitar (chords only). Metal; Rock. 5 pages. Published by Hal Leonard - Digital Sheet Music" |