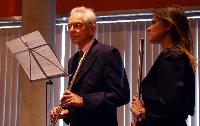 jose_luis
This is the work of a great baroque master, Georges Philip Telemann. The Fantasia #2 in A minor is part of a set of twelve Fantasias for Flute without thorough bass, written in different keys.
In my opinion, it is unthinkable to pretend adding a second instrument to it or to any of the others.
Baroque pieces were normally written with very little information about how to play them; the performers of that time knew the how-to and could improvise adornments and other embellishments to fit the taste of the time and their public.
Modern players do their best to imagine their original spirit and message and produce different versions that differ a lot in tempo, rhythm and articulation. I have recordings from five from great flutists and they are all beautiful but quite different.
The version here is a synthesized transcription from Urtext and the few slurs and trills in it reflect the way I play it in my lessons, according to my teacher suggestions.
7 years ago