Free Leroy Anderson Flute Sheet Music
Free Leroy Anderson Flute Sheet Music
Show Levels:




All
Sorry, no Free Leroy Anderson Flute Sheet Music available for at present.
Please try another option.



About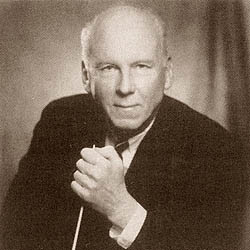 Leroy Anderson (June 29, 1908 – May 18, 1975) was best known as a composer of short, light concert music pieces, many of which were introduced by the Boston Pops Orchestra under the direction of Arthur Fiedler.

Read More
Sheet Music to Buy by
| | |
| --- | --- |
| | A Trumpeter's Lullaby (Bb Trumpet and Piano) "By Leroy Anderson (1908-1975). For trumpet solo and piano accompaniment. Brass - B-Flat Cornet (Trumpet) Solo; Solo. Belwin Instrumental Solos. Traditional Pop. Difficulty: medium. Trumpet solo single. Standard notation, solo part and piano accompaniment |
| | |
| --- | --- |
| | "Sleigh Ride (Piano, Four-Hands)" "By Leroy Anderson (1908-1975). Arranged by Michael Edwards. For piano four-hands. Duet or Duo; Piano Duet (1 Piano, 4 Hands). Late Intermediate level piece for the Piano Duet event with the National Federation of Music Clubs (NFMC) Festivals Bulletin 200 |
| | |
| --- | --- |
| | Bugler's Holiday By Leroy Anderson (1908-1975). Edited by Thom Proctor. For trumpet trio and piano accompaniment. Brass - Cornet (Trumpet) Trio; Trio. Instrumental-solo/ensemble. Level III. Traditional Pop. Grade 3. Set of performance parts. 26 pages. Published by Alfred |
| | |
| --- | --- |
| | Blue Tango - 1 Piano/4 Hands "By Leroy Anderson (1908-1975). Arranged by Michael Edwards. For one piano four-hands (primo and secondo parts on opposing pages). Duet or Duo; Piano Duet (1 Piano, 4 Hands). Traditional Pop. Difficulty: medium. Piano duet single. 9 pages. Published by Al |
| | |
| --- | --- |
| | Leroy Anderson For Strings 1st Violin (1st Violin). By Leroy Anderson (1908-1975). Edited by Thom Proctor. Arranged by William Zinn. Orchestra. For violiin 1. String Orchestra Collection. Orchestra (Violin). Traditional Pop. String orchestra part. 40 pages. Published by Alfred Music Publishin |
| | |
| --- | --- |
| | Leroy Anderson For Strings - Conductor Score (Conductor Score). By Leroy Anderson (1908-1975). Arranged by William Zinn. Orchestra. For string orchestra (or string quartet). String Orchestra Collection. Traditional Pop. Difficulty: medium. Full score. Full score notation. 78 pages. Published by Alfr |
| | |
| --- | --- |
| | Leroy Anderson For Strings 2nd Violin (2nd Violin). By Leroy Anderson (1908-1975). Edited by Thom Proctor. Arranged by William Zinn. Orchestra. For violin 2. String Orchestra Collection. Orchestra (Violin). Traditional Pop. String orchestra part. 40 pages. Published by Alfred Music Publishing |
| | |
| --- | --- |
| | Leroy Anderson For Strings Cello (Cello). By Leroy Anderson (1908-1975). Edited by Thom Proctor. Arranged by William Zinn. Orchestra. For cello. String Orchestra Collection. Orchestra (Cello). Traditional Pop. String orchestra part. 32 pages. Published by Alfred Music Publishing |
| | |
| --- | --- |
| | Leroy Anderson at the Piano (Complete Works for Solo Piano -- Centennial Edition). By Leroy Anderson (1908-1975). For Piano. Artist/Personality; Piano - Personality Book; Piano Supplemental. Alfred Masterwork Edition: At the Piano. Nostalgia; Pop. Early Advanced. Book. 184 pages. Pu |
| | |
| --- | --- |
| | Leroy Anderson For Strings Viola (Viola). By Leroy Anderson (1908-1975). Edited by Thom Proctor. Arranged by William Zinn. Orchestra. For viola. String Orchestra Collection. Orchestra (Viola). Traditional Pop. String orchestra part. 36 pages. Published by Alfred Music Publishing |
| | |
| --- | --- |
| | Sleigh Ride By Leroy Anderson (1908-1975). For piano. Piano Solo; Solo. Traditional Pop and Christmas. SMP Level 7 (Late Intermediate). Sheet. 8 pages. Published by Alfred Music Publishing |
| | |
| --- | --- |
| | Leroy Anderson for Strings (String Bass). Arranged by William Zinn. Orchestra. For String Bass. String Orchestra Collection. Book. 28 pages. Published by Alfred Music Publishing |
| | |
| --- | --- |
| | "Plink, Plank, Plunk!: Cello" By Leroy Anderson (1908-1975). For String Orchestra. Instructional. Part. 2 pages. Published by Alfred Music. Digital Sheet Music |
| | |
| --- | --- |
| | "Plink, Plank, Plunk!: Viola" By Leroy Anderson (1908-1975). For String Orchestra. Instructional. Part. 2 pages. Published by Alfred Music. Digital Sheet Music |
| | |
| --- | --- |
| | Bugler's Holiday By Leroy Anderson (1908-1975). For Trumpet. Brass - B-Flat Cornet (Trumpet) Solo; Solo. Grade 3. Part(s). 16 pages. Published by Alfred Music Publishing |
| | |
| --- | --- |
| | Fiddle-Faddle "By Leroy Anderson (1908-1975). For Piano. Duet or Duo; Piano Duet (1 Piano, 4 Hands). Late Intermediate level piece for the Piano Duet event with the National Federation of Music Clubs (NFMC) Festivals Bulletin 2008-2009-2010. Late Intermediate. Sheet. 1 |
| | |
| --- | --- |
| | "Plink, Plank, Plunk!: Score" By Leroy Anderson (1908-1975). For String Orchestra. Instructional. Score. 12 pages. Published by Alfred Music. Digital Sheet Music |
| | |
| --- | --- |
| | Bugler's Holiday (with Cornet Trio) By Leroy Anderson (1908-1975). Arranged by Michael Edwards. Concert Band. Concert Band. Leroy Anderson Classics. Contemporary. Grade 3. Conductor Score & Parts. 300 pages. Duration 2:36. Published by Alfred Music Publishing |