Leroy Anderson Flute Sheet Music (Subscription)
Leroy Anderson Flute Sheet Music (Subscription)
Sorry, no Leroy Anderson Flute Sheet Music (Subscription) available for at present.
Please try another option.



About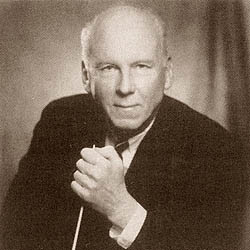 Leroy Anderson (June 29, 1908 – May 18, 1975) was best known as a composer of short, light concert music pieces, many of which were introduced by the Boston Pops Orchestra under the direction of Arthur Fiedler.

Read More
Sheet Music to Buy by
| | |
| --- | --- |
| | A Trumpeter's Lullaby (Bb Trumpet and Piano) "By Leroy Anderson (1908-1975). For trumpet solo and piano accompaniment. Brass - B-Flat Cornet (Trumpet) Solo; Solo. Belwin Instrumental Solos. Traditional Pop. Difficulty: medium. Trumpet solo single. Standard notation, solo part and piano accompaniment |
| | |
| --- | --- |
| | "Sleigh Ride (Piano, Four-Hands)" "By Leroy Anderson (1908-1975). Arranged by Michael Edwards. For piano four-hands. Duet or Duo; Piano Duet (1 Piano, 4 Hands). Late Intermediate level piece for the Piano Duet event with the National Federation of Music Clubs (NFMC) Festivals Bulletin 200 |
| | |
| --- | --- |
| | Bugler's Holiday By Leroy Anderson (1908-1975). Edited by Thom Proctor. For trumpet trio and piano accompaniment. Brass - Cornet (Trumpet) Trio; Trio. Instrumental-solo/ensemble. Level III. Traditional Pop. Grade 3. Set of performance parts. 26 pages. Published by Alfred |
| | |
| --- | --- |
| | Blue Tango - 1 Piano/4 Hands "By Leroy Anderson (1908-1975). Arranged by Michael Edwards. For one piano four-hands (primo and secondo parts on opposing pages). Duet or Duo; Piano Duet (1 Piano, 4 Hands). Traditional Pop. Difficulty: medium. Piano duet single. 9 pages. Published by Al |
| | |
| --- | --- |
| | Leroy Anderson For Strings 1st Violin (1st Violin). By Leroy Anderson (1908-1975). Edited by Thom Proctor. Arranged by William Zinn. Orchestra. For violiin 1. String Orchestra Collection. Orchestra (Violin). Traditional Pop. String orchestra part. 40 pages. Published by Alfred Music Publishin |
| | |
| --- | --- |
| | Leroy Anderson For Strings - Conductor Score (Conductor Score). By Leroy Anderson (1908-1975). Arranged by William Zinn. Orchestra. For string orchestra (or string quartet). String Orchestra Collection. Traditional Pop. Difficulty: medium. Full score. Full score notation. 78 pages. Published by Alfr |
| | |
| --- | --- |
| | Leroy Anderson For Strings 2nd Violin (2nd Violin). By Leroy Anderson (1908-1975). Edited by Thom Proctor. Arranged by William Zinn. Orchestra. For violin 2. String Orchestra Collection. Orchestra (Violin). Traditional Pop. String orchestra part. 40 pages. Published by Alfred Music Publishing |
| | |
| --- | --- |
| | Leroy Anderson For Strings Cello (Cello). By Leroy Anderson (1908-1975). Edited by Thom Proctor. Arranged by William Zinn. Orchestra. For cello. String Orchestra Collection. Orchestra (Cello). Traditional Pop. String orchestra part. 32 pages. Published by Alfred Music Publishing |
| | |
| --- | --- |
| | Leroy Anderson at the Piano (Complete Works for Solo Piano -- Centennial Edition). By Leroy Anderson (1908-1975). For Piano. Artist/Personality; Piano - Personality Book; Piano Supplemental. Alfred Masterwork Edition: At the Piano. Nostalgia; Pop. Early Advanced. Book. 184 pages. Pu |
| | |
| --- | --- |
| | Leroy Anderson For Strings Viola (Viola). By Leroy Anderson (1908-1975). Edited by Thom Proctor. Arranged by William Zinn. Orchestra. For viola. String Orchestra Collection. Orchestra (Viola). Traditional Pop. String orchestra part. 36 pages. Published by Alfred Music Publishing |
| | |
| --- | --- |
| | Sleigh Ride By Leroy Anderson (1908-1975). For piano. Piano Solo; Solo. Traditional Pop and Christmas. SMP Level 7 (Late Intermediate). Sheet. 8 pages. Published by Alfred Music Publishing |
| | |
| --- | --- |
| | Leroy Anderson for Strings (String Bass). Arranged by William Zinn. Orchestra. For String Bass. String Orchestra Collection. Book. 28 pages. Published by Alfred Music Publishing |
| | |
| --- | --- |
| | "Plink, Plank, Plunk!: Cello" By Leroy Anderson (1908-1975). For String Orchestra. Instructional. Part. 2 pages. Published by Alfred Music. Digital Sheet Music |
| | |
| --- | --- |
| | "Plink, Plank, Plunk!: Viola" By Leroy Anderson (1908-1975). For String Orchestra. Instructional. Part. 2 pages. Published by Alfred Music. Digital Sheet Music |
| | |
| --- | --- |
| | Bugler's Holiday By Leroy Anderson (1908-1975). For Trumpet. Brass - B-Flat Cornet (Trumpet) Solo; Solo. Grade 3. Part(s). 16 pages. Published by Alfred Music Publishing |
| | |
| --- | --- |
| | Fiddle-Faddle "By Leroy Anderson (1908-1975). For Piano. Duet or Duo; Piano Duet (1 Piano, 4 Hands). Late Intermediate level piece for the Piano Duet event with the National Federation of Music Clubs (NFMC) Festivals Bulletin 2008-2009-2010. Late Intermediate. Sheet. 1 |
| | |
| --- | --- |
| | "Plink, Plank, Plunk!: Score" By Leroy Anderson (1908-1975). For String Orchestra. Instructional. Score. 12 pages. Published by Alfred Music. Digital Sheet Music |
| | |
| --- | --- |
| | Bugler's Holiday (with Cornet Trio) By Leroy Anderson (1908-1975). Arranged by Michael Edwards. Concert Band. Concert Band. Leroy Anderson Classics. Contemporary. Grade 3. Conductor Score & Parts. 300 pages. Duration 2:36. Published by Alfred Music Publishing |