Free C.P.E Bach Guitar Sheet Music
Free C.P.E Bach Guitar Sheet Music
Sorry, no Free C.P.E Bach Guitar Sheet Music available for at present.
Please try another option.



About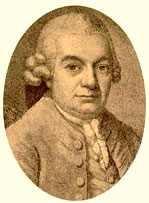 Carl Philipp Emanuel Bach (Weimar, March 8, 1714 – December 14, 1788) was a German musician and composer, the second son of Johann Sebastian Bach. He was a founder of the Classical style.

Read More
Sheet Music to Buy by