Beatles Sheet Music (Subscription)
Beatles Sheet Music (Subscription)
Sorry, no Beatles Sheet Music (Subscription) available for at present.
Please try another option.



About Beatles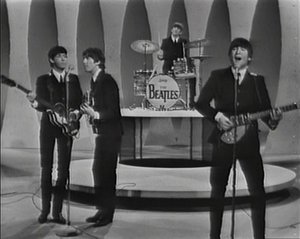 The Beatles were the most influential popular music group of the rock era. They affected the post-war baby boom generation of Britain, the United States and many other countries during the 1960s. Certainly they are the most popular group in rock history, with global sales exceeding 1.1 billion records.

Read More
Sheet Music to Buy by Beatles
| | |
| --- | --- |
| | Beatles Best - Easy Piano "By The Beatles. For voice, easy piano and guitar (chords only). Easy Piano Personality. Classic Rock, Britpop and Psychedelic Rock. Difficulty: easy. Songbook. Vocal melody, piano accompaniment, lyrics and chord names. 368 pages. Published by Hal Leonard |
| | |
| --- | --- |
| | Let It Be "By The Beatles. By John Lennon and Paul McCartney. For voice, piano and guitar chords. Piano Vocal. Classic Rock, Britpop, Psychedelic Rock, Pop Rock and Rock 'n' Roll. Difficulty: medium. Single. Vocal melody, piano accompaniment, lyrics, chord names an |
| | |
| --- | --- |
| | The Beatles Complete - Easy Guitar "By The Beatles. For guitar and voice. Easy Guitar. Classic Rock, Britpop and Psychedelic Rock. Difficulty: easy. Easy guitar/vocal songbook (no tablature). Vocal melody, lyrics, guitar chord diagrams and strum patterns. 304 pages. Published by Hal Leonar |
| | |
| --- | --- |
| | Lennon & McCartney - 60 Greatest Hits - Violin "By The Beatles. For solo violin (Violin). Chart. Classic Rock, Britpop and Psychedelic Rock. Difficulty: easy-medium to medium. Violin solo songbook (no accompaniment). 64 pages. Published by Hal Leonard" |
| | |
| --- | --- |
| | Best Of The Beatles "(Alto Sax). By The Beatles. For Eb alto saxophone. Chart. Classic Rock, Britpop and Psychedelic Rock. Difficulty: medium. Solo Songbook. Transposed melody. 96 pages. Published by Hal Leonard" |
| | |
| --- | --- |
| | Hey Jude "By The Beatles. By John Lennon and Paul McCartney. For voice, piano and guitar chords. Piano Vocal. Classic Rock, Britpop and Psychedelic Rock. Difficulty: medium. Single. Vocal melody, piano accompaniment, lyrics, chord names and guitar chord diagrams. |
| | |
| --- | --- |
| | Lennon And McCartney Solos - Cello "(for Cello). By The Beatles. For solo cello (Cello). Instrumental Folio. Classic Rock, Britpop, Psychedelic Rock and Play Along. Difficulty: medium. Cello solo songbook and accompaniment CD. 12 pages. Published by Hal Leonard" |
| | |
| --- | --- |
| | Best Of The Beatles "(Flute). By The Beatles. For C flute (Flute). Chart. Classic Rock, Britpop and Psychedelic Rock. Difficulty: medium. Solo Songbook. Solo part. 96 pages. Published by Hal Leonard" |
| | |
| --- | --- |
| | Best Of The Beatles "(Trumpet). By The Beatles. For Bb trumpet. Chart. Classic Rock, Britpop and Psychedelic Rock. Difficulty: medium. Solo Songbook. Transposed Melody. 96 pages. Published by Hal Leonard" |
| | |
| --- | --- |
| | In My Life "By The Beatles. By Paul McCartney and John Lennon. For voice, piano and guitar chords. Piano Vocal. Classic Rock, Britpop, Psychedelic Rock and Rock 'n' Roll. Difficulty: medium. Single. Vocal melody, piano accompaniment, lyrics, chord names and guitar c |
| | |
| --- | --- |
| | Let It Be "By The Beatles, Billy Preston, and Across The Universe (Movie). For piano, voice, and guitar (chords only). Film/TV; Inspirational; Pop; Rock. Piano/Vocal/Guitar. 5 pages. Published by Hal Leonard - Digital Sheet Music" |
| | |
| --- | --- |
| | Easy Beatles Hits - Easy Piano "By The Beatles. Arranged by Dan Fox. For voice and easy piano. Hal Leonard Easy Adult Piano. Classic Rock, Britpop and Psychedelic Rock. Difficulty: easy-medium. Songbook. Vocal melody, easy piano notation, lyrics and chord names. 48 pages. Published by |
| | |
| --- | --- |
| | Fingerpicking Beatles "(30 Songs Arranged for Solo Guitar in Standard Notation & Tablature). By The Beatles. For guitar solo. Finger Style Guitar. Classic Rock, Britpop and Psychedelic Rock. Difficulty: medium. Guitar tablature songbook. Guitar tablature, standard guitar notat |
| | |
| --- | --- |
| | Best Of The Beatles "(Clarinet). By The Beatles. For Bb clarinet. Chart. Classic Rock, Britpop and Psychedelic Rock. Difficulty: easy-medium. Clarinet solo songbook (no accompaniment). Solo part. 96 pages. Published by Hal Leonard" |
| | |
| --- | --- |
| | The Beatles - Complete Scores "By The Beatles. For voice(s), guitar(s), bass guitar, drum set and keyboard. Hal Leonard Transcribed Scores. Popular boxed gift set. Includes complete transcriptions of all instrumental and vocal parts. Classic Rock, Pop Rock and Psychedelic Rock. Diffic |
| | |
| --- | --- |
| | Beatles for Classical Guitar "(Guitar Solo). By The Beatles. By John Lennon and Paul McCartney. Arranged by Larry Beekman. For guitar. Guitar. Classic Rock, Britpop and Psychedelic Rock. Guitar solo book. Introductory text, instructional text and fingerings. 64 pages. Published by Ha |
| | |
| --- | --- |
| | Beatles Greatest Hits For Accordion "By The Beatles. By John Lennon and Paul McCartney. For accordion and voice. Accordion. Classic Rock, Britpop and Psychedelic Rock. Difficulty: medium. Voice/accordian songbook. Vocal melody, accordian accompaniment, chord names and accordian fingerings. |