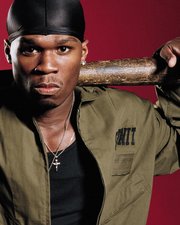 50 Cent, (real name: Curtis Jackson, born July 6, 1976), is a popular U.S. hip hop artist. Once almost unknown outside his hometown of New York, he became the first artist signed to Eminem's record label Shady Records who was scouted before knowing Eminem. He appeared on the 8 Mile soundtrack with an accompanying song and video that immediately went into heavy rotation on BET, MTV, and radio stations across the country. In the opinion of many observers his continued success seems guaranteed by his large underground fanbase and the 'mad street cred' he has gained by appearing on almost every major mix tape sold in New York in the past few years.
Interscope Records is very determined to sell 50 Cent as the 'real deal', as the success of an artist in gangsta rap depends on his street credibility and reputation. In this respect 50 Cent has a clear advantage over almost every other mainstream rapper. His mother was killed in a drug deal, he was a drug dealer himself, he has been shot nine times (nine bullets in one shootout), he overcame enormous disadvantage, and he built a large rap empire in New York City before ever signing a major record deal.
First record deals
He met up with Jam Master Jay of Run-DMC fame and was signed to his label JMJ. 50 Cent was intent on learning the rigors of producing palatable rap music: how to count bars, the basics of song structure and importance of good production. Despite learning all this, 50 saw that he wasn't going to get to where he wanted to go with JMJ, and left the label in search of someone who could help him achieve his dream of rap stardom. He teamed up with the all-star hip-hop production duo Track Masters who recognized 50 Cent's talent for incisive lyrics and signed him to Columbia Records in 1999. Although he looks back on this time with displeasure (his biography refers to it as being 'locked up in the studio'), the 18 days spent in a studio in Upstate NY produced 36 tracks which later became his breakthrough album Power of the Dollar. Although never officially released, the album was heavily bootlegged, judged a classic by Blaze Magazine, and the humorous ode to robbing a slew of industry rappers (Jay-Z, Puff Daddy, DMX, various members of the Wu-Tang Clan, even his producers Track Masters, and many more) was an instant hit for New York radio.
Eminem and Shady Records
Guess Who's Back? and 50 Cent is the Future were heard by a very impressed Eminem who brought the rapper to Dr. Dre's attention. The good doctor liked what he heard and endorsed the idea of signing a deal, and working with 50 Cent on an album. Eminem was quick to get onto New York's hip-hop radio circuit with the message that 50 Cent was his favorite rapper at the moment. After a meeting with Interscope and Eminem in Los Angeles, 50 Cent quickly signed a deal with Interscope/Aftermath (Dre's label)/Shady (Eminem's label) to release a record. Before starting production of his new album with Eminem and Dre, 50 quickly released another bootleg album of his raps over stolen beats entitled No Mercy, No Fear with the only 'original' production being Wanksta, a veiled dis aimed at 'industry' rapper Ja Rule. Although 'Wanksta' was never meant as a radio single, under the barrage of 50 Cent albums and the buzz over Eminem's words of praise and subsequent deal with 50 Cent; Wanksta quickly became the most requested song on New York radio. Capitalizing on the appropriated song's success, it was added it to Eminem's hit movie soundtrack 8 Mile and had its own video released, quickly entering heavy rotation on MTV, BET, MuchMusic, and radio stations around the country.
Wealth and success
With the buzz built and a very popular hit single, legions of rap fans were eager get 50 Cent's new CD. In its first week of release, 50's first major label debut Get Rich or Die Tryin' sold 872,000 units as stores struggled to keep up to the demand. In fact, not only was the album certified gold in it's first week and platinum the next, but it broke the record for first week sales of any major label debut in the entire SoundScan era. On April 12, 2004 Get Rich or Die Tryin' was certified six times platinum (i.e. has sold 6,000,000 albums) by the RIAA.
Going Mainstream
Since becoming famous, 50 Cent has crossed over to cater to a growing 'pop-rap' audience. The most extreme example of this is probably the single '21 Questions'. As put by former friend Domination: 'We all knew 50 wanted to take Ja's place, man! Look who's rolling around in sand with bitches now, making that bubble gum music as he calls it, wearing tank tops that promote his homosexuality...'
50 Cent and the future
50 Cent is currently not on tour, and is preparing for his second major label release. Although originally planning on releasing a new album before the end of 2003, 50 has decided to push the album release back to February of 2005. 'I was thinking of releasing the next album in November, but I'm gonna wait,' 50 Cent said in April 2003. 'Get Rich or Die Tryin' -- I don't think it will be over by then. I still got records I could shoot visuals for. I don't want to get ahead of myself.' Also in the plans are the G-Unit album tentatively titled Locked and Loaded to be released in September or November of 2003. Despite G-Unit member Tony Yayo's imprisonment on weapons charges and prior warrants, he will appear on the CD courtesy of several old verses already laid down prior to his arrest. 'I had so many records with Yayo before him being incarcerated,' 50 says, 'that I was able to take the verses that I needed off other records and put 'em on there.' If 50 has his way G-Unit's new album will be every bit as successful as his own release, 'Now that I got their attention, I'm gonna drop the next shit on them -- the G-Unit shit, both the label and the group. ... I'm not leveling the competition, I'm destroying it.'
He guest starred on an episode of The Simpsons entitled, Pranksta Rap on February 13th, 2005.
On March 8th 2005, 50 is coming out with his highly anticipated album 'The Massacre'. It was originally entitled 'Valentine's Day Massacre', but after the album was pushed from a February release date to March, 50 cent thought the title inappropriate.
Discography
Official CDs
Get Rich or Die Tryin' (Released: February 2003)
Power of the Dollar (Released: 1999)
NB.: Power of the Dollar has not been officially released as 50 Cent was dropped from the label before. However, the CD was finished and is found circling on the Internet.
This biography is published under the
GNU Licence