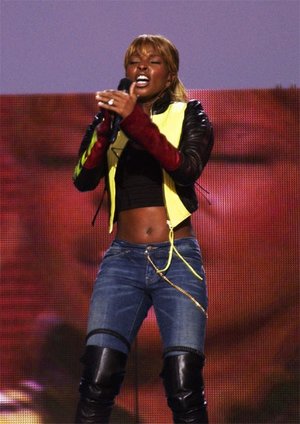 Mary Jane Blige (born January 11, 1971) is an American R&B and soul singer, songwriter and producer. She was born in The Bronx, New York but grew up in the housing projects of Yonkers, eventually dropping out of school before graduating.
Blige's musical career began after she recorded 'Caught Up in the Rapture' (Anita Baker) with a mall karaoke machine in 1989. The tape found its way to Uptown Records, who signed her as a back-up singer. Up-and-coming producer Sean 'Puffy' Combs took an interest, however, and helped her with her critically acclaimed debut, What's the 411?, released in 1992. The album's mix of hip hop and soul music is sometimes called the beginning of nu soul.
The follow-up, My Life, while less successful than its predecessor, became an influential R&B album and would pave the groundwork for some of today's female R&B singers. After Uptown folded in 1994, Mary remained an artist for MCA Records throughout the 90s. In 1996 Blige scored a #2 hit with 'Not Gon' Cry,' a song she contributed to the soundtrack for the movie Waiting To Exhale. With Share My World, released in 1997, Blige began working with Jimmy Jam and Terry Lewis; the album was a commercial success, though reviews were mixed. After two years, Blige released her fourth and most critically-acclaimed album, Mary in 1999. The album sold over two million copies.
In 2001, Blige's fifth album, No More Drama was released. The first single, 'Family Affair,' shot straight to number one on Billboard's pop charts in the fall of 2001, becoming Blige's biggest hit single to date. The title track and 'Rainy Dayz' featuring Ja Rule, one of the most popular rappers of the time, also became two of Blige's biggest pop hits to date in 2002. The title song on this album borrowed the piano melody from the theme song to the soap opera The Young and the Restless.
At the Grammy Awards in early 2002, Blige created one of the best performances of the award show's history by going into an emotional version of No More Drama where she was seen crying at the end. After signing with Geffen after MCA folded in 2003, Blige released her sixth studio release, Love & Life. The album, featuring the Top 40 hit, Love at First Sight was certified Platinum.
Mary J. Blige is a 3-time Grammy award winner. One of which was her first for Best Rap Performance by a Duo or Group with rapper Method Man on their remake of the classic Marvin Gaye and Tammi Terrell single, You're All I Need to Get By, retitled I'll Be There For You/You're All I Need, in 1996. Blige is also an American Music Award and Soul Train Music award winner and won her first MTV Video Music Award for the video for No More Drama in 2002.
Blige is currently working on a new record, scheduled for a 2005 release.
This biography is published under the
GNU Licence