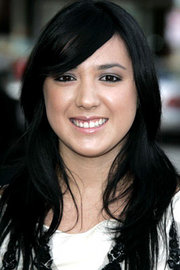 Michelle Jacquet DeSevren Branch (born July 2, 1983) is an American singer, songwriter and guitarist.
She was born 7 weeks premature in Flagstaff, Arizona. Michelle is named after a Beatles's song. She is a Eurasian of Irish, French, Dutch, Spanish-Mexican, and Indonesian descent. She has an older brother, David, and a younger sister, Nicole. She attended Red Rock High School.
She first wanted to write songs as soon as she hit her teens, beginning to write shortly after that. She asked for—and got—a guitar on her 14th birthday, and later signed up for vocal classes. In high school, she made arts her focus, choosing classes that augmented and enhanced her creativity. All throughout high school Michelle was writing extensively—in fact, she claims she wrote 'Sweet Misery' during an algebra class. She never finished high school, opting instead to follow her dreams and become a singer/songwriter. She played clubs for years, releasing Broken Bracelet independently.
She was eventually discovered by Maverick while opening for Hanson, signing a record deal in December of 2000. Her first major hit, 'Everywhere,' hit radio in 2001, and was followed by another hit, 'All You Wanted', both from her album The Spirit Room. In 2002, she appeared as lead vocalist on Carlos Santana's song 'The Game of Love' (not to be confused with the Mindbenders song of the same name). The song went on to win a Grammy Award for best pop collaboration. In 2003 she released her second full-length album Hotel Paper. The first single 'Are You Happy Now' again jumped on the top 20 of the Billboard single chart.
She gained acclaim alongside such artists as Avril Lavigne and Vanessa Carlton as a young woman performing pop music that was not 'bubblegum,' or marketed based on the artist's sexy image rather than musical integrity. However, recent steamy photoshoots with magazines like Maxim and Blender have put her previous clean cut, less sexualized image into question, in a fashion broadly reminiscent of fellow American pop stars Britney Spears and Christina Aguilera.
Branch is also noted for writing or co-writing all of her songs on her albums. Critics have commended her thoughtful lyrics and interesting guitar chords. Michelle's music influences are The Beatles, Led Zepplin, Queen, Aerosmith, Cat Stevens and Joni Mitchell. She plays several instruments like the cello, the guitar, the accordion, the drums and the piano. Her nicknames are Meech and Chelle. Her height is 5'6' (1.68m). She has nine tattoos. She mainly uses Taylor and Gibson guitars. Her favorite is a Taylor 614ce, and she currently uses a Gibson Hummingbird. She owns 14 guitars and is currently working on a project with her friend and backup singer Jessica Harp called the Wreckers. Their album is due in June 2005.
On May 23, 2004, she married her band's bass player, Teddy Landau, who is reportedly 19 years her senior, in Mexico.
Discography
Quotes
"I have a pirate fetish—I just always thought eye patches were sexy. If you want to get my attention, wear a pirate outfit." - Maxim
External links
This biography is published under the
GNU Licence