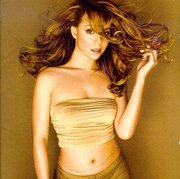 Mariah Carey (born March 27, 1970 on Long Island, New York), who is the best selling female recording artist of all time, is an American pop music singer. She is famed to have an incredible 5 Octave Vocal range. She is also the only female artist to have a #1 song on the US charts in every year of the 1990s, the most Hot 100 #1's of any female artist in history, and also lays claim to only the second song in history ('Fantasy') to ever debut at #1 on the Billboard Hot 100 (the first being Michael Jackson's 'You Are Not Alone') Although Michael Jackson's 'You are not alone' spent only one week at #1, while Mariah's 'Fantasy' spent over eight weeks at #1. With 61 cumulative weeks at #1, she is also the artist with the second-most weeks spent at #1, beating the Beatles by two weeks and falling only behind Elvis Presley (80 weeks).
Carey's father is half-black and half-Venezuelan; her mother is of Irish ethnicity.
Carey was named after the song 'They Call The Wind Mariah' from Paint Your Wagon. Mariah Carey has no middle name.
Early Career Success 1990-1999
Her career began in with the release of her debut album in 1990, when she was just twenty years old. She became a commercial success almost overnight, and the album produced four huge #1 hit singles: 'Vision Of Love,' 'Someday,' 'Love Takes Time,' and 'I Don't Want To Cry'. Carey's second album, Emotions, was released in the fall of 1991 and its first single, the title track, also was an American #1 hit. This song gave Carey the record of being the only musician or band ever to have had their first five singles all hit the top of the Billboard Hot 100 chart in America. Emotions had several other top five singles, such as 'If It's Over,' 'Can't Let Go,' and 'Make It Happen'.
In 1992, Carey perfomed all her hits on MTV Unplugged, as well as a new song, a cover of the Jackson 5's 'I'll Be There'. It, too, rose quickly to the top of America's pop charts.
Carey's next studio album, Music Box, was released in 1993 and spawned the hits 'Anytime You Need A Friend,' 'Never Forget You,' and the hugely popular number one songs 'Hero' and 'Dreamlover'. These songs, and Carey's duet with Luther Vandross of Diana Ross' 'Endless Love,' made Carey one of the most-played musicians on the radio in 1993 and 1994. During the Christmas season of 1994, Carey released the album Merry Christmas, and had a perennial hit with her original holiday song, 'All I Want For Christmas Is You'.
In 1995, Carey released Daydream. This album and her previous studio album, Music Box, would eventually go on to sell over 20 million copies each worldwide, making them Carey's two most popular albums. Daydream's first single, 'Fantasy,' was one of her biggest hits ever. It got heavy play on urban radio, thanks to a remix which featured a rhyme by the Wu-Tang Clan's Old Dirty Bastard. This also marked the start of a new trend for Carey's singles. She realized that she had a higher potential at having massive crossover hits if she employed the use of various genre-specific remixes for each single. Daydream's second and third singles, 'One Sweet Day,' a duet with Boyz II Men, and 'Always Be My Baby,' respectfully, were arguably even bigger hits than 'Fantasy'. 'Always Be My Baby' received huge airplay from pop, adult contemporary, and adult top 40 radio, and its urban remix which featured rhymes by Da Brat and a more soulful sounding chorus, sung by R&B group Xscape got huge airplay on urban, rap, and R&B radio stations. 'Forever,' the last single off of the album, did poorly compared to the first three, but was still a top 40 airplay hit in America.
Carey's 1997 album, Butterfly, saw her continuing to move in an R&B/hip hop direction. The first single, 'Honey' was a number one hit and featured a remix with rappers Puff Daddy, The Lox, and Mase. Its video, filmed shortly after her divorce from Tommy Mottola, VP of Sony Records, displayed a much more sexual Carey than any previous video. Other singles and videos off the album included 'Butterfly;' 'The Roof;' 'Breakdown,' a duet with Bone Thugs-N-Harmony featuring Carey singing in a style similar to the way the Bone Thugs rap; and the #1 hit 'My All'.
In 1998, Carey released the album Ones, a collection of all her American number one singles up to that point. It also included the new singles 'When You Believe,' a duet with Whitney Houston which featured in the DreamWorks animated film The Prince of Egypt; 'Sweetheart,' a hip-hoppy duet with Jermaine Dupri; 'I Still Believe,' a cover of the '80s song by Brenda K. Starr; and 'Whenever You Call,' a duet with popular R&B singer Brian McKnight.
During the late summer of 1999, Carey began promoting her upcoming album, Rainbow by releasing a single and video for 'Heartbreaker'. By this point, Carey had begun to alienate audiences by striving to create songs that tried too hard to appeal to all people. In the case of 'Heartbreaker', it received criticism for sounding like her previous singles 'Dreamlover' and 'Fantasy', and many people viewed the guest rap from Jay-Z as a desperate attempt to get the single airplay on urban radio, since Carey could no longer depend on adult contemporary or even top 40 radio to necessarily play her new singles as they once had. Even with all the controversy, 'Heartbreaker' managed to make it to #8 on the Billboard airplay charts and was Carey's fourteenth #1 on the Hot 100, thanks to a commercially available single, which sold over 270,000 copies in its first week alone. The single went on to achieve gold status and was one of her last singles to do so in America.
'Heartbreaker' featured a popular music video which got heavy airplay on MTV's TRL. With a cost of over $2.5 million, the video is Carey's most expensive to date and one of the top 5 most expensive music videos in history. A video was also filmed for a remix to 'Heartbreaker', which was much more hip-hop oriented than the original, featuring a sample of Snoop Dogg's 'Ain't No Fun' and guest raps by Missy Elliott and Da Brat. The remix video, which has cameo appearances by Brat, Elliott, and Snoop, also became popular on TRL. Combined, both versions of 'Heartbreaker' spent 65 days on TRL and become Carey's first and only TRL-'retired' video.
Rainbows second single, 'Thank God I Found You' became Carey's fifteenth #1 single on the Hot 100. The song was a duet with Joe and featured 98 Degrees singing background vocals on the chorus. Like 'Heartbreaker', the song didn't fare as well on the radio as Carey's earlier songs, but solid sales assured that the song became a chart hit. Also like 'Heartbreaker', following in the trend that Carey seemed to use at the time for each new single, a video for a remix of 'Thank God I Found You'--which contained a sample from Keith Sweat's 'Make It Last Forever' and featured Joe and Nas--was released.
The album's next two singles, 'Crybaby' and 'Can't Take That Away (Mariah's Theme)', were released almost simultaneously. 'Crybaby', a hip-hop song which featured Snoop Dogg, was promoted to urban and hip-hop radio, while 'Mariah's Theme', a ballad in the vein of 'Hero', was promoted to top 40 and adult contemporary radio. Neither song really took off with any audience. Even with a commercial single release 'Crybaby' only managed to peak at 28 on the Billboard Hot 100, Carey's lowest peaking single up to that point. This led to widespread speculation that Carey's career was 'over' and that she would never have a majorly successful album in America again. To date, Rainbow has sold over 3 million copies in America and another 6 million internationally. Such sales were noted by critics to be a far cry from when Carey's old albums managed sales of over 20 million, just five years earlier.
Though her release singles are usually in the pop genre, she has also combined her talents with rap artists such as Lord Tariq, Peter Gunz, and Bone Thugs-N-Harmony. Most of her recent singles have also been remixed as dance music, where she worked with DJs such as David Morales and Junior Vasquez.
2000-present
Partly due to the critical panning of Rainbow and the growing media sentiment that Carey would never manage to have a true success again, Carey suffered physical and mental exhaustion in 2001. Her acting debut in the film Glitter, panned by many popular movie critics, coupled with her many years of excessively hard work appeared to have taken a toll on her. Her then-current album, Rainbow, was not selling as well as her previous albums, and she complained her new record label wasn't promoting it. She left her longtime label to sign a contract with Virgin Records, under which her 10th album 'Glitter' was released. The lead single 'LoverBoy' reached the top of the Hot 100. The album peaked at a disappointing #7 and quickly dropped off, despite being hailed as some of Mariah's best work to date.. It sold 3 million copies worldwide to date, which is about what 'Rainbow' sold in the US. Finally, Mariah made an appearance on MTV's TRL, where she was scantily clad and acting strangely. After that, she checked into a mental health facility and announced that she was taking a break from performing.
Mariah released a new album, Charmbracelet, to a muted reaction in December 2002. It is perhaps her least commercially successful album to date, but as Mariah said if she wanted to create music that was 'popular' and a 'number-1 hit' she would, but she's been there done that, now she's interested in writing music that is more profound having meaning to her and her fans. The album included the singles 'Through The Rain', 'Boy (I Need You)' featuring rapper Cam'ron, and a cover of Def Leppard's '80s hit 'Bringin' On The Heartbreak'. None of the three singles really took off.
However, in 2003, a duet with Busta Rhymes entitled 'I Know What You Want' fared considerably better, having reached the top five (#3) of Billboard's pop singles chart and the top five in rap radio airplay. It is also featured on the latest release The Remixes, a double CD containing a series of remixes. That year, she was awarded the World Music Awards 'Diamond Award' in honor of over 150 million album sales worldwide.
Carey spent the majority of 2004 preparing for the release of her ninth studio album, entitled 'The Emancipation of Mimi'. That fall she was featured on Jadakiss's hit single 'U Make Me Wanna'. Although the song was not as great of a success as her Busta Rhymes collaboration, it managed to hit the Top 10 of Billboard's R&B chart. In November, a new song from her upcoming album entitled 'Say Something' featuring rapper Snoop Dogg and Pharrell leaked on to the internet. The song was planned as the first single, but was met with a lukewarm response. Another Neptunes production, 'Tonight,' which featured rapper Nelly also leaked on to the Internet around this time. On New Years Eve, Carey premiered a Jermaine Dupri production at the Pure Club in Las Vegas. The song, 'It's Like That' received an overwhelmingly positive response and began receiving airplay a day later. The song debuted on the Billboard Hot 100 at #53 on January 22. It was her highest debut in nearly five years. Within weeks, it zommed into the top 20 Media sources hailed the song a triumphant return for Carey and hailed it a comeback. 'The Emancipation Of Mimi' will be released on April 12, 2005. Critics expect her first #1 since Butterlfy 8 years ago, and it could sell like Rainbow or Butterfly, meaning it could move between 3 and 5 million units.
Discography
1990 Mariah Carey #1 US, #6 UK; US Sales: 9 million (18 million--worldwide)
1991 Emotions #4 US, #4 UK; US Sales: 5 million (14 million--worldwide)
1992 'MTV Unplugged' #3 US, #3 UK; US Sales: 3 million (15 million--worldwide)
1993 Music Box #1 US, #1 UK; US Sales: 10 million (28 million--worldwide)
1994 'Merry Christmas' #3 US, #32 UK; US Sales: 5 million (16 million--worldwide)
1995 Daydream #1 US, #1 UK; US Sales: 10 million (25 million--worldwide)
1997 Butterfly #1 US, #2 UK; US Sales: 5 million (17 million--worldwide)
1998 '#1's' #4 US, #10 UK; US Sales: 5 million (16.5 million--worldwide)
1999 Rainbow #2 US, #8 UK; US Sales: 3 million (12 million--worldwide)
2001 Glitter #7 US, #10 UK; US Sales: 1 million (5 million--worldwide)
2001 'Greatest Hits' #52 US; US Sales: 750,000 copies(4 million--worldwide)
2002 Charmbracelet #3 US; US Sales: 1.2 million (6 million--worldwide)
2003 'The Remixes' #26 US, #35 UK; US Sales: 900,000 copies (1.8 million--worldwide)
2005 The Emancipation of Mimi (coming April 12)
Total Sales:178.3 million copies sold US Sales: 58.9 million copies sold
Hit singles
(Note: Bold are Billboard Hot 100 or UK Top 40 singles that reached #1)
1990 'Vision Of Love' #1 US, #9 UK
1990 'Love Takes Time' #1 US, #37 UK
1991 'Someday' #1 US, #38 UK
1991 'There's Got To Be A Way' #49 UK (Not released in the US)
1991 'I Don't Wanna Cry' #1 US
1991 'Emotions' #1 US, #17 UK
1991 'Can't Let Go' #2 US, #20 UK (1992 release)
1992 'Make It Happen' #5 US, #17 UK
1992 'I'll Be There' #1 US, #2 UK
1993 'Dreamlover' #1 US, #9 UK
1993 'Hero' #1 US, #7 UK
1994 'Without You' #3 US, #1 UK
1994 'Endless Love' (with Luther Vandross) #3 UK (Not released in the US)
1994 'All I Want for Christmas Is You' #2 UK
1994 'Anytime You Need a Friend' #10 US #4 UK
1995 'Fantasy' #1 US, #3 UK
1995 'One Sweet Day' (with Boyz II Men) #1 US, #6 UK
1996 'Open Arms' #4 UK
1996 'Always Be My Baby' #1 US, #3 UK
1997 'Honey' #1 US, #3 UK
1997 'Butterfly' #12 US, #22 UK
1998 'My All' #1 US, #4 UK
1998 'When You Believe' (with Whitney Houston) #15 US, #4 UK
1998 'SweetHeart' (Feat. JD) #18 US
1999 'I Still Believe' #4 US, #16 UK
1999 'Heartbreaker' (feat. Jay-Z) #1 US, #5 UK
2000 'Thank God I Found You' (feat. Joe and 98 Degrees) #1 US, #10 UK
2000 'Against All Odds' (with Westlife) #1 UK (Not released in the U.S)
2000 'Crybaby' #28 US
2001 'Loverboy' #2 US, #12 UK
2001 'Never Too Far/Don't Stop (Funkin' 4 Jamaica)' (feat. Mystikal) #32 UK
2002 'Through the Rain' #81 US, #8 UK
2003 'Boy (I Need You)' (feat. Cam'ron) #17 UK
2003 'I Know What You Want' (with Busta Rhymes feat. The Flipmode Squad) #3 US
2004 'U Make Me Wanna' (with Jadakiss) #21 US
2005 'It's Like That' (f. JD & Fatman Scoop) #19 US
See also
External links
This biography is published under the
GNU Licence