Coldplay

Artist:
Coldplay
Summary:
British band who came to prominence in 2000 with songs such as Yellow and the album Parachutes. Their long-awaited second album A Rush of Blood to the Head was also well received. Front man Chris Martin has done much work promoting fair trade and the website www.maketradefair.com

Popular Sheet Music:
on 8notes.com




Coldplay Biography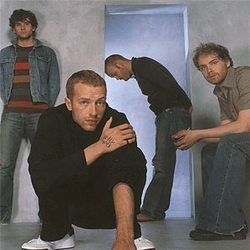 Coldplay is a rock band from London, United Kingdom. The band is known for their rock melodies and introspective lyrics. The band consists of Chris Martin (lead vocals, guitar, piano/keyboard), Jon Buckland (lead guitar, harmonica, backing vocals), Guy Berryman (bass), and Will Champion (drums, backing vocals).
History
The band has enjoyed both commercial and critical success relatively early in their existence through their first full-length album, Parachutes, and the single 'Yellow'. Along with the acclaim, Parachutes was sometimes criticised for bearing a strong resemblance to the music of Radiohead in their The Bends - OK Computer era. The band's second full-length album, A Rush of Blood to the Head, was generally considered to be musically and lyrically more mature and sophisticated, and less obviously the product of one particular influence.
Parachutes was nominated for the Mercury Music Prize in 2000 and won the Best Alternative Music Performance award in the 2001/44th Annual Grammy Awards. Coldplay's second album 'A Rush Of Blood To The Head' won two Grammys in 2002. In July 2003 they recorded a live DVD and CD, 'Live 2003', at Sydney's Hordern Pavilion. Coldplay has a huge fan base, particularly in Europe and in the U.S.
Their third album is in post-production and has a tentative release date of Spring 2005. Recently, the third album has been rumored to possibly be delayed until June 2005.[1] (http://www.coldplaying.com/modules.php?op=modload&name=News&file=article&sid=399&mode=thread&order=0&thold=0) Drummer Will Champion has hinted that the album will contain 10 or 11 tracks. NME had an advanced preview of six tracks from the album: 'Square One', 'Talk', 'Till Kingdom Come', 'X&Y', 'What If' and 'The Hardest Part'.[2] (http://www.nme.com/news/111038.htm)
Discography
Note: Unless otherwise stated, all releases are on the Parlophone label in the UK and Capitol in the US.
Live 2003 (2003, filmed live at Sydney's Horden Pavilion); #13 US album chart
Maximum Coldplay (Unofficial Documentary)
Coldplay - Back to the Start (Unofficial Documentary)
Safety (1998, released independently, UK only, limited to 500 copies)
The Blue Room (1999, released on EMI Int'l in the US and Parlophone in the UK)
Trouble (2000 - a live EP, recorded in Norway, different from the single of the same name, Norway only, released on the EMI label)
Sparks (2000, never commercially released but promotional copies are widely available, contains a live version of Yellow and a B-side from The Blue Room)
Clocks (2003, a live EP, recorded in Rotterdam, Netherlands, comprising of three separately-sold singles that go together in a large gatefold case, released on EMI international, limited production)
Brothers and Sisters (1999, released on the London based Fierce Panda label in the UK, Universal/Island in the US)
Shiver (2000, released on EMI Int'l in the US and Parlophone in the UK) #35 UK
Yellow (2000) #4 UK
Trouble (2000) #10 UK
Don't Panic (2001, Europe only, excl. UK - separate editions were sold in Denmark, France, and the Netherlands)
Mince Spies (2001, released only to the pre-Parachutes Coldplay fan club, consists of a cover of Have Yourself a Merry Little Christmas and a remix of Yellow, limited to 1000 copies worldwide)
In My Place (2002) #2 UK
The Scientist (2002, everywhere except US) #10 UK
The Scientist DVD Single (2002, UK Only)
Clocks (2002: US Radio. 2003: Worldwide, excl. US) #9 UK; #29 US
Clocks DVD Single (2003, Worldwide, excl. US)
God Put A Smile Upon Your Face (2003, Europe only, excl. UK)
Remixes (2003, UK only, limited to 1000 copies)
Grammys
2003 - Record of the Year (Clocks)
2002 - Best Rock Performance By A Duo Or Group With Vocal (In My Place)
2002 - Best Alternative Music Album (A Rush of Blood to the Head)
2001 - Best Alternative Music Album (Parachutes)
Similar Bands/Artists
External links
This biography is published under the
GNU Licence
Items to buy by Coldplay
| | |
| --- | --- |
| | Viva La Vida By Coldplay. Piano Vocal. 8 pages. Published by Hal Leonard |
| | |
| --- | --- |
| | The Best of Coldplay for Easy Piano "(Updated Edition). By Coldplay. For voice and easy piano. Hal Leonard Easy Adult Piano. Britpop and Alternative Rock. Difficulty: easy-medium. Songbook. Easy piano notation, lyrics and chord names. 56 pages. Published by Hal Leonard" |
| | |
| --- | --- |
| | Clocks By Coldplay. For piano. Pop. 5 pages. Published by Hal Leonard - Digital Sheet Music |
| | |
| --- | --- |
| | Fix You By Coldplay. Piano Vocal. 8 pages. Published by Hal Leonard |
| | |
| --- | --- |
| | Paradise By Coldplay. Piano Vocal. 12 pages. Published by Hal Leonard |
| | |
| --- | --- |
| | Viva La Vida By Coldplay. Piano/Vocal/Guitar Artist Songbook. Softcover. 72 pages. Published by Hal Leonard |
| | |
| --- | --- |
| | Coldplay - Mylo Xyloto By Coldplay. Piano/Vocal/Guitar Artist Songbook. Softcover. 88 pages. Published by Hal Leonard |
| | |
| --- | --- |
| | Viva La Vida (Easy Piano). By Coldplay. Easy Piano. 8 pages. Published by Hal Leonard |
| | |
| --- | --- |
| | Paradise By Coldplay. Pop; Rock. Piano/Vocal/Guitar. 9 pages. Published by Hal Leonard - Digital Sheet Music |
| | |
| --- | --- |
| | Clocks By Coldplay. By Guy Berryman and Will Champion. For easy piano. Pop; Rock. Easy Piano. 2 pages. Published by Hal Leonard - Digital Sheet Music |
| | |
| --- | --- |
| | A Rush of Blood To The Head "By Coldplay. For voice, piano and guitar chords. Piano/Vocal/Guitar Artist Songbook. Britpop and Alternative Rock. Difficulty: medium. Songbook. Vocal melody, piano accompaniment, lyrics, chord names and guitar chord diagrams. 72 pages. Hal Leonard #0711 |
| | |
| --- | --- |
| | The Scientist "By Coldplay. For piano, voice, and guitar (chords only). Pop. 5 pages. Published by Hal Leonard - Digital Sheet Music" |
| | |
| --- | --- |
| | Very Best of Coldplay (Easy Guitar with Notes & Tab). By Coldplay. Easy Guitar. Softcover. Guitar tablature. 72 pages. Published by Hal Leonard |
| | |
| --- | --- |
| | Fix You "By Coldplay. For piano, voice, and guitar (chords only). Pop; Rock. 6 pages. Published by Hal Leonard - Digital Sheet Music" |
| | |
| --- | --- |
| | Parachutes "By Coldplay. For voice, piano and guitar chords. Piano/Vocal/Guitar Artist Songbook. Britpop and Alternative Rock. Difficulty: medium. Songbook. Vocal melody, piano accompaniment, lyrics, chord names and guitar chord diagrams. 56 pages. Hal Leonard #0711 |
| | |
| --- | --- |
| | X & Y "By Coldplay. For voice, piano and guitar (chords only). Piano/Vocal/Guitar Artist Songbook. Britpop and Alternative Rock. Difficulty: medium. Songbook. Vocal melody, piano accompaniment, lyrics, chord names, guitar chord diagrams and black & white photos |
| | |
| --- | --- |
| | Viva La Vida By Coldplay. Arranged by Tim Waters. Score & Parts. Discovery Plus Concert Band. Grade 2. Softcover. Published by Hal Leonard |
| | |
| --- | --- |
| | Viva La Vida "By Coldplay. By Chris Martin, Guy Berryman, Jon Buckland, and Will Champion. Arranged by Mark A. Brymer. SATB. Pop Choral Series. 12 pages. Published by Hal Leonard" |