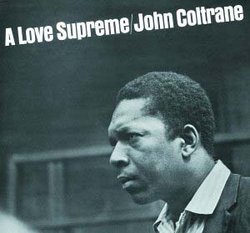 John Coltrane (September 23, 1926 - July 17, 1967) was a famous jazz saxophonist.
Early life
Born in Hamlet, North Carolina, Coltrane grew up in High Point, North Carolina and moved to Philadelphia, Pennsylvania in June 1943. He was inducted into the Navy in 1945 and returned to civilian life in 1946. Coltrane worked a variety of jobs through the late forties until (still an alto saxophonist) he joined Dizzy Gillespie's big band in 1949. He stayed with Gillespie through the band's breakup in May 1950 and (now on tenor saxophone) worked with Gillespie's small group until April 1951, when he returned to Philadelphia to go to school.
In early 1952, Coltrane joined Earl Bostic's band. In 1953, after a stint with Eddie Vinson, he joined Johnny Hodges's small group (during Hodges's short sabbatical from Duke Ellington's orchestra), staying until mid 1954.
Career
Although there are recordings of Coltrane from as early as 1946, his peers at the time didn't recognize 'genius' in the young musician. His real career spans the twelve years between 1955 and 1967, during which time he reshaped modern jazz and influenced generations of other musicians. Coltrane was freelancing in Philadelphia in the summer of 1955 when he received a call from trumpeter Miles Davis. Davis, whose success during the late forties had been followed by several years of decline, was again active, and was about to form a quintet. Coltrane was with this first edition of the Davis group from October 1955 through April 1957 (with a few absences), a period which saw influential recordings from Davis and the first signs of Coltrane's growing ability. This classic First Quintet, best represented by two marathon recording sessions for Prestige in 1956, disbanded in mid-April due partially to Coltrane's problematic heroin addiction. Coltrane would use much of what he learned with Davis to run his own groups, namely allowing musicians to solo and improvise with their own sensibilities as well as eschewing involvement with his audience and remaining aloof to press.
During the latter part of 1957 Coltrane worked with Thelonious Monk at New York's Five Spot, a legendary gig. He rejoined Miles in January 1958 after kicking heroin and experiencing a spiritual epiphany that would lead him to practice obsessively and concentrate wholly on the development of his music for the rest of his life. He stayed with Davis until April 1960, usually playing alongside alto-saxophonist Cannonball Adderley and drummer Philly Joe Jones in a sextet. During this time he participated in such seminal Davis sessions as Milestones and Kind Of Blue, and recorded his own influential sessions (notably Blue Train and Giant Steps). In October 1958, Jazz critic Ira Gitler coined the term sheets of sound for Coltrane's unique style during this period with Davis. His playing was compressed, as if whole solos passed in a few seconds, with triple- or quadruple-time runs cascading in hundreds of notes per minute. Around the end of his tenure with Davis, Coltrane began playing soprano saxophone, an unconventional move considering the instrument's then-obsolescence. The radical change in his tenor style after leaving the Davis group was due partially to a problem with his mouthpiece and chronic pain in his gums.
Coltrane formed a quartet in 1960 with pianist McCoy Tyner, bassist Jimmy Garrison and drummer Elvin Jones, a group that produced searching, spiritually driven work. He quickly developed a rugged, sometimes aggressive freewheeling style which had all the density of a track like Giant Steps but none of its formal strictures. This group would famously produce A Love Supreme in 1964.
Coltrane was perceived as an interesting and virtuosic but sterile player by many critics during this period. Audiences in France famously booed during an early tour with Davis. Downbeat magazine indicted Coltrane, along with Eric Dolphy, as a player of 'Anti-Jazz' in 1961, in an article that bewildered and upset the musicians. Coltrane admitted some of his early solos were based mostly on technical ideas. But as Coltrane's style further developed, he was determined to make each performance 'a whole expression of one's being,' as he would call his music in a 1966 interview.
Free jazz
In the early 60s Coltrane was influenced by Davis' modal approach, the free jazz of Ornette Coleman and the music of Ravi Shankar. Much of this influence can be heard as early as Coltrane's surprise 1960 hit My Favorite Things, a song Coltrane would frequently play until his death. Coltrane's success was phenomenal for the jazz world at the time. By following his personal vision absolutely, he would captivate many listeners and aspiring musicians, producing a public persona of total independence and artistic rigor.
Coltrane's late period music showed an increasing interest in the free jazz pioneered by Cecil Taylor, Albert Ayler and others. In formulating his late period style, he was especially influenced by Ayler's dissonance in Ayler's trio with bassist Gary Peacock and drummer Sunny Murray. By any measure, Pharoah Sanders, whom Coltrane invited into his band for most of his late-period experiments, was one of the most abrasive saxophonists then playing. Coltrane, who used over-blowing frequently as an emotional exclamation-point, gravitated to Sanders's solos, frequently overblowing-based orgies of screaming revelation.
Tyner and Jones eventually resigned from the group, dissatisfied with the changing sound of Coltrane's music. In 1965 Coltrane began using LSD, which would inform the sublime, 'cosmic' transcendence of his late period, and also its incomprehensibility to many listeners. He formed a quintet with Pharoah Sanders on tenor saxophone, his new wife Alice Coltrane on piano, and Rashied Ali on drums. Coltrane and Sanders were described by Nat Hentoff as 'speaking in tongues,' an interesting interpretation seen relative to Coltrane's Christian upbringing in the south. The screaming, especially, can be compared to the cadences of black preachers demanding salvation from their congregation.
Today, most casual jazz listeners and even traditionalists like Wynton Marsalis consider late-period Coltrane unlistenable. However many recordings — among them Ascension, Meditations and the posthumous Interstellar Space — are widely considered masterpieces. Many of Coltrane's innovations would be incorporated into the jazz fusion movement, however with diminishing returns of spiritual fervency and earnestness. Also more mainstream rock guitarists like Jimi Hendrix would seize upon Coltrane's work as inspiration in addition to American Blues music.
Coltrane's recording rate was astonishingly prolific: He released about fifty recordings as a leader in twelve years, and appeared on dozens more led by other musicians.
Coltrane died from liver cancer at Huntington Hospital in Long Island, NY on July 17, 1967, at 40. Coltrane's excessive alcohol and heroin abuse during the 40s and 50s likely laid the seed for this illness, which can strike former alcoholics years after they quit. Tragically, in a 1968 interview Albert Ayler revealed that Coltrane was consulting a Hindu meditative healer for his illness instead of western medicine, though conventional treatment may have been ineffective regardless.
Coltrane's son, Ravi Coltrane, has followed in his father's steps and become a saxophonist.
Selected discography
Samples
External links
This biography is published under the
GNU Licence