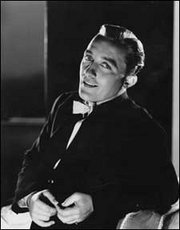 Harry Lillis 'Bing' Crosby (May 3, 1903 - October 14, 1977) was a popular American singer and actor of Irish descent, whose career spanned multiple generations. In 1992, Artie Shaw offered his opinion of Crosby's place in American culture in these terms: 'The thing you have to understand about Bing Crosby is that he was the first hip white person born in the United States'1.
Youth
Bing Crosby was born in Tacoma, Washington and grew up with Al Rinker, the younger brother of singer Mildred Bailey, in Spokane. Crosby and Rinker used Bailey's connections and joined Paul Whiteman's Rhythm Boys after attending Gonzaga University. He sang with dance bands from 1925 to 1930.
Popular success
Bing Crosby came to national attention while with the popular Whiteman Orchestra, with whom he made his film debut in King of Jazz (1930). From then on he was a top stage and radio performer and a top-selling recording artist. His style of singing soon won him the title of 'Crooner of the Century'.
Crosby's biggest musical hit was his recording of the Irving Berlin classic 'White Christmas'. He first sang the song in 1942, and it became one of the best-selling recordings of all time. He collected 21 other gold records, including 'I'll Be Home for Christmas', 'Too-Ra-Lo-Ra-Loo-Ral' and 'Swinging on a Star'. In 1962 he became the first recipient of the Grammy Lifetime Achievement Award. His popularity as a singer was matched by his success as an actor. He appeared in dozens of movies from the 1930s–1960s, and received the Academy Award for Best Actor in 1944.
Crosby also had regular radio shows from the 1930s–1950s, during the 1940s he recorded many songs with the Andrews Sisters, he starred in a network television sitcom in 1964–1965, and made numerous short films and television appearances.
Crosby's desire to pre-record his radio shows was a significant factor in the development, and in the radio industry's adoption, of magnetic tape recording. History repeated itself when he was asked to do a television show and demanded that it be pre-recorded, which spurred the development and adoption of videotape.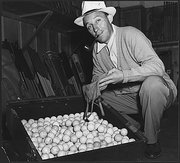 Crosby recorded a version of Little Drummer Boy with David Bowie just one month prior to his death. The duet went on to attain cult status and charted well in countries around the world.
Personal life
Crosby was married twice. He married nightclub singer Dixie Lee in 1930 and was married to her until her death in 1952. They had four sons. Dixie was an alcoholic, and the 1947 film Smash-Up: The Story of a Woman is indirectly based on her life. After Dixie's death, Bing married the much-younger actress Kathryn Grant in 1957 and had three more children with her, including actress Mary Crosby, best known as being the woman who shot J.R. Ewing on Dallas.
Bing effectively had two families — his children from the marriages being of different generations.
After his death, his eldest son from his first marriage, Gary, wrote a controversial memoir (Going My Own Way) depicting him as an autocratic and abusive father. Two of his children, Lindsay and Dennis, committed suicide.
Denise Crosby, Dennis' daughter, is also an actress and best known for her role as Tasha Yar on Star Trek: The Next Generation.
There has been some uncertainty about Crosby's date of birth, but this has been cleared up by biographer Gary Giddins. (Due to instructions from his family, the year of birth engraved on Bing Crosby's tombstone is 1904, rather than the correct date, 1903.)
Last words
Crosby was a keen amateur golfer who appeared in many charity events. He died after a round of eighteen holes in which he shot a respectable 85. Of his death, biographer Giddins has written: 'His last words were characteristic. Walking off the eighteenth green of the La Moraleja Golf Club, in a suburb of Madrid, Bing Crosby said, 'That was a great game of golf, fellas,' and then took a few steps and was gone'2. Shortly after 6:00 p.m. October 14, 1977, he suffered a massive heart attack.
Crosby was interred in the Holy Cross Cemetery in Culver City, California.
Filmography
Crosby's films included (an incomplete listing):
The comedy road movies, with Bob Hope and Dorothy Lamour, including:
Samples
References
Giddins, Gary. A Pocketful of Dreams: The Early Years, 1903-1940. Boston, New York, & London: Little, Brown and Company, 2001. ISBN 0316886459
A Pocketful of Dreams, p. 259
A Pocketful of Dreams, p. 3
External links
This biography is published under the
GNU Licence