'Deep Purple' was the biggest hit written by pianist Peter De Rose (1900—1953), who broadcast, 1923 to 1939, with May Singhi as 'The Sweethearts of the Air' on the NBC radio network. 'Deep Purple' was published in 1933 as a piano composition. The following year, Paul Whiteman had it scored for his suave 'big band' orchestra that was 'making a lady out of jazz' in Whiteman's phrase. 'Deep Purple' became so popular in sheet music sales that somewhat purple lyrics were provided for it in 1939 by Mitchell Parish:
When the deep purple falls over sleepy garden walls
And the stars begin to twinkle in the sky—
In the mist of a memory you wander back to me
Breathing my name with a sigh...
and the Larry Clinton Orchestra recorded it, with a vocal by Bea Wain. Now it became a huge hit, reaching #1 on the charts. The song is a sentimental air, not a jazz tune; it was a favorite with Babe Ruth, played at his big birthday parties by Peter de Rose for a decade. The song remained a traditional pop favorite, recast in 1957 as a doo wop classic by The Dominoes with vocals by Eugene Mumford and was recorded in 1976 by Donny and Marie Osmond, with Marie intoning the balmy lyrics during the break.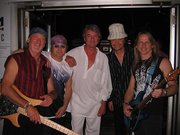 Thus the title Deep Purple was ready for an ironic revival in 1968, by a British rock group. They were one of the first and most famous hard rock bands, and are considered pioneers of heavy metal.
Despite their association with the sub-genre, Deep Purple has never been purely a heavy metal band, though many later heavy metal bands cite their influence. The group has frequently changed styles and lineups over the years, but has always included virtuoso players in its ranks and placed a high priority on musicianship. Some incarnations of Deep Purple have brought aspects of jazz to a rock context due to their frequent use of their songs as vehicles for extended and sophisticated solos.
History
In May 1965, a band called Episode Six became popular on the British music scene and became particularly popular in the mid-sixties. It featured Ian Gillan on vocals, Graham Dimmock on guitar, Roger Glover on bass, Tony Lander on guitar, Sheila Dimmock on keyboards, and Harvey Shields on the drums.
Two years later, a band called The Flowerpot Men and their Garden was formed, formerly known as The Ivy League. It was concentrated on a trio of singers. The new name was clearly derived from the children's show The Flowerpot Men, with the obvious psychedelic-era puns on flower power and 'pot' (cannabis). The band's most popular song was 'Let's Go To San Francisco.' Some listeners assumed that the song was a parody of Scott McKenzie's 'If You're Going to San Francisco,' but the band have denied this. It featured Tony Burrows, Neil Landon, Robin Shaw, and Pete Nelson on vocals, Ged Stone on guitar, Nick Simper on bass, Jon Lord on organ, and Carol Little on drums.
A year later, these bands formed the nucleus of the early and later lineups of Deep Purple, providing Nick Simper and Jon Lord as founding members and Ian Gillan and Roger Glover as later constants. In 1968, the group Roundabout formed, consisting of Ritchie Blackmore on guitar, Jon Lord on hammond organ, Chris Curtis on vocals, Dave Curtis on bass and Bobby Woodman on drums.
After only a month of rehearsals, Blackmore and Lord split from the group. The two joined forces with vocalist Rod Evans, bassist Nick Simper and drummer Ian Paice. The new band was named Deep Purple.
The group had tremendous success in the US with its cover of Joe South's 'Hush,' taken from their acclaimed debut album Shades of Deep Purple In 1969, two more successful albums followed (The Book of Taleisyn and Deep Purple, the latter of which contained a symphony orchstra on some tracks). After three albums and extensive touring in the States, it was the inclusion of vocalist Ian Gillan (who replaced Evans) and bassist Roger Glover (who replaced Simper) that created the essential Deep Purple line-up. Initially, this lineup released a landmak album in Concerto for Group and Orchestra a three-part movement written by Lord and performed with the London Philharmonic Orchestra conducted by Malcom Arnold. It is widely known as the first successful collaboration between a rock band and an orchestra.
However, shortly after the release, the band shocked the music world by creating extremely heavy, hard rock music, and thus becoming a pioneer in the world of heavy metal. Their heaviness was only rivaled by newcomers Black Sabbath. During this period, Deep Purple became one of the most popular hard rock acts in the world, releasing the highly influential and successful albums Deep Purple in Rock, Fireball, and Machine Head (the latter featuring their most famous song, 'Smoke on the Water'), and the live album Made in Japan.
The classic lineup continued up through the album Who Do We Think We Are? (1973) at which point both Gillan and Glover left. They were replaced by an unknown singer named David Coverdale and Glenn Hughes on bass and vocals. This new line-up continued seamlesly into 1974 with the album Burn, another highly successful Purple album. Hughes and Coverdale added a funky R&B/soul sound to the band's heavy metal elements, a sound that was even more apparent on the 1975 release Stormbringer. Blackmore was not happy with the results, and after the release of the Made in Europe (taken from shows on the Stormbringer tour), the founding member left Deep Purple in 1975.
With Blackmore's departure, Deep Purple was left to fill one of the biggest vacancies in rock. The gap was filled by the prodigiously talented Tommy Bolin who had established himself as a vivid imaginative guitarist with acts such as Zephyr, James Gang and Billy Cobham. On the face of it Bolin was just what the doctor ordered. However the subsequent album, 1976's Come Taste the Band, for all its quality, proved unpopular with die-hard fans and didn't attract any new ones. Bolin himself turned out not to be ready for the job of filling Blackmore's shoes, suffering hostility from some crowds while turning in peformances of highly variable quality. He had a drug habit - heroin, which made matters all the worse. After a particularly traumatic tour to promote Come Taste the Band, Tommy Bolin died of a heroin overdose. As a result, Deep Purple broke up.
Subsequently, most of the past members of Deep Purple would go on to have considerable success in a number of bands including Rainbow (band), Whitesnake and Gillan, while there were a number of promoter-led attempts to get the band to reform especially with the revival of the hard rock market in the late 70s/early 80s.
Then in April 1984, 8 years after the demise of Deep Purple, it happened. It was announced on BBC radio's The Friday Rock Show that the 'classic' early 70s lineup of Blackmore, Gillan, Glover, Lord, and Paice was reforming and were recording new material. The band signed a deal with Polydor in Europe and Mercury in North America. The album Perfect Strangers was released in October 1984 and the tour followed, starting in New Zealand and winding its way across the world into Europe by the following summer. It was a tremendous success. The UK homecoming proved mixed as they elected to play just a single festival show (with main support from The Scorpions). The weather was famously bad but 80,000 turned up anyway.
The line-up recorded and toured The House of Blue Light in 1987 though to lower sales, a live album Nobody's Perfect (1988) was culled from US shows on this tour. While in the UK a new version of 'Hush' was released to mark 20 years of the band. In 1989, Ian Gillan quit the band again, as his relations with Blackmore soured. His replacement was former Rainbow vocalist Joe Lynn Turner. This line up recorded just one album,Slaves and Masters (1990), and toured in support of it.
With the tour done, Turner was forced to go as Jon Lord and Ian Paice realised they needed Gillan back in the fold. Blackmore relented and the classic lineup recorded The Battle Rages On in 1993. During the support tour in mid-1994, tensions between Gillan and Blackmore came to a head yet again. Blackmore walked out, never to return and leaving the band in a fix. Joe Satriani was drafted in, so the live dates (in Japan) could be completed. Satriani was asked to join full time, but declined. The band auditioned guitarists, and Steve Morse of Dixie Dregs impressed them enough to get the gig.
The revitalized band enjoyed success throughout the rest of the 1990s, releasing the critically acclaimed Purpendicular in 1996, and Abandon in 1998. Most of this period was spent on the road via constant touring. The group continued forward until 2002, when founding member Jon Lord (who, along with Ian Paice, was the only member to be in all incarnations of the band) announced he was leaving the band to pursue personal projects (especially orchestral work). Rock keyboard veteran Don Airey (Rainbow/Whitesnake, etc.), who had helped Purple out when Lord was injured in 2001, joined the band. In 2003, Deep Purple released their first studio album in five years, the highly prasied Bananas, and began toruing in support of the album immediately.
Current Members
Original Members
Other Members
Keep in mind that Deep Purple was split up from 1977 - 1983.
Discography
Hit singles
1968 'Hush' #4 US
1968 'Kentucky Woman' #38 US
1970 'Black Night' #2 UK
1971 'Strange Kind of Woman' #8 UK
1971 'Fireball' #15 UK
1972 'Never Before' #35 UK
1973 'Smoke on the Water' #21 UK (1977 release), #3 US
1977 'New Live and Rare EP' #31 UK
External links
This biography is published under the
GNU Licence