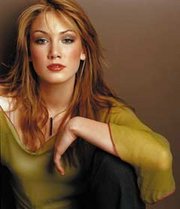 Delta Lea Goodrem (born November 9, 1984 in Sydney) is an Australian musician, singer and actress, who once starred as 'Nina Tucker' on the television soap opera Neighbours.
Delta Goodrem has had an interest in music, acting and sport from a young age, and has appeared in numerous television commercials and television shows in Australia. At the age of seven, Delta appeared in an American commercial for Galoob Toys. Besides Neighbours, Goodrem has also made cameos in Australian television episodes of Hey Dad!, A Country Practice and Police Rescue. As well as singing, Goodrem is a classically-trained pianist and also plays guitar and drums.
Her debut album Innocent Eyes was released March 3, 2003, and has been in the charts at or near the top since, and featured five Australian No 1 singles. Most of the songs were written by Goodrem herself, and highlight her instrumental skills on the piano as well as her voice. Goodrem previously recorded a five track demo EP of self-penned songs before releasing a moderately successful single in November 2001, called 'I Don't Care'. It is now a much sought after collectors item amongst fans.
In the midst of promoting her album, in mid-2003 she announced that she had Hodgkin's lymphoma, a form of cancer, and ceased work to begin treatment for the disease. Luckily, she was cured, and she has to await another ten months to find out whether the treatment was successful. On October 4, 2003, while Goodrem was undergoing treatment, it was announced she was parting ways with her manager, Glenn Wheatley. Goodrem's mother, Lea Goodrem, subsequently replaced Wheatley.
Goodrem capped off a professionally successful, though obviously personally traumatic, year by winning a record seven ARIA awards on October 21, 2003. She broke the previous record of six, held by Natalie Imbruglia. In the first week of December 2003 Innocent Eyes broke John Farnham's Australian record of 25 consecutive weeks at No. 1 (Whispering Jack (1986)). In total, Innocent Eyes has spent 29 weeks at No 1 and tying her with Neil Diamond's Hot August Night (1972), as the second longest charting number one album in Australian history. Her album, Innocent Eyes has gone over 14x platinum in Australia alone, with sales in the United Kingdom reaching a high level as well.
Her DVD entitled Delta has been a huge success in both Australia and the United Kingdom and features many videos depicting her life up until now.
As of January 2004, Goodrem was well enough to attend the 2004 Australian Open at length, where she prominently supported Australian player Mark Philippoussis. She continued her support during the Wimbledon tournament. As of October 2004, however, Goodrem's relationship with Philippoussis was over after Paris Hilton announced to the media that she was Philippoussis' new love interest, much to the surprise of Goodrem and her fans. This was later confirmed by Philippoussis, though he stated that Hilton was not the cause of the break-up. This was suspected, as he didn't attend the 2004 ARIA Awards, at which Goodrem was performing for the first time. Delta has been dating married (but now separated from his wife) ex-Westlife star Brian McFadden since September 2004.
In February 2004 it was announced Goodrem had won the lead role in the Australian comedy film Hating Alison Ashley, the movie based on the novel by Robin Klein. It will be released in March 2005.
Goodrem's second album Mistaken Identity was released on November 7, 2004 and debuted at #1. The first single from it, 'Out of the Blue', debuted at #1 on its first week of release in October 2004. However, her next single in Australia, 'Mistaken Identity' the album track, debuted and has only so far peaked at #7. The album also didn't last very long in the top 10, compared with her debut. In the UK, a different second single was released from the album. 'Almost Here', a duet with Brian McFadden, who had already been successful being part of Westlife, pushed the single up to debut at #3, her chart best equal with 'Born to Try'. In December 2004, Goodrem announced she was planning to relocate to the United States in an attempt to break into the US market. Goodrem also appeared on the North American soap opera North Shore.
Discography
'I Don't Care' - (2001) Australia #64
'Born to Try' - (2002) Australia #1, UK #3
'Lost Without You' - (2003) Australia #1, UK #4
'Innocent Eyes' - (2003) Australia #1, UK #9
'Not Me, Not I' - (2003) Australia #1, UK #18
'Predictable' - (2003) Australia #1
'Out of the Blue' - (2004) Australia #1, UK #9
'Mistaken Identity' - (2005) Australia #7
'Almost Here' (duet with Brian McFadden) - (2005) UK #3
Delta - (2003) Australia #1
External links
This biography is published under the
GNU Licence