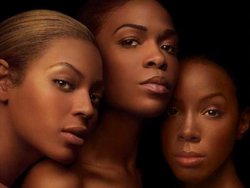 Destiny's Child is an American R&B and pop group. Originally a duo and later a quartet, the group is today a trio, whose members are Beyoncé Knowles, Kelly Rowland and Michelle Williams. The Grammy-winning group has sold more than 40 million records worldwide, making them the world's best-selling female pop vocal group of all time; and solo recordings, by all three members, now bring that total to over 50 million.
Early career
Destiny's Child were formed in Houston, TX, in 1990, when original members Beyoncé Knowles and LaTavia Roberson were just nine years old; the two met at an audition and became friends, and Knowles' father Matthew set about developing an act based on their singing and rapping, under the name GirlTyme. Later Tina Knowles, Beyonce's mother took their name from a passage in the Book of Isaiah. Kelendria 'Kelly' Rowland joined the group in 1992, and shortly thereafter they landed an appearance on Star Search, where they performed a rap song. The quartet's lineup was finalized (for the time being) when LeToya Luckett joined in 1993, and they spent the next few years working their way up from the Houston club scene, eventually opening for popular R&B artists like SWV, Dru Hill, and Immature. In 1997, Destiny's Child was offered a recording contract by Columbia Records.
Destiny's Child (1998)
The group made their recording debut with 'Killing Time,' which appeared on the soundtrack for the 1997 blockbuster, Men In Black. Destiny's Child released their self-titled debut album to mixed reviews on February 17, 1998. The album's first single, 'No, No, No' featured two completely different versions of the same song. 'No, No, No Pt.1' and 'No, No, No Pt.2' were both released simultaneously, however, Part II was considered a 'remix' version of Part I. 'No, No, No Pt.2' featuring The Fugees member Wyclef Jean, quickly climbed to No.1 on the Billboard R&B chart and No.3 Pop. The blockbuster single sold over 1 million copies, turning the group into an instant R&B music sensation. However, follow-up singles 'With Me Pt.1' (which also had two different versions) and 'Get On The Bus' failed to reproduce the blockbuster success of 'No, No, No.' Destiny's Child eventually went Platinum after later success. Expectations weren't high for the group's second album, as most industry critics considered them to be another disposable R&B girl-group with one-hit wonder status.
The Writing's On The Wall (1999)
Destiny's Child re-entered the studio quickly, bringing in an impressive lineup of talented producers, including Kevin 'She'kspere' Briggs, Rodney Jerkins, Dwayne Wiggins, Chad Elliot, Daryl Simmons and Missy Elliott. Critics were generally positive about the album. Music critic Stephen Thomas Erlewine wrote 'The Writing's On The Wall... an assured step forward for the girl group. Not only are they maturing as vocalists, they are fortunate to work with such skilled, talented producers... who all give the quartet rich, varied music upon which to work their charm.' Lead single 'Bills, Bills, Bills' became the group's first No.1 pop hit (and second R&B No.1) in the summer of 1999, and paced by its success, the accompanying album, The Writing's on the Wall, entered the charts at No.6 upon its release on July 27, 1999. The second single, 'Bug-a-Boo' hit the Top 40 pop charts, while its music video received heavy rotation on MTV and BET. Buoyed by the group's breakout success, two of its original members, Letoya Luckett and LaTavia Roberson, attempted to split with manager Mathew Knowles, charging that he kept a disproportionate share of the band's profits, attempted to exert too much control, and unfairly favored his daughter and niece. While they never intended to leave the group, relations naturally grew strained, and when the video for 'Say My Name' premiered in February 2000, many fans (not to mention Roberson and Luckett) were surprised to find two new members — Michelle Williams and Farrah Franklin — joining Knowles and Rowland. Infuriated, Roberson and Luckett took legal action in March, suing both Knowles and their former bandmates for breach of partnership and fiduciary duties. A war of words followed in the press; meanwhile, Destiny's Child became a pop-cultural phenomenon. 'Say My Name' was the group's most irresistible and biggest single to date, becoming the group's third No.1 single. The abrupt membership changes within the group seemed to only heighten the group's visibility, finally separating them from the endless pack of teen R&B starlets. In June 2000, the album's fourth single, 'Jumpin' Jumpin'' became a Top 5 hit, however, another departure came from the ever-evolving girl-group. Farrah Franklin, who had replaced an original member just five months prior, left the group for various personal reasons. This split was less controversial, while The Writing's On The Wall would eventually sell a massive 9 million copies by the end of summer. In the meantime, toward the end of 2000, Roberson and Luckett dropped the portion of their lawsuit aimed at Rowland and Knowles in exchange for a settlement, though they continued to pursue action against Knowles' father; as part of the agreement, both sides were prohibited from attacking each other publicly.
'Independent Women'
Now reduced to a trio, Destiny's Child was tapped to record the theme song for the film version of Charlie's Angels; released as a single in October, 'Independent Women, Pt. 1' raced up the charts and spent an astounding 11 consecutive weeks at number one. Destiny's Child were now indisputable superstars, among the biggest female pop groups, and they quickly began work on a new album to capitalize on their success. In the meantime, Destiny's Child won 2 Grammy awards for 'Say My Name,' including Best R&B Vocal Performance by a Duo or Group and Best R&B Song. While speaking with MTV.com, Rowland had this to say about the upcoming album: 'I know everybody can relate to this album — it's very diverse and inspiring. The year 2000 was very challenging, and I know that gave Beyoncé a lot of inspiration to write songs for the album. We cannot wait for everybody to hear it. It's so empowering for a lot of people who have already heard a little bit of it.'
Survivor (2001)
Beyoncé had long since emerged as the group's focal point, and on the third Destiny's Child album, she assumed more control than ever before, taking a greater hand in writing the material and even producing and co-writing the entire album. 'We're excited about the album,' Knowles told MTV News shortly before the album's release. She adds,'...I got a chance to co-write and produce all of the songs.' 'And she did an incredible job,' the group's Kelly Rowland added. 'But everybody is a part of the music,' Knowles said. 'Everybody is singing lead on every song, and it's so great — because now Destiny's Child is at the point vocally and mentally that it should be at. It's just great to be a part of this group.' Survivor — whose title was reportedly inspired by a DJ's crack about Destiny's Child members voting one another off the island, much like the popular CBS reality series Survivor — hit stores in the spring of 2001, and entered the charts at number one, selling over 663,000 copies in its first week sales (the highest ever for a girl-group.) The first two singles, 'Survivor' and 'Bootylicious', were predictably huge hits, with the latter becoming the group's fourth No.1 pop single. A cover of Andy Gibb's 'Emotion' was also successful, becoming a Top 10 pop hit. Survivor sold well — over four million copies — but not as well as its predecessor. Toward the end of the year, the group released a holiday album, 8 Days of Christmas, and announced plans for a series of side projects, including solo albums from all three members (to be staggered over the next year and a half, so as to avoid competition). In early 2002, a remix compilation titled This Is the Remix was released to tide fans over.
Solo projects
Michelle Williams
Williams became the first member of Destiny's Child to have a solo project released. "Heart To Yours," a contemporary gospel collection that reached No.1 on the Top Gospel Albums chart. Her second gospel album, Do You Know reached the No. 2 slot on the Top Christian Album chart and No. 3 on the Top Gospel Albums chart shortly after its release in January 2004.Williams also earned rave reviews after replacing Toni Braxton in the lead role of 'Aida' on Broadway in November 2003.
Kelly Rowland
In October 2002, Rowland's solo debut, Simply Deep featured the No.1 Billboard Hot 100 smash hit, 'Dilemma,' a Grammy-winning (Best Rap/Sung Collaboration) duet with hip-hop superstar Nelly. The album became an international smash, hitting the No.1 slot on the U.K. and several other countries' album charts while peaking in the U.S. at No.3 on the Billboard Top R&B/Hip-Hop Album chart. In 2003, Rowland made her feature film debut in the box-office smash 'Freddy Vs. Jason'.
Beyoncé Knowles
In 2002, Knowles co-starred with Mike Myers in the box-office blockbuster Austin Powers in Goldmember. She recorded a single for its soundtrack called 'Work It Out.' However, her breakout solo success has eclipsed the other two Destiny's Child members. Her 2003 solo debut, Dangerously In Love, debuted at No.1 and sold over 5 million copies worldwide. It yielded the No.1 hits 'Crazy In Love' featuring hip hop superstar Jay-Z and 'Baby Boy' featuring Sean Paul. She's also dating Jay-Z, although their much talked about romance remains a mystery to most. Both Knowles and Jay-Z refuse to comment on the relationship. In September 2003, Knowles co-starred in her second feature film, The Fighting Temptations alongside Oscar winner Cuba Gooding Jr. In 2004, Knowles won 5 Grammy awards for Dangerously In Love. She recently landed a role in a remake of The Pink Panther with Steve Martin.
Destiny Fulfilled (2004)
After three years apart, achieving individual success in movies, on Broadway, endorsements and with solo albums, the three women of Destiny's Child have reunited with a brand new album, Destiny Fulfilled. An upcoming world tour, sponsored by McDonald's, 'Destiny Fulfilled and I'm Lovin' It', will hit over 75 cities worldwide. Their latest CD, Destiny Fulfilled was executive produced and co-written by all three members. 'Lose My Breath,' the album's first single, produced by Rodney Jerkins, became the group's ninth Top 10 pop hit. The album was released in November 2004. The second single, 'Soldier' featuring rappers T.I. and Lil Wayne quickly entered the Top 10, peaking at No.3 in February 2005becoming the groups 10th top 10 pop hit. Despite recieving worldwide mixed reviews, Destiny Fulfilled was certified 3x Platinum in early 2005. The album's third US single is 'Cater 2 U,' while the international release is 'Girl'.
Discography
'Destinys Child' (1998) #45 UK #67 US
'The Writings On The Wall' (1999) #10 UK #5 US
'Survivor' (2001) #1 UK #1 US
'8 Days Of Christmas' (2001) #34 US
'This Is The Remix' (2002) #25 UK
'Destiny Fulfilled' (2004) #5 UK #2 US
Albums: Group and Solo
This biography is published under the
GNU Licence