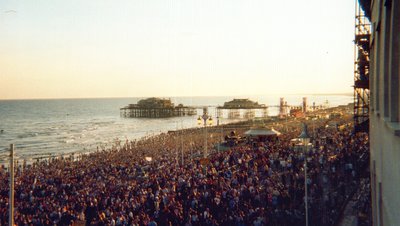 Fatboy Slim (born on July 16, 1963, Quentin Cook) also known as Norman Cook is a British musician in the dance music genre. His style is known as 'big beat', a combination of hip hop, techno, rock, and rhythm and blues. He stopped using 'Quentin' and began calling himself 'Norman' long before he adopted any other pseudonym.
Cook grew up in Reigate, Surrey, and was educated at Reigate Grammar School. He started a punk fanzine as a teenager and at sixth-form college met Paul Heaton. At 18, Cook went to university to study a BA in English, Politics and Sociology. Although he had begun DJ-ing some years before, it was at this time that he began to develop his skills on the thriving Brighton club scene. In 1985 he was diverted by a call from an his old friend, Paul Heaton. Heaton had moved to Hull and had formed a guitar band called The Housemartins. The Housemartins' bassist had just quit on the eve of their first national tour and, although Cook had lost interest in the rock scene and could barely play a musical instrument, he agreed to move to Hull to join them. The band soon had a hit single with 'Happy Hour' and they reached number one just before Christmas 1986 with a version of 'Caravan of Love', but by 1988 they had split up. Heaton and the band's drummer Dave Hemingway went on to form The Beautiful South, while Cook moved back to Brighton to pursue his interest in the style of music he preferred. It was at this time that he first started working with young studio engineer Simon Thornton, with whom he still makes records with to this day, some 16 years later. All records released from that point onwards have involved the both of them to varying degrees (Thornton is credited in 2004 as 'Executive Producer' for example)
Cook formed Beats International, a loose confederation of studio musicians including vocalists Lindy Layton and Lester Noel, rapper MC Wildski, and keyboardist Andy Boucher. Their first album, Let Them Eat Bingo (included the Number 1 single, 'Dub Be Good to Me'). 'Dub Be Good To me' caused a legal dispute revolving around allegations of infringement of copyright through the liberal use of unauthorised samples: the bassline was a note-for-note lift from the Clash's 'The Guns Of Brixton' and the song also borrowed heavily from the S.O.S. Band's 'Just Be Good To Me'. The 1991 follow-up album Excursion on the Version, an exploration of dub and reggae rhythms, failed to repeat the success of its predecessor.
Cook now formed Freakpower, with horn player and singer Ashley Slater. The duo released their debut album, Drive Thru Booty, in 1994, which contained the single 'Turn on Tune in Cop Out'. The cut was picked up by the Levi's company for use in a multimillion-dollar ad campaign.
In 1995, Cook enlisted help from producer friends Tim Jeffery and JC Reid to create a solo album, Pizzaman. The album featured one track ('Happiness') that was picked up by the Del Monte corporation for use in a UK fruit juice ad. Cook then re-joined Ashley Slater for the second Freakpower album, titled Everything for Everybody, in 1996.
Later that same year, Cook adopted the alter-ego pseudonym 'Fatboy Slim' and began frequenting the Brighton club The Big Beat Boutique. While DJing at the club, Cook befriended the Chemical Brothers, who suggested that he work on his own material instead of sticking to DJing.
The Fatboy Slim album Better Living Through Chemistry, released through Skint Records marked Cook's emergence into the big time. Filled with retro samples and funk-laden grooves, the album was among the first in the then-new big beat sound. It also spawned one Top 10 UK hit, 'Everybody Needs a 303'. After Cook's remix of Cornershop's 'Brimful of Asha' topped the charts, such musical heavy hitters as Madonna and U2 asked him to produce for them.
Fatboy Slim's next work was the single 'The Rockafeller Skank,' which was released prior to the album You've Come a Long Way, Baby, both of which came out in 1998 to rave reviews. This album also produced the single 'Praise You', which also became a major dance hit, and whose video won numerous awards. Further Fatboy Slim works have appeared in movies, television series, and more ads.
Halfway Between the Gutter and the Stars was released in 2000 and featured two collaborations with Macy Gray. It also included 'Sunset (Bird of Prey)', a slower tempo piece based around a sample of Jim Morrison from The Doors, and 'Weapon of Choice', which also boasted an award-winning video.
Cook was recently awarded a star on the city of Brighton's Walk of Fame, next to that of Winston Churchill. He married TV personality ZoŽ Ball in 1999; the couple have one son. He is also a minority owner of the football club he has supported from childhood, Brighton & Hove Albion.
In 2002, Q magazine named Fatboy Slim in their list of the '50 Bands To See Before You Die'.
In 2004, Cook released two remixes in June and July, based on Max Sedgley's 'Happy' and 'Follow Me Follow Me (Quem Que Caguetou)' by Tejo Black Alien & Speed. The latter, a Brazilian breakbeat song, became popular after having appeared on the Nissan X-Trail advert (portraying a more extreme type of marathon). Fatboy Slim's remix was then used in the advert itself. His first album in four years, Palookaville, was also announced in July. Cook's next studio album was confirmed for release on 4th October in the UK (Skint records) and 5th October for the US (Astralwerks). In the UK, Radio 1 got an exclusive play of the first single 'Slash Dot Dash', while in the US 'The Joker' (a collaboration with Bootsy Collins) had been exclusively aired. The song was appearing on the radio and was made quickly available on iTunes months ahead of the album release.
Palookaville represented a significant shift in style for Cook, with a reduction in the traditional Fatboy Slim reliance on vocal loops, and the introduction of real instruments (Cook himself plays bass on some of the album's tracks, with Simon Thornton playing various other instruments, along with various guests i.e. Justin Robertson) and more conventional song structures. More 'traditional' Fatboy Slim tracks such as Jin Go Lo Ba coexist with full-length vocal tracks such as a rendition of the Steve Miller Band's The Joker. There were also many more vocal collaborations, including with the rapper Lateef and Brighton-based band Johnny Quality.
Discography
External links
This biography is published under the
GNU Licence