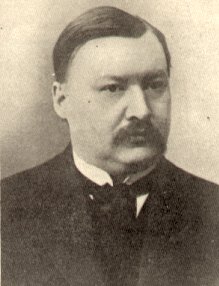 Alexander Konstantinovich Glazunov (or Glazounov) (August 10, 1865 – March 21, 1936) was a Russian composer, as well as an influential music teacher.
Glazunov was born in St. Petersburg. He studied music under Nikolai Rimsky-Korsakov.
The first of his 8 symphonies premiered in 1882 when Glazunov was 16 years old. His popular Stenka Razin was also a youthful work.
Glazunov also wrote 3 ballets.
Glazunov left Russia in 1928. He toured Europe and the United States. He died in Paris.
He was a great friend of Nikolai Rimsky-Korsakov and was a member of the 'Five' (five great composers in Russia- Borodin, Rimsky-Korsakov, Mussorgsky, Cui, and himself.) He came to be acknowledged as a great prodigy in his field, and with the help of his mentor and friend Rimsky-Korsakov, finished some of Alexander Borodin's great works, the most famous being The Opera Prince Igor. They also edited a very famous piece by Borodin, a part of the Prince Igor Opera, The Polovtsian Dances.Glazunov is still remembered as a very famous composer.
This biography is published under the
GNU Licence