Gustav Holst

Artist:
Gustav Holst
Born:
September 21, 1874, , Cheltenham, United Kingdom
Died:
May 25, 1934,, London, United Kingdom
Summary:
Gustav Theodore Holst was an English composer, arranger and teacher. Best known for his orchestral suite The Planets, he composed a large number of other works across a range of genres.

Popular Sheet Music:
on 8notes.com




Gustav Holst Biography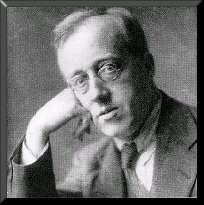 Gustavus Theodore von Holst (September 21, 1874 – May 25, 1934) was an English composer with Latvian (and some Spanish) roots.
Born in Cheltenham, where he was educated at Pate's Grammar School, he went on to study at the Royal College of Music in London. His best-known work is probably his orchestral suite The Planets, completed in 1916, although the composer himself did not count it as one of his best creations and later often complained that other works were completely eclipsed by it. The Planets (1914–1916) was partly inspired by meditations on his own horoscope/natal chart and dealt with the 'seven influences of destiny and constituents of our spirit.' Holst was especially influenced by a 19th-century astrologer called Raphael, whose book concerning the planets' role in world affairs led Holst to develop the grand vision of the planets that made The Planets such an enduring success.
Holst's relatively small output for the wind band guaranteed him a position as the medium's cornerstone, as seen in innumerable present-day programmes featuring his two Suites for Military Band.
His one work for brass band, A Moorside Suite, remains an important part of the brass band repertoire.
Like many composers, Holst also played a musical instrument, in his case the trombone (a choice dictated by a medical condition that robbed him of the manual dexterity required for more obvious instruments such as the piano).
From 1933 Holst suffered from severe stomach problems. On May 25, 1934 he died of complications, following surgery in London. He is buried in Chichester Catherderal, West Sussex.
His daughter Imogen Holst was also a composer and conductor.
Other works
The Mystic Trumpeter (1904)
A Somerset Rhapsody (1907)
First Suite for Military Band in Eb (1909)

Chaconne
Intermezzo
March

Beni Mora (Oriental Suite) Op.29 No.1 (1909 – 1910)

First Dance
Second Dance
Finale

Two Eastern Pictures (1911)
Second Suite for Military Band in F (1911)

March: Morris Dance, Swansea Town, Claudy Banks
Song Without Words 'I'll Love my Love'
Song of the Blacksmith
Fantasia on the 'Dargason'

Psalm 86 H.117 No.2 (Psalmo 86), (1912)
Choral Hymns from the Rig Veda (1908 – 1912)

First Group (for women's chorus and orchestra) (H.96)

Battle Hymn
To the Unknown God

Second Group (for chorus and orchestra) (H.98)

To Varuna (God of the Waters)
To Agni (God of Fire)
Funeral Chant

Third Group (for women's chorus and harp) (H.99)

Hymn to the Dawn
Hymn to the Waters
Hymn to Vena (Sun rising through the mist)
Hymn of the Travelers

Fourth Group (for men's chorus and orchestra (H.100)

Hymn to Sama (the juice of an herb)
Hymn to Manas (the spirit of a dying man)

Two Eastern Pictures (for women's voices and harp) (H.112)

Spring
Summer

St. Paul's Suite Op.29 No.2 (Finale is another arrangement of 4th movement in Second Suite) (1913)

Jig
Ostinato
Intermezzo
Finale (The Dargason)

Hymn to Dionysus Op.31 No.2(H.116) (1913)
The Hymn of Jesus (1917)
Ode to Death 1919
Short Festival Te Deum (H.145) (1919)
The Perfect Fool Op.39 opera (1918–1922)
At the Boar's Head (1924)
Egdon Heath, (1927)
A Moorside Suite (1928)

Scherzo
Nocturne
March

The Wandering Scholar opera, (1929 – 1930)
Hammersmith: Prelude and Scherzo (1930)
Lyric Movement (1933)
Brook Green Suite (H.190) (1933)

Prelude
Air
Dance
External link
This biography is published under the
GNU Licence
Items to buy by Gustav Holst
| | |
| --- | --- |
| | The Planets - Full Score By Gustav Holst (1874-1934). For full orchestra and double SSA chorus. Full Orchestra (Full Score). Dover Edition. 20th Century. Full score. Full score notation. 192 pages. Published by Dover Publications |
| | |
| --- | --- |
| | "First Suite In Eb For Military Band, Op. 28, No. 1" "(for Military Band). By Gustav Holst (1874-1934). Edited by Colin Matthews. For military band (Full Score). Boosey & Hawkes Concert Band. Classical Period. Full score. Opus 28, No. 1; H. 105. 48 pages. Duration 10m. Boosey & Hawkes #M060052521. Published |
| | |
| --- | --- |
| | Second Suite in F (Revised) (Full Score). By Gustav Holst (1874-1934). Arranged by Colin Matthews. Score. Boosey & Hawkes Concert Band. Softcover. 56 pages. Boosey & Hawkes #M060052569. Published by Boosey & Hawkes |
| | |
| --- | --- |
| | First Suite in E Flat (Revised) By Gustav Holst (1874-1934). Arranged by Colin Matthews. Score. Boosey & Hawkes Concert Band. Softcover with CD. 48 pages. Boosey & Hawkes #M051661473. Published by Boosey & Hawkes |
| | |
| --- | --- |
| | "O God, Beyond All Praising" "By Gustav Holst (1874-1934). Arranged by Richard Proulx. For SATB choir and organ accompaniment. Concertato Series. 20th Century and Sacred. Easy. Vocal score. Vocal score notation, lyrics and organ accompaniment. 8 pages. Published by GIA Publications" |
| | |
| --- | --- |
| | St. Paul's Suite By Gustav Holst (1874-1934). Score & Parts. Orchestra. Grade 3-4. G. Schirmer #OR42901. Published by G. Schirmer |
| | |
| --- | --- |
| | "4 Songs for Voice and Violin, Op. 35" By Gustav Holst (1874-1934). For Violin and Voice (High Voice). Music Sales America. Romantic. 8 pages. Chester Music #CH03853. Published by Chester Music |
| | |
| --- | --- |
| | The Evening Watch "By Gustav Holst, poem by Henry Vaughan. Edited by Imogen Holst. Choir Secular. SATB choir. Choral Octavo; Masterworks. Faber Edition. 20th Century; Masterwork; Romantic. Published by Faber Music" |
| | |
| --- | --- |
| | In The Bleak Midwinter "(For Chorus of Mixed Voices with Piano or Organ). By Gustav Holst (1874-1934). Arranged by Albin C Whitworth. SATB chorus. For SATB, Piano, Organ, Alto Solo. Choral. Piano reduction/vocal score. Standard notation. 7 pages. Published by Carl Fischer" |
| | |
| --- | --- |
| | First Suite in E Flat (Revised) (for Military Band). By Gustav Holst/ed. Colin Matthews. Score & Parts. Boosey & Hawkes Concert Band. Grade 4. Softcover. 512 pages. Boosey & Hawkes #M060052538. Published by Boosey & Hawkes |
| | |
| --- | --- |
| | Nunc Dimittis "By Gustav Holst (1874-1934). Arranged by Desmond Ratcliffe. For SATB Choir (SATB). Music Sales America. Sacred, 20th Century, Choral. 16 pages. Novello & Co Ltd. #NOV290459R. Published by Novello & Co Ltd." |
| | |
| --- | --- |
| | Second Suite in F "By Gustav Holst (1874-1934). Arranged by Dave Sabourin. Brass Quintet. For 2 trumpets, horn in F, trombone, tuba. British Military Band. Advanced. Full score & set of parts. Published by Cherry Classics" |
| | |
| --- | --- |
| | Christmas Day "By Gustav Holst (1874-1934). For SATB Choir, Organ (SATB). Music Sales America. Christmas, 20th Century, Choral. 16 pages. Novello & Co Ltd. #NOV290129R. Published by Novello & Co Ltd." |
| | |
| --- | --- |
| | Brook Green Suite By Gustav Holst (1874-1934). Orchestra. Grade 3-4. G. Schirmer #OR45354. Published by G. Schirmer |
| | |
| --- | --- |
| | The Planets By Gustav Holst (1874-1934). Arranged by Douglas E. Wagner. Concert Band. Concert Band; Masterworks; SmartMusic. Belwin Young Band. Form: Transcription. 20th Century; Masterwork Arrangement; Romantic. Grade 2. Conductor Score & Parts. 240 pages. Published |
| | |
| --- | --- |
| | "Fugal Concerto Op. 40, No. 2" "(Flute, Oboe and Piano). By Gustav Holst (1874-1934). For Flute, Oboe, Piano Accompaniment. Music Sales America. Classical. 18 pages. Music Sales #NOV120060. Published by Music Sales" |
| | |
| --- | --- |
| | In the Bleak Midwinter "By Gustav Holst (1874-1934). Arranged by Brad Printz. For Handbells, Percussion, Windchimes (2-part). Choral music. Christmas, Classics, Hymntune, Sacred. Print Music Single (2-part Mixed). 12 pages. Published by Hope Publishing Company" |
| | |
| --- | --- |
| | A Holst Christmas "(Featuring: In the Bleak Midwinter / Lullay My Liking / excerpts from ""Christmas Day""). By Gustav Holst (1874-1934). Arranged by Douglas E. Wagner. Orchestra. Full Orchestra; Part(s); Score. Belwin Intermediate Full Orchestra. Form: Medley. 20th Centur |