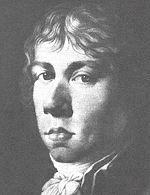 Johann Nepomuk Hummel or Jan Nepomuk Hummel (14 November 1778 – 17 October 1837) was an Austrian composer and virtuoso pianist of Slovak origin. His music reflects a transition from the Classical to the Romantic musical era.
JOHANN NEPOMUK HUMMEL was born in Bratislava in 1778 and died in Weimar in 1837. A child prodigy and pupil of Mozart for two years, he became one of the most brilliant virtuoso pianist-composers of the following generation. A dazzling performer, Hummel was regarded by Chopin - whose style he influenced - as the equal of Mozart and Beethoven. He was especially famous as an improviser. Schubert wished to dedicate his last three sonatas to Hummel whose music links the classical and romantic periods.
Besides the well-known Trumpet Concerto and Septet in D Minor, more of Hummel's music is currently enjoying a long-overdue revival. His little-known piano concertos – nine in all including the double concerto for piano and violin – are now attracting the attention they deserve. Recordings of these by Stephen Hough and Howard Shelley (Chandos) reveal to the modern listener the combination of brilliance and beauty that made them once so popular. Hough's recent recording of Hummel's F sharp minor Sonata (Hyperion) is undoubtedly an event of considerable musical importance. The seven piano trios played by the Trio Parnassus well repay renewed attention, especially the Opus 83 (Dabringhaus und Grimm).
If Hummel's keyboard skills are very evident in the A minor and B minor Concertos, and the F sharp minor Sonata (described by Schumann as 'an epic, titanic work'), his choral accomplishments are of no mean order. The five symphonic Masses date from 1804 when Hummel succeeded Haydn at the Esterhazy court. Owing much to Mozart and Haydn, Hummel remains his own man. His part writing reveals a rare poetic sensitivity and his stylistic individuality is soon apparent. His lyricism anticipates the melodic flow of Schubert. Currently being rescued from unjust oblivion, his refreshing works deserve a more prominent place in the classical repertoire.
Hummel uses the traditional Mass text of biblical and credal material set by other composers of the period. This form of concert oratorio mass actually followed the Protestant treatment inaugurated by J. S. Bach, a practice which was eventually forbidden to Roman Catholic composers by Pope Pius X in 1903. This Protestant text omits the unbiblical prayer for the dead used in the requiem mass ('dona eis requiem') in favour of a prayer for the living ('dona nobis pacem').
Chandos are engaged on the Hummel mass series with Richard Hickox and Collegium Musicum 90. The D major, op. 111, B flat major, op. 77 and E flat major, op. 80 works have already been released. Earlier this year Naxos issued the Missa Solemnis and the Te Deum, works calculated to arouse further interest in this long-neglected composer.
A recent CD from Weimar makes further fascinating listening. 'Hummel Variationen & Fantasien' (Deutsche Schallplatten DS 1093-2) includes the Fantasie für Klavier und Orchester, op. 116, 'Oberons Zauberhorn'. This striking yet charming five-movement work includes a vivid musical depiction of a storm at sea. For drama and tension - one might say tsunami-like hysteria - Hummel more than matches Beethoven here! Clearly the composer had the ability to be highly unconventional despite his ill-deserved reputation for superficial salon music. The Overture 'Mathilde von Guise' provides another specimen of Hummel's purely orchestral compositions, all the more interesting in view of the absence of the symphony from his works.
Dr Alan C. Clifford (updated 20 January 2005)
More details at http://www.naxos.com/composer/hummel.htm
---------------------------------------------------------------
My Favorite Hummel Recordings
by Marianne Fleurimont (Jan. 11, 2005)
I would like to add to Dr. Clifford's excellent contribution a list of Hummel CDs/recordings worth trying.
1) Works for Violin & Fortepiano (Sonata op. 50 in D, Sonata op. 5 in Eb, Nocturne op. 99)
Ralph Holmes (Stradivarius violin), Richard Burnett (Graf fortepiano) Amon Ra Records 1983, England
This is in my opinion one of the best Hummel recordings ever. Mr. Burnett and Mr. Holmes play with all the daring of excellent amateurs, putting power and life into Hummel's music without any professional inhibitions that often break more than spur on Hummel's temper and originality. Their instruments are simply amazing!-- and there are a few instrumental surprises!
2) Piano Trios 1, 5, 7 (Op. 12, 83, 96)
Borodin Trio: Rostislav Dubinsky (violin), Laszlo Varga (cello), Luba Edlina (piano) Chandos Records 1997, England
This is by far the best Hummel trio recordings ever: combining virtuosity, fire, expression, wit, and tenderness. Parnassus is good, but often places virtuosity over expression. Beaux Arts play technically perfect, but are too sweet and classical in playing, suiting more Haydn than Hummel. Unfortunately, with the death of the violinist Dubinsky, the Borodin Trio can no longer finish their Hummel recordings.
3) Piano Quintet Op. 87 in E flat minor
Sestetto Classico MDG Gold 1996, Germany (Also on CD: Bertini, Grand Sextuor op. 90)
When it comes to the piano quintet, many bad recordings are on the market. Since Hummel is perceived (wrongly) to be a second rate composer, it seems second rate musicians believe him to be within their domain... to the detriment of both parties. Hummel requires technical and artistic perfection, and second rate musicians will never do Hummel justice, nor Hummel second rate musicians. Sestetto Classico (Being excellent musicians) give here a fiery and intelligent interpretation of Hummel that would have made Hummel proud. It was this CD that hooked me on Hummel, and I don't regret the day I brought it home!
4) Concerto for Piano and Violin in G Major
Sergej Krylov (violin) Stefania Mormone (piano) Südwestdeutches Kammerorchester Pforzheim, Vladislav Czarnecki (conductor) Agora Musica 1999, Italy (Also on CD: Haydn and Viotti double concerts)
Although this is not the best version, this is the best version available. The best version of the Double Concert of Hummel is by Martin Galling and Susanne Lautenbacher with the Stuttgarter Philharmonieker on an old vinyl recording from Tournabout. (The recording has a CD version, however, in a bad sound quality, where the violin no longer sounds at all.) The Krylov-Mormone recording plays true to text, fast, but never faster than the ear can follow, sensitive to Hummel's nuances and wealth of ideas. The Chandos version (Shelley and Shaham plays too fast, faster than the ear can follow, and thus obscuring many intricacies Hummel wrote into his music. The Chandos version also cuts out (I am not sure if they edited the music or they have a different version) notes that are in the other two recordings. This is a worth while CD, not just for Hummel, but for Haydn and Viotti as well.
5) Sonata for Viola and Fortepiano in E flat Major op. 5 n. 3
Grande Sonate for Mandolin and Fortepiano in C Major op. 35 Sonata for Flute and Piano in D major Op. 50 Mandolin Concerto in G Major S. 28 I Solisti di Fiesole
Dymanic Records 1994, Italy
At first, I was annoyed with the historical instruments on this recording. But the more I heard these recordings, the more I loved them. I Solisti di Fiesole gives a delicate sensitive interpretation to Hummel's music, breathing upon it the warmth and innocence of the Italy... which lends pieces such as the mandolin sonata and mandolin concerto a certain southern charm. They play precise and careful, although sacrificing some of Hummel's temper and fire, yet retaining his tenderness and humanity, instead of becoming professionally cold. The happiness and simplicity of the south wafts from these pieces, and gives a whole new interpretation to Hummel's music.
6) Piano Concerto in A minor op. 85
Piano Concerto in C major op. 44
Ivan Palovic, Pavol Kovac (piano)
Slowakische philharmonie, Kammerensemble Bratislava
Ladislav Slovak, Vlastimil Horak (conductor)
Koch Schwann Musica Mundi (OPUS Records) Bratislava 1969/78
While Howard Shelley gives Hummel polish and finish, making Hummel's music elegant, while Martin Galling remain the best interpreter of Hummel on the piano and Mr. Hae-won Chang has several excellent recordings of Hummel sonatas and concertos, the prize for breathtaking sublimity goes to the Bohemians! Hummel came from Bratislava, with his heritage of wild untammed music from the Bohemian forest. Despite the polish Vienna gave him, the music of Hummel never lost its lusty vigor that throbbed in his veins. Here, the Bohemians give us a taste of what Hummel's music should sound like in its uninhibited, wild, honest form: with the wide horizons of the eastern plains, the untamed mountains and dark woods of slovakia, the elemental beauty of a land whose nature dominates with all its majesty bright and dark. This is exhilerating music, powerful music, music without limits. Civilization and elegance are all very nice, but here, we stand face to face with something civilization (and classicism) could not fetter: vigor, life, nature... the seeds of Romanticism without the exaggerations of Romantic neurotics. The only catch: The Bohemians in their honesty and modesty did not provide us with a cadenza... but the beauty of their music more than compensates!
7) Variations op. 54 for Cello and Piano
Sonata for Cello and Piano op. 104 in A Major
Rumi Itoh (piano), Michal Kanka (cello)
Harmonia Mundi 2002, France (Also on CD: Schubert's Arpeggione Sonata D. 821 in A minor)
Of the various Hummel Cello recordings, this is one of the most rewarding. Itoh and Kanka combine excellence of execution with a feeling for nuance, humour, interaction,lyricism, and temper. The cello works of Hummel are among his most beautiful and intelligent.
8) Potpourri (mit fantasie) op. 94 for viola and orchestra in G minor
Adagio and Rondo alla Polacca for violin and orchestra in A major Variations Op. 115 for piano and orchestra in B flat major
Violin Concerto in G major
Howard Shelley (piano/conductor/editor)
James Ehnes (violin/viola)
The London Mozart Players
Chandos Records, 2004, England
This is the first time the Viola potpourri has been recorded in its full orchestration and length. The violin concert is here recorded for the first time (edited by Shelley and Hogger), as well as the Adagio and Rondo alla Polacca. Var. op. 115 has been recorded for Turnabout by Felicia Blumental (which is now available also on CD). The viola potpourri, for all its lightness and reputation as a 'salon' piece, bubbles over with ideas, and Mr. Ehnes plays it wonderfully! Same can be said of the violin concerto. I am grateful to Chandos for having brought this excellent CD on the market.
9) Variationen & Fantasien
Ouverture zur Oper Mathilde von Guise
Arie und Variationen über ein Tirolerlied für Soprano und Ochestre op. 118
Introduction, Thema und Variationen für Oboe und Orchester op. 102
Variationen über O du lieber Augustin für Orchester
Oberons Zauberhorn Fantasie für Klavier und Orchester op. 116
Heike Porstein (soprano), Brigitte Horlitz (oboe), Rolf Dieter Arens (piano)
Thüringisches Kammerorchester Weimar
Martin Hoff (conductor)
Deutsche Schalplatten, 2004, Germany
As Dr. Clifford has already mentioned: this CD contains a wide range of Hummel's music. Oberon's Zauberhorn is a fantasy on Weber's opera of the same name. It is by far the best piece on this CD, with exotic rythmic changes, orchestration, and one of the most evocative music storm scenes I have ever heard... and from a piano at that! Another piece to note is Mathilde von Guise: this piece shows us what a wizard at orchestration Hummel was. It was truely a pity that he never wrote a symphony (some speculate that he was puzzled by Beethoven's.) This is musical fun at its climax, without compromising an inch of musical quality. The third piece to take note (for me, at least) on this recording is the Tirolerlied. Dedicated to the best opera singer of the time, the tirolerlied makes high art (and fun art) out of folksong... be prepared to smile and laugh for mirth! Hummel's life long philosophy had been that music should make people happy, should give joy... not by cheap tricks, but by quality and good will. This one hears in every note Hummel ever wrote.
10) Flute Sonatas (complete)
Sonata in G Major op. 2, no. 2 for flute and piano
Sonata in D Major op. 50 for flute and piano
Sonata in A Major op. 64 for flute and piano
Grand Rondo Brillant in G Major, op. 126 for flute and piano
Trio for Flute, Cello and Piano in A Major, Op. 78
Beautifully played, complete, some of the best music ever written for flute.
Other recordings by artist and recording company:
1) Howard Shelley, London Mozart Players (Chandos)
Howard Shelley took over the Hummel recording projects after Stephen Hough left Chandos. Unlike Hough (who sometimes has technical problems with Hummel, and often interpretational wantings), Shelley is technically up to Hummel's music, and in many cases, play with high artistic expression. Shelley's playing is polished and elegant, refined and delicate when he wants to. His specialties are premier pieces (which he always play with utmost care) and small pieces that he bring to their utmost artistic potential. However, this is not always the case. Sometimes, he plays too fast, drowning out intricate tones for the sake of exhibiting virtuosity In some recordings, his rushed playing makes the music boring because the texture Hummel composed into it can no longer be heard.
Shelley's best recordings are: Piano Works, Piano Concerto in F major, Theme and Variations in F major, Piano concerto in A major, Concerto in A flat, Concertino in G, Gesellschafts Rondo.
The Ballet music for 'Das Zauberglöckchen', Freudenfest Overture also recorded by Shelley and the London Mozart Players for Chandos (On the same CD as the Mandolin and Trumpet concerts) are also brilliant examples of Hummel's skills in using an orchestra.
2) Ian Hobson (Arabesque Recording)
Ian Hobson is one of the best Hummel players. His three CD recording of the complete Hummel sonatas (7) is a treasury of 'serious' music: Hummel experiments in his sonatas much more than in his concert pieces. Here, Hummel in the intimacy of the piano sonata shows us just how modern he was. His F sharp minor sonata was adored by Chopin and Schumann, the later practiced the F sharp minor until he destroyed his own hands.
Hobson's interpretation is more supple, more assured and sane than Stephen Hough's. Whereas Hough reads into the music aggression and violence where none was meant, Hobson brings out the complexity of the music with its fire, temper, fullness, playful wit, and humanity... all with perfect ease and assurance.
3) Guiliana Corni (Dynamic Records)
Corni's three CD recording of Hummel Piano works is outstanding. Of especial interest is Fantasy op. 18, perhaps the most revolutionary piece of music Hummel ever wrote: it caused Beethoven to write his Hammerklavier as a response to this challenge. What Hummel does here is far beyond classical music... in some parts even beyond Romanticism.
Corni's playing is powerful when need be, and sensitive where the music is so.
Hummel was born in Pressburg (now Bratislava), Slovakia and died in Weimar, Germany. His father, Josef Hummel, was the director of the Imperial School of Military Music and the conductor of the Theater Orchestra.
Wolfgang Amadeus Mozart offered Johann music lessons at the age of seven after being impressed with his ability. Hummel was taught by Mozart for two years and made his first concert appearance at the age of nine. He then embarked on a European tour before receiving instruction from Muzio Clementi in London, where he stayed for four years before returning to Vienna. He was then instructed by Johann Georg Albrechtsberger, Joseph Haydn, and Antonio Salieri.
In 1804, he succeeded Haydn as Kapellmeister to Prince Esterházy. He held this post for seven years before being dismissed. Following this, he toured Russia and Europe and married the opera singer Elisabeth Röckel. He later held the position of Kapellmeister at Stuttgart and Weimar.
While in Germany, Hummel published A Complete Theoretical and Practical Course of Instruction on the Art of Playing the Piano Forte. This popular piano method taught a new style of playing. Modern piano music has been influenced by Hummel, through his instruction of Carl Czerny who later taught Franz Liszt. Hummel's influence can also be seen in the early works of Frederic Chopin and Robert Schumann, and the shadow of his B minor concerto can be felt behind Chopin's concerti for the instrument particularly.
External links and references
This biography is published under the
GNU Licence