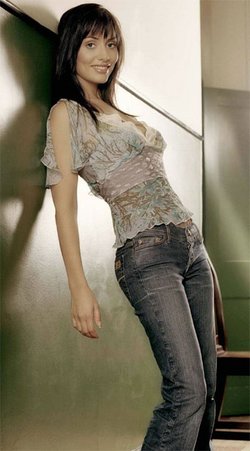 Natalie Jane Imbruglia (born February 4, 1975) is an Australian singer and actress. The second of the four daughters of an Italian father and an Australian mother, Natalie grew up on the Central Coast, north of Sydney. Like Jason Donovan and Kylie Minogue, she also played a role in the soap Neighbours before venturing into a singing career.
Her first single, 'Torn' (1997), reached number 2 in the British charts, and her album Left of the Middle became a million seller. The follow up came in 2001 with the album White Lilies Island. In a 1999 cooperation with singer Tom Jones, she appeared on a track of his album Reload.
Imbruglia returned to acting in 2002 with a supporting role in British spy spoof Johnny English, playing alongside Rowan Atkinson. She married her long-time boyfriend Daniel Johns, lead singer of Silverchair, on December 31, 2003.
Discography
Albums
Singles
'Torn' (27/10/97)
'Wishing I Was There' (23/02/98)
'Big Mistake' (17/04/98)
'Smoke' (16/11/1998)
'That Day' (29/10/2001)
'Wrong Impression' (11/03/2002)
'Beauty On The Fire' (22/07/2002)
'Shiver' (21/03/2005)
Appearances
'Troubled by the Way We Came Together' on Go O.S.T. (1999)
'Never Tear Us Apart' with Tom Jones on Reload (1999)
'Identify' on Stigmata O.S.T (1999)
'Cold Air' on Y Tu Mama Tambien (And Your Mother Too) O.S.T. (2001)
External links
This biography is published under the
GNU Licence