Billy Joel

| | |
| --- | --- |
| Artist: | Billy Joel |
| Born: | May 9, 1949, Bronx, NYC |
| Summary: | William Martin Billy Joel (born May 9, 1949) is an American rock musician, singer-songwriter, and classical composer. He released his first hit song, Piano Man, in 1973. According to the RIAA, Billy Joel is the sixth best-selling recording artist in the United States |




Billy Joel Biography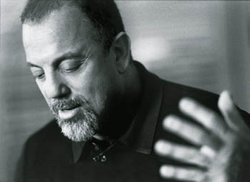 William Martin Joel (born May 9, 1949 in The Bronx, New York), better known as Billy Joel, is a globally-recognized pianist, singer and songwriter. He was married to supermodel Christie Brinkley from 1985 to 1994.
Career
From an early age, Joel had an intense interest in music, especially classical music.
Influences on him include:
Joel joined his first band at age fourteen, and participated in many more since and also played in piano bars under the name 'Bill Martin'. His first solo album, Cold Spring Harbor (a reference to a Long Island town), was released in 1971, and he has been releasing albums ever since. He has also toured successfully with Elton John, playing each other's songs. Billy Joel was inducted into the Rock and Roll Hall of Fame in 1999.
Songwriting
Joel was born in the South Bronx and grew up on Long Island, an affluent region outside of New York City, in a town called Hicksville, New York, and made many references to locations in the New York City metropolitan area, particularly the Island, in his songs. Joel has always relied heavily on his experiences in writing his songs--perhaps the best example is that of 'Piano Man', which he wrote out of playing regularly at a piano bar in the early 1970s.
He also is known for celebrating life in Lehigh County, Pennsylvania, which he tributed in one of his most popular songs, 'Allentown,' released in 1982. The song depicted living in industrial Allentown, Pennsylvania in the early 1980s.
Joel's daughter Alexa also has been a motivation for lyrical content; he penned 'Lullabye' for his daughter. Similarly, his song 'The Downeaster Alexa', combined his love for his daughter with a depiction of the plight of boat captains in the offshore fishing industry. 'Uptown Girl' was a love song about the seemingly mismatched romance between himself and Christie Brinkley, Alexa's mother.
Joel has always had a trusting, open attitude in his relationships, both business and personal. This attitude was manifest as advice in the song 'Tell Her About It', as well as in an expression of his own need in 'Honesty'.
The song 'We Didn't Start The Fire' lists historical events from his birth through the mid-eighties--the first thirty-five years of Joel's life, reflecting Joel's fascination with culture and history. The song 'Leningrad' shows Joel's appreciation for the history of the Soviet Union and the feel of the Cold War in which he was raised. Before Billy went into the music business, He always wanted to become a history teacher and he has a teaching license in NY to teach history.
Joel has recently been returning to his fascination with classical music and has been experimenting in that area. Fantasies and Delusions, his first album of classical pieces, got a tepid response from critics but went to Number One on the classical charts.
Marriages
Joel married his business manager, Elizabeth Weber, in 1971. The marriage ended in divorce in 1982.
Joel went on to marry the recently widowed supermodel Christie Brinkley in 1985. Their marriage produced one child, daughter Alexa Ray Joel in 1986. This marriage also ended with divorce in 1994.
In 2004, Joel married 23 year-old Katie Lee. At the time of the wedding Joel was 54. Joel's daughter, Alexa Ray, 18, served as maid of honor. Joel's ex-wife, Christie Brinkley, attended the union and gave the couple her blessing. Lee is a recent college graduate and restaurant correspondent for the PBS show, 'George Hirsch: Living it Up!'.
Discography
Albums
Cold Spring Harbor (1971) #158 US
Piano Man (1973) #27 US, US sales: 4,000,000
Streetlife Serenade (1974) #35 US, US sales: 1,000,000
Turnstiles (1976) #122 US, US sales: 1,000,000
The Stranger (1977) #2 US, #25 UK, US sales: 10,000,000
52nd Street (1978) #1 US, #10 UK, US sales: 7,000,000
Glass Houses (1980) #1 US, #9 UK, US sales: 7,000,000
Songs in the Attic (Live) (1981) #8 US, US sales: 3,000,000
The Nylon Curtain (1982) #7 US, #27 UK, US sales: 2,000,000
An Innocent Man (1983) #4 US, #2 UK, US sales: 7,000,000
Greatest Hits, Vols. 1 & 2 (1973-1985) (1984) (compilation) #6 US, #7 UK, US sales: 21,000,000
The Bridge (1986) #7 US, #38 UK, US sales: 1,000,000
Storm Front (1989) #1 US, #5 UK, US sales: 4,000,000
River of Dreams (1993) #1 US, #3 UK, US sales: 5,000,000
Greatest Hits, Vol. 3 (1997) (compilation) #9 US, #23 UK, US sales: 1,000,000
The Complete Hits Collection: 1973-1997 (1997) (compilation) US sales: 1,000,000
2000 Years: The Millennium Concert (Live) (2000) #40 US, US sales: 500,000
Fantasies & Delusions (2001) (performed by Richard Joo) #83 US
Ultimate Collection (2001) (compilation) #4 UK
Essential Billy Joel (2001) (compilation) #29 US, US sales: 21,000,000 (as of November 2003, the fifth-best-selling album of all time)
Movin' Out Original Broadway Cast Recording (2002) (performed by the cast of Movin' Out)
Piano Man: The Very Best Of (2004) (compilation)
Hit singles
from Piano Man
from Streetlife Serenade

1975 'The Entertainer' #34 US

from The Stranger

1978 'Just the Way You Are' #3 US, #19 UK
1978 'Movin' Out (Anthony's Song)' #17 US, #35 UK
1978 'Only the Good Die Young' #24 US
1978 'She's Always a Woman' #17 US

from 52nd Street

1978 'My Life' #3 US (1979 release), #12 UK
1979 'Big Shot' #19 US
1979 'Honesty' #24 US

from Glass Houses

1980 'All for Leyna' #40 UK
1980 'It's Still Rock and Roll to Me' #1 US, #14 UK
1980 'Don't Ask Me Why' #19 US
1980 'Sometimes a Fantasy' #36 US
1980 'You May Be Right' #7 US

from Songs in the Attic

1981 'Say Goodbye to Hollywood' #17 US
1982 'She's Got a Way' #23 US

from The Nylon Curtain

1982 'Pressure' #20 US
1983 'Allentown' #17 US

from An Innocent Man

1983 'Uptown Girl' #3 US, #1 UK
1983 'Tell Her about It' #1 US, #4 UK
1983 'An Innocent Man' #10 US, #8 UK (1984 release)
1984 'The Longest Time' #14 US, #25 UK
1984 'Leave a Tender Moment Alone' #27 US, #29 UK (double A-side with Goodnight Saigon in the UK)
1985 'Keeping the Faith' #18 US

from Greatest Hits, Vols. 1 & 2 (1973-1985)

1985 'You're Only Human (Second Wind)' #9 US

from The Bridge

1986 'Modern Woman' #10 US
1986 'This Is the Time' #18 US
1986 'A Matter of Trust' #10 US

from Storm Front
from Honeymoon in Vegas soundtrack

1992 'All Shook Up' #27 UK

from River of Dreams

1993 'The River of Dreams' #3 US, #3 UK
1993 'All About Soul' #29 US, #32 UK
External links
This biography is published under the
GNU Licence
Items to buy by Billy Joel
| | |
| --- | --- |
| | Piano Man "By Billy Joel. For voice, piano and guitar chords. Piano Vocal. Soft Rock and Pop Rock. Difficulty: medium. Single. Vocal melody, piano accompaniment, lyrics, chord names and guitar chord diagrams. 5 pages. Published by Hal Leonard" |
| | |
| --- | --- |
| | The Longest Time By Billy Joel. Arranged by Roger Emerson. For TTBB chorus (a cappella) (TTBB A Cappella). Choral. Soft Rock and Pop Rock. Single piece. 12 pages. Published by Hal Leonard |
| | |
| --- | --- |
| | "Lullabye (Goodnight, My Angel)" "By Billy Joel. For voice, piano and guitar chords. Piano Vocal. Soft Rock and Pop Rock. Difficulty: medium. Single. Vocal melody, piano accompaniment, lyrics, chord names and guitar chord diagrams. 5 pages. Published by Hal Leonard" |
| | |
| --- | --- |
| | The Billy Joel Keyboard Book "(Note-for-Note Keyboard Transcriptions). By Billy Joel. For voice, piano and guitar chords. Keyboard Recorded Versions. Soft Rock and Pop Rock. Difficulty: medium to medium-difficult. Songbook. Vocal melody, piano accompaniment, lyrics, chord names and a |
| | |
| --- | --- |
| | Easy Piano Collection "By Billy Joel. For voice and easy piano. Easy Piano Personality. Pop Rock. Difficulty: easy-medium. Songbook. Easy piano notation, lyrics and chord names. 96 pages. Published by Hal Leonard" |
| | |
| --- | --- |
| | To Make You Feel My Love "By Garth Brooks and Billy Joel. By Bob Dylan. For voice, piano and guitar chords. Music Sales America. Country Pop, Contemporary Country, Folk Rock, Soft Rock and Pop Rock. Difficulty: medium. Single. Vocal melody, piano accompaniment, lyrics, chord name |
| | |
| --- | --- |
| | Best of Billy Joel - Piano Solos By Billy Joel. For solo piano. Piano Solo Personality. Soft Rock and Pop Rock. SMP Level 5 (Intermediate). Songbook. Standard notation and chord names (does not include words to the songs). 80 pages. Published by Hal Leonard |
| | |
| --- | --- |
| | Billy Joel Complete "By Billy Joel. For voice, piano and guitar chords. Piano/Vocal/Guitar Artist Songbook. Soft Rock and Pop Rock. Difficulty: medium. Songbook. Vocal melody, piano accompaniment, lyrics, chord names, guitar chord diagrams and contents by album. 304 pages. P |
| | |
| --- | --- |
| | Billy Joel's Biggest Hits By Billy Joel. For alto saxophone. Chart. Soft Rock and Pop Rock. Difficulty: medium. Instrument solo songbook. Solo melody. 32 pages. Published by Hal Leonard |
| | |
| --- | --- |
| | Root Beer Rag "By Billy Joel. For solo piano and solo guitar (chords only; optional). Piano Vocal. Soft Rock and Pop Rock. SMP Level 8 (Early Advanced). Single. Standard notation, chord names and guitar chord diagrams (does not include words to the songs). 7 pages. Pub |
| | |
| --- | --- |
| | And So It Goes By The King's Singers. By Billy Joel. Arranged by Bob Chilcott. SATB DV A Cappella. King's Singer's Choral. 8 pages. Published by Hal Leonard |
| | |
| --- | --- |
| | And So It Goes "By Billy Joel. For voice, piano and guitar (chords only). Piano Vocal. Rock and Pop Rock. Difficulty: medium. Single. Vocal melody, piano accompaniment, lyrics, chord names and guitar chord diagrams. 6 pages. Published by Hal Leonard" |
| | |
| --- | --- |
| | Piano Man By Billy Joel. For easy piano. Pop; Rock. 5 pages. Published by Hal Leonard - Digital Sheet Music |
| | |
| --- | --- |
| | Fantasies & Delusions "(Music for Solo Piano, Op. 1-10). By Billy Joel. For solo piano. Piano Solo Personality. 20th Century. SMP Level 7 (Late Intermediate). Collection. Standard notation, fingerings and introductory text (does not include words to the songs). 96 pages. Publi |
| | |
| --- | --- |
| | Uptown Girl By Billy Joel. Arranged by Roger Emerson. For TTBB choir and piano accompaniment (TTBB). Hal Leonard Pop Choral Series. Soft Rock and Pop Rock. Octavo. Chord names. 16 pages. Published by Hal Leonard |
| | |
| --- | --- |
| | Billy Joel Complete "By Billy Joel. For voice, piano and guitar chords. Piano/Vocal/Guitar Artist Songbook. Soft Rock and Pop Rock. Difficulty: medium. Songbook. Vocal melody, piano accompaniment, lyrics, chord names, guitar chord diagrams and contents by album. 360 pages. P |
| | |
| --- | --- |
| | Piano Man "By Billy Joel. For piano, voice, and guitar (chords only). Pop; Rock. Piano/Vocal/Guitar. 5 pages. Published by Hal Leonard - Digital Sheet Music" |
| | |
| --- | --- |
| | She's Got A Way "By Billy Joel. For voice, piano and guitar chords. Piano Vocal. Soft Rock and Pop Rock. Difficulty: medium. Single. Vocal melody, piano accompaniment, lyrics, chord names and guitar chord diagrams. 5 pages. Published by Hal Leonard" |
| | |
| --- | --- |
| | She's Always A Woman "By Billy Joel. For voice, piano and guitar chords. Piano Vocal. Pop Rock and Rock. Difficulty: medium. Single. Vocal melody, piano accompaniment, lyrics, chord names and guitar chord diagrams. 6 pages. Published by Hal Leonard" |