| | |
| --- | --- |
| | Elton John |
Elton John Biography
Sir Elton Hercules John, KBE, born Reginald Kenneth Dwight on March 25, 1947, is one of the most successful British pop singers, composers, and musicians.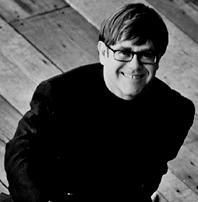 Musical career
Born in Pinner, Middlesex, England, Elton John was educated at Pinner County Grammar School and the Royal Academy of Music, to which he won a scholarship at the age of 11.
Working in a band called Bluesology throughout the mid to late 1960s, Dwight changed his name by deed poll in homage to his fellow 'Bluesologists' Elton Dean (saxophonist) and singer Long John Baldry. He scored his first international hits in 1970 with his eponymous second album, which included one of his best-loved songs, 'Your Song'. His success can partly be attributed to his collaboration with lyricist Bernie Taupin, who has provided the words to John's music for most of his career.
He went on to become one of the most successful recording artists of the 1970s, with globally-successful singles including 'Rocket Man', 'Crocodile Rock', 'Saturday Night's Alright (for Fighting)', 'Goodbye Yellow Brick Road', and 'Bennie and the Jets'. His biggest 1980s hits included, among others, 'I Guess That's Why They Call It the Blues', 'I'm Still Standing', and a 1986 live recording of 'Candle in the Wind' which he recorded with the Melbourne Symphony Orchestra. The song, which was a tribute to Marilyn Monroe, was originally recorded in 1973 on his Goodbye Yellow Brick Road album. In 1997, he updated the lyrics of 'Candle in the Wind' for a special version mourning the death of Diana, Princess of Wales, and this became the fastest selling single of all time.
In 1992 he performed 'Bohemian Rhapsody' and 'The Show Must Go On' with Queen at the Freddie Mercury Tribute concert, an AIDS charity event held at Wembley Stadium, London.
He has also done work both for and in films. In 1971, he wrote original songs for the movie Friends. In 1975, he appeared as the Pinball Wizard in the movie version of the rock opera Tommy. Then, in 1994, he (along with Tim Rice) wrote the songs for the Disney animated film The Lion King (John and Rice subsequently won a Best Original Song Oscar for 'Can You Feel the Love Tonight'). Rice was reportedly stunned by the rapidity with which John was able to set his words to music. Five years later, John wrote the score for The Muse, and a year later composed songs for another animated film, DreamWorks' The Road to El Dorado. In 2001, his 1970s hit, 'Tiny Dancer' was featured on the Almost Famous soundtrack, and his most recent movie song was 'The Heart of Every Girl' (the end title song from 2003's Mona Lisa Smile).
In each of 30 consecutive years, from 1970 through 1999, John appeared with at least one single on the 'Top 40' of Billboard magazine's pop record chart, the 'Hot 100' - a feat unmatched by any other recording artist.
In 2003, he reached number one in the United Kingdom with a rerelease of the single 'Are You Ready For Love' which had been only a minor hit when first released in 1979. In 2004, John expanded his musical theatre repertoire by composing songs for the musical adaptation of Billy Elliot. Later in December of that same year, John received the Kennedy Center Honor for a lifetime of contribution to entertainment.
He continues to release new material to commercial success, and tours extensively, despite being fitted with a pacemaker. His face-to-face tours with fellow pianist Billy Joel have been a fan favourite throughout the world since the mid-1990s.
Personal life
John has had a complicated personal history. Coming out first as bisexual in 1976, he married (1984) and quickly divorced (1988) Renate Blauel. He subsequently stated that he was gay and has lived with his partner David Furnish for a number of years. He has occasionally battled addictions to cocaine and financial difficulties caused by his profligate spending.
In 1976 Elton John became involved in Watford Football Club and fulfilled a childhood dream by becoming chairman and director. He resigned in 2002 when the club needed a full time chairman. He remains lifelong president.
John has long been associated with AIDS charities after the death of his friend Ryan White, raising large amounts of money and using his public profile to raise awareness of the disease. For example, in 1986 he joined with Dionne Warwick, Gladys Knight, and Stevie Wonder to record the single 'That's What Friends Are For', with all profits being donated to the American Foundation for AIDS Research. The song won Grammy awards for 'Song of the Year' and for 'Best Pop Performance, by a Duo or Group'.
Musical style
'Your Song', one of his earliest and most popular hits, incorporates some features found in many of his songs:
1. It is in Binary Form, with the verse repeated before the chorus begins.
2. The piano accompaniment is prominent, though the song also features an orchestra.
3. Another feature of John's style is the use of a slowly-building crescendo that brings the song to a tutti climax. Other songs that follow this pattern include 'Don't Let the Sun Go Down On Me' and 'Rocket Man'.
Quotations
'I've always had a body-image problem. No self-esteem. And that will never leave me.'
Discography
1969 Empty Sky; #6 US (1975 release)
1970 Elton John; #11 UK, #4 US
1971 Tumbleweed Connection; #6 UK, #5 US
1971 Friends; #36 US
1971 11-17-70 live; #20 UK, #11 US
1971 Madman Across the Water; #8 US
1972 Honky Château; #2 UK, #1 US
1973 Don't Shoot Me I'm Only the Piano Player; #1 UK, #1 US
1973 Goodbye Yellow Brick Road; #1 UK, #1 US
1974 Caribou; #1 UK, #1 US
1974 Elton John's Greatest Hits; #1 UK, #1 US
1975 Captain Fantastic and the Brown Dirt Cowboy; #2 UK, #1 US
1975 Rock of the Westies; #5 UK, #1 US
1975 West of the Rockies (live)
1976 Here and There (live); #6 UK, #4 US
1976 Blue Moves; #3 UK, #3 US
1977 Elton John's Greatest Hits - Volume II; #6 UK, #21 US
1978 A Single Man; #8 UK, #15 US
1979 Victim of Love; #35 US
1979 The Thom Bell Sessions; #51 US
1980 21 at 33; #12 UK, #13 US
1980 The Very Best of Elton John; #24 UK
1981 The Fox; #12 UK, #21 US
1982 Jump Up!; #13 UK, #17 US
1982 Love Songs; #39 UK
1983 Too Low for Zero; #7 UK, #25 US
1984 Breaking Hearts; #2 UK, #20 US
1985 Ice on Fire; #3 UK, #48 US
1986 Leather Jackets; #24 UK, #91 US
1987 Live in Australia; #24 US
1987 Greatest Hits Vol. 3 (1979-1987); #84 US
1988 Reg Strikes Back; #18 UK, #16 US
1989 Sleeping With the Past; #1 UK, #23 US
1990 The Very Best of Elton John; #1 UK
1990 To Be Continued... (box set); #82 US
1992 The One; #2 UK, #8 US
1993 Duets; #5 UK, #25 US
1994 The Lion King; #4 UK
1995 Made in England; #3 UK, #13 US
1995 Love Songs; #4 UK, #24 US
1997 The Big Picture; #3 UK, #9 US
1999 The Muse
1999 Elton John and Tim Rice's Aida; #29 UK, #41 US
2000 One Night Only (live); #7 UK, #65 US
2000 The Road To El Dorado; #63 US
2001 Songs from the West Coast; #2 UK, #15 US
2001 Prologue
2002 Live at the Ritz
2002 The Greatest Hits 1970-2002; #3 UK, #12 US
2004 Peachtree Road; #21 UK
2005 Billy Elliot (forthcoming)
2005 The Vampire Lestat (forthcoming)
Hit singles
from 'Friends' soundtrack
from 'Elton John (album)'

1971 'Your Song' #7 UK, #8 US

from 'Honky Chateau'

1972 'Rocket Man' #2 UK, #6 US
1972 'Honky Cat' #31 UK, #8 US

from 'Madman Across the Water'
from 'Don't Shoot Me I'm Only the Piano Player'

1972 'Crocodile Rock' #5 UK, #1 US
1973 'Daniel' #4 UK, #2 US

from 'Goodbye Yellow Brick Road'

1973 'Saturday Night's Alright for Fighting' #7 UK, #12 US
1973 'Goodbye Yellow Brick Road' #6 UK, #2 US

non-album single

1973 'Step into Christmas' #24 UK, #1 US

from 'Goodbye Yellow Brick Road'

1974 'Candle in the Wind' #11 UK
1974 'Bennie and the Jets' #37 UK (1976 release), #1 US

from 'Caribou'

1974 'Don't Let the Sun Go Down on Me' #16 UK, #2 US
1974 'The Bitch is Back' #15 UK, #4 US

from 'Captain Fantastic and the Brown Dirt Cowboy'

1974 'Lucy in the Sky with Diamonds' #10 UK, #1 US
1975 'Philadelphia Freedom' (Elton John Band) #12 UK, #1 US
1975 'Someone Saved My Life Tonight' #22 UK, #4 US

from 'Rock of the Westies'

1975 'Island Girl' #14 UK, #1 US
1976 'Grow Some Funk of Your Own' #14 US
1976 'I Feel Like a Bullet (In the Gun of Robert Ford)' #14 US

non-album single

1976 'Pinball Wizard' #7 UK
1976 'Don't Go Breaking My Heart' (with Kiki Dee) #1 UK, #1 US

from 'Blue Moves'

1976 'Sorry Seems to Be the Hardest Word' #11 UK, #6 US
1977 'Crazy Water' #27 UK
1977 'Bite Your Lip (Get Up and Dance)' #28 UK, #28 US

non-album single

1978 'Ego' #34 UK, #34 US

from 'A Single Man'

1978 'Part Time Love' #15 UK, #22 US
1978 'Song for Guy' #4 UK

from 'The Thom Bell Sessions EP'

1979 'Mama Can't Buy You Love' #9 US

from 'Victim of Love'

1979 'Victim of Love' #31 US

from '21 at 33'

1980 'Little Jeannie' #33 UK, #3 US
1980 '(Sartorial Eloquence) Don't Ya Wanna Play This Game No More' #39 US

non-album single
from 'The Fox'

1981 'Chloe' #34 US
1981 'Nobody Wins' #21 US

from 'Jump Up!'

1982 'Blue Eyes' #8 UK, #12 US
1982 'Empty Garden (Hey, Hey Johnny)' #13 US

from 'Too Low for Zero'

1983 'I Guess That's Why They Call It the Blues' #5 UK, #4 US
1983 'I'm Still Standing' #4 UK, #12 US
1983 'Kiss the Bride' #20 UK, #25 US
1983 'Cold As Christmas/Crystal' #33 UK

from 'Breaking Hearts'

1984 'Sad Songs (Say So Much)' #7 UK, #5 US
1984 'Passengers' #5 UK
1984 'In Neon' #38 US
1984 'Who Wears These Shoes?' #16 US

from 'Ice on Fire'

1985 'Act of War' (with Millie Jackson) #32 UK
1985 'Nikita' #3 UK, #7 US

from 'Friends' (album by Dionne Warwick)

1985 'That's What Friends are for' (Dionne Warwick & Friends feat. Elton John, Stevie Wonder & Gladys Knight) #16 UK, #1 US

from 'Ice on Fire'

1985 'Wrap Her Up' #12 UK, #20 US

non-album-related re-issue

1988 'Candle In The Wind' (re-issue) #8 UK, #6 US

from 'Reg Strikes Back'

1988 'I Don't Wanna Go on with You Like That' #30 UK, #2 US
1988 'A Word in Spanish' #19 US

from 'Sleeping with the Past'

1990 'Sacrifice' (re-issue) #1 UK (double A-side with Healing Hands in the UK), #18 US
1990 'Healing Hands' #13 US
1990 'Club at the End of the Street' #28 US

from 'The Very Best Of Elton John'

1990 'You Gotta Love Someone' #33 UK

non-album single

1991 'Don't Let the Sun Go Down on Me' (George Michael with Elton John) #1 UK, #1 US

from 'The One'

1992 'The One' #10 UK, #9 US
1992 'Runaway Train' (with Eric Clapton) #31 UK
1992 'The Last Song' #21 UK, #23 US
1993 'Simple Life' #30 US

from 'Duets'

1993 'True Love' (with Kiki Dee) #2 UK
1994 'Don't Go Breaking My Heart' (with RuPaul) #7 UK
1994 'Ain't Nothing Like the Real Thing' (Marcella Detroit & Elton John) #24 UK

from 'The Lion King' soundtrack

1994 'Can You Feel the Love Tonight?' #14 UK, #4 US
1994 'Circle of Life' #11 UK, #18 US

from 'Made in England'

1995 'Believe' #15 UK, #13 US
1995 'Made in England' #18 UK
1995 'Blessed' #34 US
1996 'Please' #33 UK

from 'Luciano Pavarotti & Friends for War Child' charity compilation

1996 'Live Like Horses' (with Luciano Pavarotti) #9 UK

non-album single

1997 'Candle in the Wind 97/Something about the Way You Look Tonight' #1 UK, #1 US

from 'Big Picture'

1998 'Recover Your Soul' #16 UK
1998 'If the River Can Bend' #32 UK

from 'Aida soundtrack

1999 'Written in the Stars' (with LeAnn Rimes) #10 UK, #29 US

from 'Songs from the West Coast'

2001 'I Want Love' #9 UK
2002 'This Train Don't Stop There Anymore' #24 UK
2002 'Original Sin' #39 UK

non-album charity single based on 'Moulin Rouge' soundtrack version of the song

2002 'Your Song' (with Alessandro Safina) #4 UK

from 'One Love' (album by Blue)

2002 'Sorry Seems to be the Hardest Word' (Blue feat. Elton John) #1 UK

from the UK release of 'Greatest Hits 1970-2002', originally from 'The Thom Bell Sessions EP'

2003 'Are You Ready for Love' #1 UK

from 'Peachtree Road'

2004 'All That I'm Allowed (I'm Thankful)' #20 UK
External links
This biography is published under the
GNU Licence
Items to buy by Elton John
| | |
| --- | --- |
| | The Elton John Collection (Piano Solo) (Over 20 Classic Songs). By Elton John. For solo piano. Piano Solo Personality. Rock and Pop Rock. SMP Level 7 (Late Intermediate). Songbook (no lyrics). Standard notation (does not include words to the songs). 94 pages. Published by Hal Leonard |
| | |
| --- | --- |
| | Greatest Hits - Easy Piano (Updated) "By Elton John. For voice and easy piano. Easy Piano Personality. Rock and Pop Rock. Difficulty: medium. Songbook. Easy piano notation, lyrics and chord names. 80 pages. Published by Hal Leonard" |
| | |
| --- | --- |
| | Greatest Hits - 1970-2002 "By Elton John. For voice, piano and guitar (chords only). Piano/Vocal/Guitar Artist Songbook. Rock and Pop Rock. Songbook. Vocal melody, piano accompaniment, lyrics, chord names and guitar chord diagrams. 176 pages. Published by Hal Leonard" |
| | |
| --- | --- |
| | Your Song "By Elton John. For voice, piano and guitar (chords only). P/V/C. Rock and Pop Rock. Single. Vocal melody, lyrics, piano accompaniment, chord names and guitar chord diagrams. 9 pages. Published by Hal Leonard" |
| | |
| --- | --- |
| | Tiny Dancer "By Elton John. For voice, piano and guitar (chords only). P/V/C. Rock and Pop Rock. Single. Vocal melody, lyrics, piano accompaniment, chord names and guitar chord diagrams. 8 pages. Published by Hal Leonard" |
| | |
| --- | --- |
| | The Lion King - Broadway Selections (Vocal Selections) "By Elton John and Tim Rice. For voice and piano. Vocal Selections. Broadway and Disney. Difficulty: medium. Songbook. Vocal melody, piano accompaniment, lyrics, chord names, color photos and black & white photos. 112 pages. Published by Hal Leonard" |
| | |
| --- | --- |
| | Can You Feel the Love Tonight "(From Walt Disney Pictures' ""The Lion King""). By Elton John. For voice, piano and guitar (chords only). Piano Vocal. Disney and Movies. Difficulty: medium. Single. Vocal melody, piano accompaniment, lyrics, chord names and guitar chord diagrams. 5 page |
| | |
| --- | --- |
| | The Lion King By Elton John and Hans Zimmer (1957-). For solo piano. Piano Solo Songbook. Disney and Movies. Difficulty: medium. Songbook (no lyrics). 40 pages. Published by Hal Leonard |
| | |
| --- | --- |
| | The Elton John Keyboard Book "By Elton John. For voice and piano. Hal Leonard Keyboard Recorded Versions. Rock and Pop Rock. Difficulty: medium. Songbook. Vocal melody, piano accompaniment, lyrics, chord names and introductory text. 160 pages. Published by Hal Leonard" |
| | |
| --- | --- |
| | Your Song "By Elton John. For piano, voice, and guitar (chords only). Film/TV; Love; Pop; Rock; Wedding. Piano/Vocal/Guitar. 6 pages. Published by Hal Leonard - Digital Sheet Music" |
| | |
| --- | --- |
| | Elton John Anthology - Easy Piano "By Elton John. For voice and easy piano. Easy Piano Personality. Rock and Pop Rock. Difficulty: medium. Songbook. Easy piano notation, lyrics and chord names. 136 pages. Published by Hal Leonard" |
| | |
| --- | --- |
| | Circle of Life (with Nants' Ingonyama) "By Elton John. By Elton John, Hans Zimmer (1957-), Lebo M., and Tim Rice. Arranged by Audrey Snyder. 3-Part Mixed. Discovery Choral. 16 pages. Published by Hal Leonard" |
| | |
| --- | --- |
| | Circle of Life "By Elton John. By Elton John and Tim Rice. Arranged by Keith Christopher. For SATB chorus and piano accompaniment (SATB). Choral. Choral. Rock, Pop Rock and Disney. Difficulty: medium. Octavo. Chord names. 12 pages. Published by Hal Leonard" |
| | |
| --- | --- |
| | Can You Feel The Love Tonight "By Elton John and The Lion King. For piano, voice, and guitar (chords only). Children; Disney; Film/TV; Love; Pop. Piano/Vocal/Guitar. 4 pages. Published by Hal Leonard - Digital Sheet Music" |
| | |
| --- | --- |
| | Elton John Anthology "By Elton John. For voice, piano and guitar (chords only). Piano/Vocal/Guitar Artist Songbook. Rock and Pop Rock. Difficulty: medium. Songbook. Vocal melody, piano accompaniment, lyrics, chord names and guitar chord diagrams. 240 pages. Published by Hal L |