Judas Priest is a hugely influential heavy metal band formed in 1969 in Birmingham, England. Often called just Priest, the band's classic line-up consists of vocalist Rob Halford, the guitar duet of K.K. Downing and Glenn Tipton and Ian Hill on bass duties.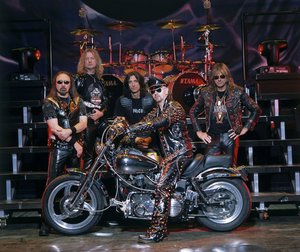 One of the originators of heavy metal, with Rob Halford's lead vocals notable for their high-pitched screams, they also feature an innovative two-lead-guitar sound and are particularly noted for their complex guitar duets courtesy of K.K. Downing and Glenn Tipton.
Judas Priest's 1980 album British Steel was perhaps the first heavy metal album to be recorded in a concise format with radio-friendly songs with pop hooks, pioneering an approach used by others (Quiet Riot, Dokken, Iron Maiden, Twisted Sister, Accept, Def Leppard) to taste commercial success. Overall, the band has sold in excess of 35 million albums globally.
Halford left the band in the 1990s and was replaced by Tim 'Ripper' Owens, who was plucked from obscurity having previously sung in a Judas Priest tribute band. These events were the inspiration for the film Rock Star, although Owens did not actually participate in the production of the movie.
Judas Priest have released fifteen studio albums to date, the first being Rocka Rolla in 1974 and the latest being Angel of Retribution in 2005.
After more than twelve years apart, Judas Priest and original lead vocalist Rob Halford announced in July 2003 that they were reunited, with a hugely successful live concert tour having taken place in 2004. The reunited Judas Priest also co-headlined the Ozzfest in 2004, being named as the 'premier act' by almost all U.S. media covering the event. Judas Priest and 'Ripper' Owens parted amicably. 'Ripper' is now the singer of Iced Earth. A new studio album, named Angel of Retribution is scheduled for release in early 2005 (on Sony Music/Epic Records) and a global tour is in the works.
Statistics
Current band members
Rob Halford - vocals (1973-1991, and from 2003 onwards)
Glenn Tipton - guitars (1974 - present)
K.K. Downing - guitars (1969 - present)
Ian Hill - bass guitars (1969 - present)
Scott Travis - drums (1989 - present)
Former band members
Tim 'Ripper' Owens - vocals (1996 - 2003)
Alan Atkins - vocals (1967-1973)
Dave Holland - drums (1979-1989)
Les Binks - drums (1977-1979)
Simon Phillips - drums (1977)
John Hinch - drums (1973-1975)
Chris 'Congo' Campbell - drums (1972-1973)
Alan 'Skip' Moore - drums (1971-1973, 1975-1977)
John Ellis - drums (1969-1971)
Subliminal message trial
In 1990, the band was involved in a civil action that alleged they were responsible for the suicide attempts in 1985 of two Nevada boys (James Vance and Ray Belknap). The plaintiffs alleged a subliminal message of 'do it' had been included in the song 'Better by You Better Than Me' (from the Stained Class album) which triggered the suicide attempt. The suit was eventually dismissed on its merits, as the band had pointed out that if you were to play any song backwards and tell someone there was a message, it'll sound as though there actually is. In a television interview, Judas Priest members commented that if they wanted to insert subliminal commands in their music, killing their fans would be counterproductive, and they would prefer to insert the command 'Buy more of our records.'
More On Priest
Discography
External links
This biography is published under the
GNU Licence