Justin Timberlake - Biography
Justin Timberlake Biography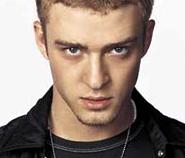 Justin Randall Timberlake (born January 31, 1981 in Memphis, Tennessee) is an American singer who came to fame as a vocalist in the pop band *NSYNC. His career started after a childhood stint on the American television talent show Star Search when he became a cast member of the Mickey Mouse Club variety show.
Timberlake began dating fellow Club member Britney Spears after *NSYNC took off. Their breakup made headlines. Spears made more headlines when she disclosed the pair had been intimate; she once publicly vowed she would 'save herself' for marriage.
In 2002, Timberlake released his debut solo album, Justified, to critical acclaim and impressive sales. It reached #2 on the US Billboard chart, and both it and the single 'Cry Me A River' won 2004 Grammy Awards.
He supported the album by touring with Christina Aguilera on the Stripped tour, which ran throughout 2003. Like Spears and Aguilera, Timberlake has traded the squeaky-clean image created by his handlers for a far-more raunchy persona, as typified by his staged groping of Kylie Minogue's backside as they performed a duet later that year.
In January 2004, during the halftime show of Super Bowl XXXVIII, Timberlake performed with Janet Jackson before audience of over 100 million. In the course of the performance, he tore off a part of her costume, baring her right breast. CBS, the NFL, and MTV, which produced the halftime show, denied all responsibility under a hailstorm of controversy, calling the incident a 'wardrobe malfunction'. Jackson released a taped apology, using the 'wardrobe malfunction' phrase. Timberlake issued a scripted apology of his own while accepting his first Grammy. The FCC announced an investigation.
Timberlake began dating Cameron Diaz in 2004. He has also started work on his motion picture debut, the thriller Edison, due in 2005.
This biography is published under the
GNU Licence